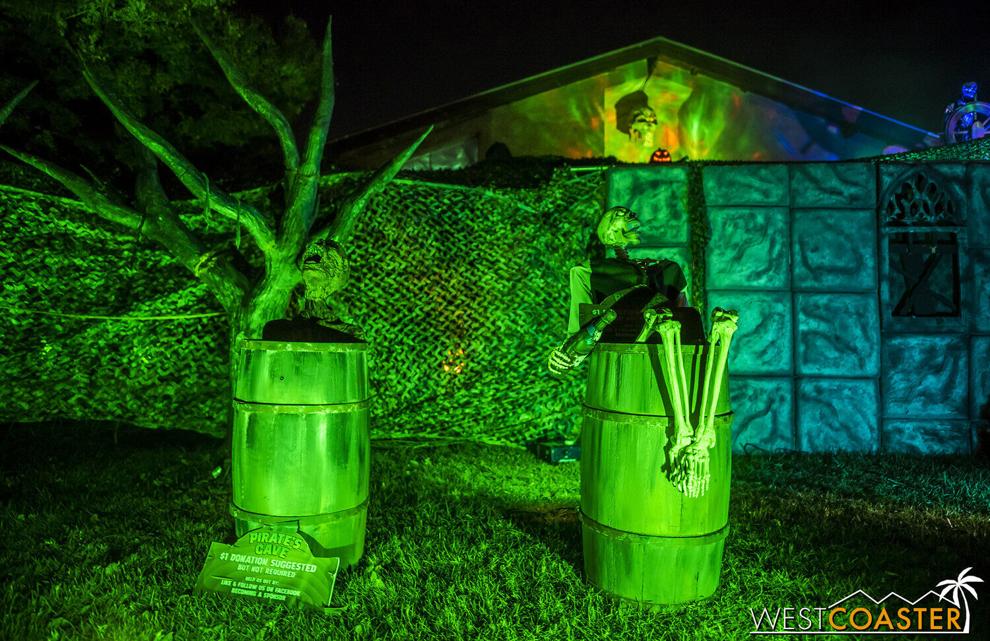 For college students, budgeting finances can be a difficult task year-round, but especially during the holiday season. This Halloween weekend, students can venture out on a budget and find the same amount of frights that they'd get from an amusement park. 
For a more wallet-friendly Halloween, try these activities: 
Morning Hike 
When googling the address for Black Star Canyon trail hikes, students can get side-tracked with haunting tales that circulate around this almost seven-mile trek tucked away in the mountains in Silverado. It is easy to fall down the rabbit hole of understanding the history behind this isolated trail. 
"Black Star Canyon has a rich history tied to actual events and as well as local lore," said Ernie Alonzo, director of operations at Haunted OC Paranormal Tour and Event Co. "Most of us locals grew up hearing stories of murder and occult ceremonies." 
Black Star Canyon was formerly known as Cañada de los Indios since a conflict arose between leader William Wolfskill of the animal trappers and Native Americans which led to a massacre in 1831. However, that's not the only legend that the trail holds.
The trail's present name stems from the Black Star Mining Company that was located at the mouth of the canyon back in 1877 and operated intermittently until the early 1900s.
Beyond the blurred lines of spooky tails of facts or fiction, the trail consists of two sections beginning at the trailhead of Black Star Canyon Road. The first portion of the trail is primarily flat and wide for a few miles where hikers can bring dogs on a leash. The second section is a bit more meaty since it has a rocky terrain with boulders that require appropriate hiking attire. The trail also has a scenic waterfall that runs off into surrounding streams. 
"Whether thrill-seeking or just plain curiosity, I think most people want to see for themselves what the canyon with its ominous name and notorious reputation has to offer," Alonzo said. 
Afternoon refreshment
After a long, eerie hike, nothing is more satisfying than visiting a bar and arcade for students that 21 years and older. Mission Control of McFadden Public Market in Santa Ana, serves guests cocktails and craft beers while reviving the arcade vibe of the 1980s. 
The speciality bar is debuting a Halloween and Dia de los Muertos cocktail called the "Sugarskull Paloma." Lead bartender Will Roques said that the cocktail is a spicy tamarind Smirnoff topped with Jarritos grapefruit soda and sugar and Tajin on the rim of the glass. 
"Of course with any college crowd, anywhere they can get together to drink and play games is a good time," Roques said. 
Students can get a Halloween experience while they choose from 17 pinball machines that include themes like Dracula, Adams Family and Monster Bash. The game list continues, showcasing 32 arcade games that take you through a time-warp with classic games such as Donkey Kong, Street Fighter II and Super Mario Bros. 
The McFadden Public Market also has options for students under 21 that want to dine in for some wings or ramen. 
Evening Scare to close the day
The best way to finish off the Halloween festivities is with a free evening scare at the Pirates Cave Haunt in Orange. Students that have channeled their inner pirate when they watched the last season of "Outer Banks" on Netflix or dressed as Jack Sparrow at some point in their life will thoroughly enjoy this.
Dave Larson, founder of the non-profit haunt project, started the event 22 years ago with just a mask and a shovel in his front yard. The haunt grew to three times the size in the last two years and the team began to develop the story six months ago to create a creepy nautical adventure that runs over four minutes long, Larson said. 
The story of "Curse of Calico Jack" is about the new discovery of a pirate sea cave below the ocean. Those who enter will risk the curse of the ancient pirates as pirates claim to hear things beyond the shadows.
"We don't have really any kind of gore or blood or really nasty scenes like that," Larson said. "But we integrate a lot of tech, a lot of very cool scares and show sequences within our haunt that everybody loves."