Looking for a sweet treat that won't give you cavities this Halloween? Well, look no further! This spooky recipe is a twist on "The Nightmare Before Christmas" Cookbook's "Mummy Boy Dogs," a Halloween version of cocktail weenies or pigs in a blanket. 
This recipe is an easy and fun appetizer to add to any Halloween festivity. It is a perfect go-to treat for any last-minute parties or just as a fun holiday dish.
With how easy the assembly process is, this could be a fun activity to do before carving some pumpkins, or putting up some decorations. All you need to do is pop the mummies in the air fryer or oven, enjoy some spooky activities and the treats will be done before you know it!
The ingredient list is simple, with items that can be picked up at the nearest grocery store or may even be in your refrigerator. All of the ingredients can be bought for under $10. It is a convenient recipe for the college-student lifestyle. 
Ingredients can easily be swapped out for any dietary reasons. Traditional hot dogs can be switched with chicken sausages or even meatless sausages such as tofurkey or beyond meat. For the puff pastry, some grocery stores also carry reduced-fat crescent roll dough as well as some plant-based pizza crust made from zucchini and cauliflower that can be cut into strips for the mummy wrapping.
This recipe takes about 20 minutes, including assembly and cooking time. The book states that the difficulty level is easy and that the serving size can be modified to accommodate big or small parties.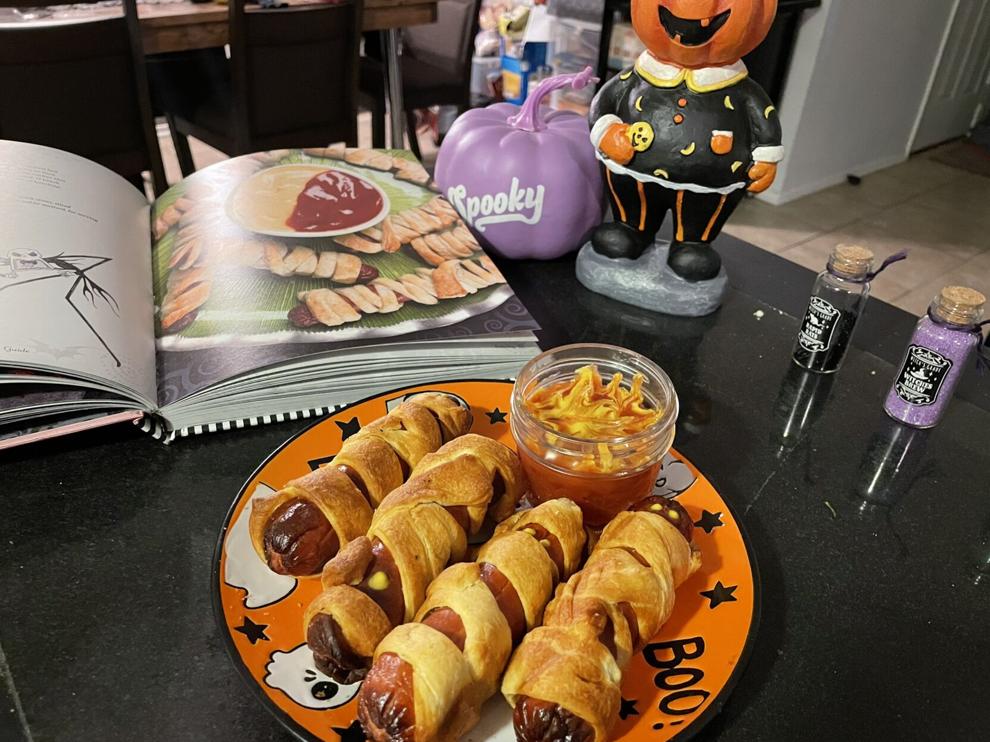 This recipe is paired with a simple ketchup and mustard dipping sauce — some brands make vegan options — or dijon mustard, honey mustard, barbeque sauce or sriracha mayo dip to spice up these mummy dogs. In this recipe you can spook-up your sauce by making a spider web design using your mustard and a toothpick to give it an extra touch of spookiness.
Ingredients for a serving size of 6-8 mummy dogs
Pack of hot dogs 

1 can of raw puff pastry 

Mustard

Ketchup
Directions
1)  Take out the puff pastry from the packaging and lay it flat on a baking sheet, with a pizza cutter slice the puff pastry vertically in thin strips. These will be the mummy bandages. 
2) Wrap the thin slices around the hot dogs with as many slices needed to give it that mummy wrap illusion. Let them sit for 5-10 minutes before cooking.
3) Preheat your oven to 400 degrees Fahrenheit and cook for 20 minutes. For the air fryer preheat to 350 and cook for six minutes or until desired golden brown. Make sure to grease your air fryer to prevent sticking.
4) While the mummies cook, pour ketchup in a sauce bowl and fill it almost to the top, lightly dot the mustard on top of the ketchup and with a toothpick you can form it into a spiderweb design.
5) Once the mummies are done, take another toothpick and dip it into the mustard. Find a spot on the mummy dogs where you can add some mustard eyes, giving it an extra spooky feel.
6) Plate on a spooky plate with your spider web mustard and your Halloween treats are done.