What does a man in a turkey suit, an actual turkey and dogs have in common? Not much, other than their participation in a running event in Tustin.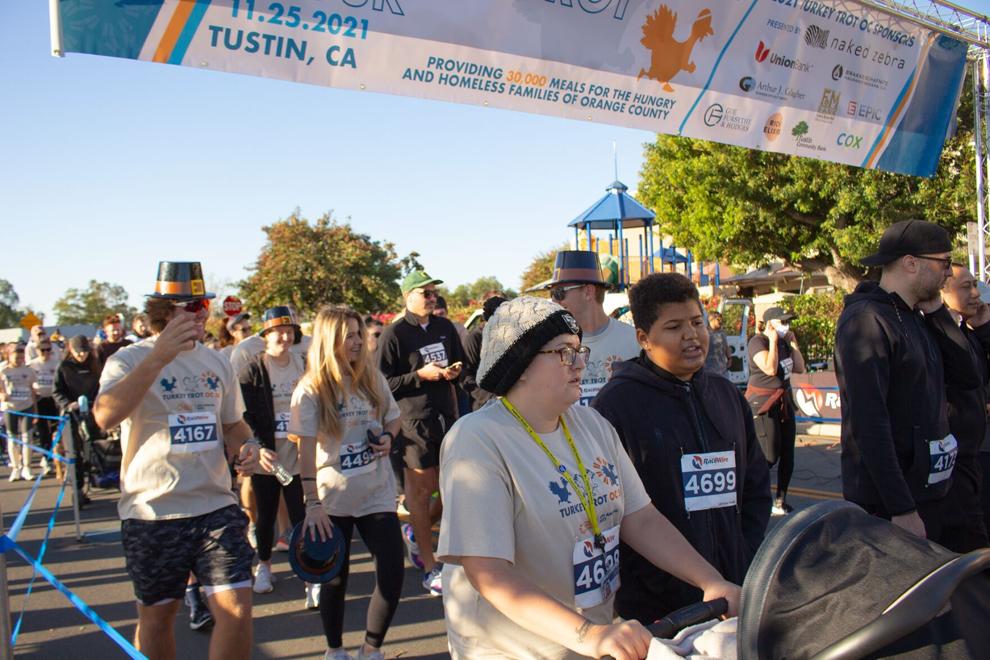 The 8th Annual Turkey Trot OC 5K, hosted by the Orange County Rescue Mission, took place in person on Thanksgiving morning, Nov. 25. The event was back in person after going virtual during the pandemic last year. Participants ran a flat and quick 5K that starts at the Village of Hope on 1 Hope Drive. 
According to the OC Rescue Mission website, the course went through the Orange County Sheriff's Department and the Tustin Marine Base and finished back at the Village of Hope. Everyone was welcome to participate in the 5K, which was both a running and walking event.
Kristi Nichols, the senior marketing manager with the organization, said that they had a little over a thousand people register for the race as of Nov. 24, and had a few new folks register the morning of the event.
"2019 was our biggest year where we had I think 900 participation registrations so this actually, this year is our record. We're growing which we're excited about," Nichols said. 
Among those who participated was Jeremiah Chuang, an Aliso Viejo resident and donor to the OC Rescue Mission. This was Chuang's first 5K turkey trot. He said that he found some motivation to get out and exercise during the pandemic. Chuang read that one of the quickest motivation boosters was signing up for a race. 
"If I sign up for a race for nonprofit, that's instant motivation for me because I love volunteering and so I signed up and now I'm here," Chuang said.
Chuang said that he found out about the event through the OC Rescue Mission email newsletter. He said that he wanted to support this organization and help out the homeless and those in need.
Nichols said that the goal of the turkey trot is to raise money for over 30,000 meals to provide food to the hungry and homeless in Orange County. She said that the meals the organization provides throughout their campuses cost an average of $1.48. 
According to the OC Rescue Mission website, the organization provides assistance in the areas of guidance, counseling, education, job training, shelter, food, clothing, health care and independent living communities.
"We have many volunteer opportunities with the Orange County Rescue Mission, anything from helping in the kitchen to working in the warehouse," Nichols said. "People are interested in working one-on-one with students, we have a lot of tutoring opportunities."
The Village of Hope is a faith-based facility that provides transitional living for men, women and children experiencing homelessness. It is designed like a college campus and refers to residents as students.
Among the turkey trot participants from the public were also a few residents from the OC Rescue Mission's Village of Hope. Madison Deason, a current resident at the facility, said that the organization asked the residents to come out and participate with their families in the 5K.  
Deason came from Iowa where she endured hardships before coming to California and finding the OC Rescue Mission. She said she found a way through her faith. 
"I was on a real bad path where I'm from which we lived in Iowa before coming out here. And I was battling with addiction," Deason said. "And we had lost pretty much everything that we'd had. And I really just got on my knees and I prayed to the Lord man and I asked for a way out. A way to save this, you know, me and my kids."
Deason's first 5K event was this year when she ran the turkey trot with her 4-year-old daughter Aleena. Deason said that with her personality type, she is already wanting to prepare for more runs. She's training for a half marathon and hopes to take on a marathon one day.
"So as hard as I went out in the dark life, I'm trying to do that much harder, even harder here," Deason said. "I'm training for the half marathon, I'm doing the kickboxing, I'm stepping outside of my comfort zone."