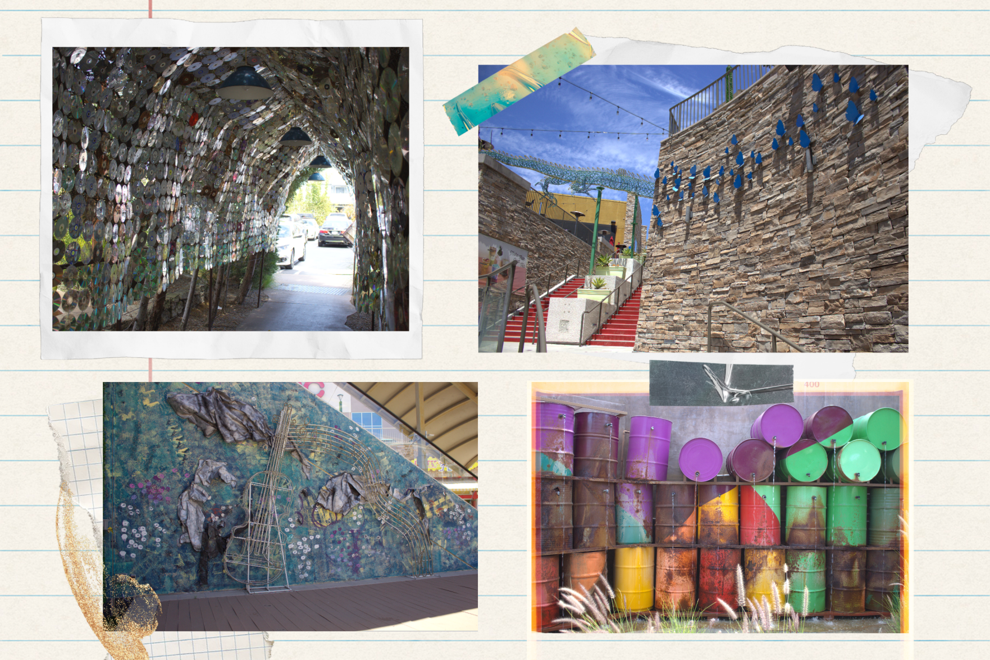 Students decorated in the navy blue gown and a decorative cap enlivens soon-to-be Cal State Fullerton graduates. Although the campus has some great locations to commemorate this moment, here are some beautiful and unique photo locations in Orange County.
The Lab Anti-Mall — 2930 Bristol St. Costa Mesa
The Little American Business is an indoor-outdoor rustic hangout destination tucked in OC's suburbia. Hipster aesthetics include a tunnel of shiny CDs, floral vintage backdrops and a make-shift fountain made from spurting colored barrels. 
The parking lot is small and free of charge, but there are also plenty of parking spots on the neighboring streets. 
Graduates would likely come across a copper dome that is adorned with hanging tags. This wishing tree encourages visitors to "send your warm wishes and dreams off to the universe by writing them on a hanging tag of our wishing tree." It is a perfect spot for graduates to write down their career aspirations while getting some sentimental close-up shots. 
This eccentric hub's business hours are from Monday through Friday, 8:30 a.m. to 5:30 p.m. All photo and film shoots, including graduation shots require a permit and fee. It is also recommended to submit a film or photo form to the Community Relations or Property Management staff at least 48 hours prior to the shoot to alert tenants and custodial staff. Email info@thelab.com for further inquiries.
Anaheim Gardenwalk — 400 West Disney Way 
This outdoor mall offers a plethora of artsy photo-ops that graduates cannot miss. Vibrant murals, an intricate gazebo and nature-inspired backdrops add an element of surprise to graduates' stagnant photos. 
The parking structure is right next to the mall and offers parking validations. After the first complimentary hour, it is $3 per hour. 
Fluttering blue butterflies against a modern brick wall leads down cascading stairs. The pop of sky-blue wings can create a dynamic graduation photo. If graduates want to go big, take a stroll down the "Art on the Walk," which includes murals, art installations and art in windows created by more than 30 whimsical artists. Some art features California's marine life while others highlight vivid abstractionism. Graduates can take a photo with an art piece that suits their personal aesthetic. 
Victoria Beach — 2713 Victoria Dr. Laguna Beach
Aside from the artistic flair, Victoria Beach is a beautiful white-sand beach featuring mansions and an iconic castle-inspired 60-foot-tall tower built against the Laguna cliffs. Despite the steep hills and stairway that could leave graduates out of breath, the sparkling ocean view is the ultimate breathtaker. 
There is free and metered parking along the Pacific Coast Highway around Nyes Place signal or near the Montage Resort. If those spots are filled up, free parking is available in the neighborhood. However, any visitor must be mindful of the surrounding private properties. 
Wear comfortable shoes along this trek. Reaching the tower requires a short venture through rocky terrain. However, once graduates meet their treasured photo-op, they can inch closer to the mesmerizing and unconventional "Pirate Tower" landmark. 
Graduates can take photoshoots during sunset to paint a glowy hue to their images. The sea breeze would also create a flowy effect on their graduation gown. It is advised to not arrive late in the evening as the tide rises, making it dangerous for beachgoers. 
Victoria Beach is like no other, especially because of its seclusion. Graduates wouldn't have to battle out on the sand for a flawless and beachy shot.