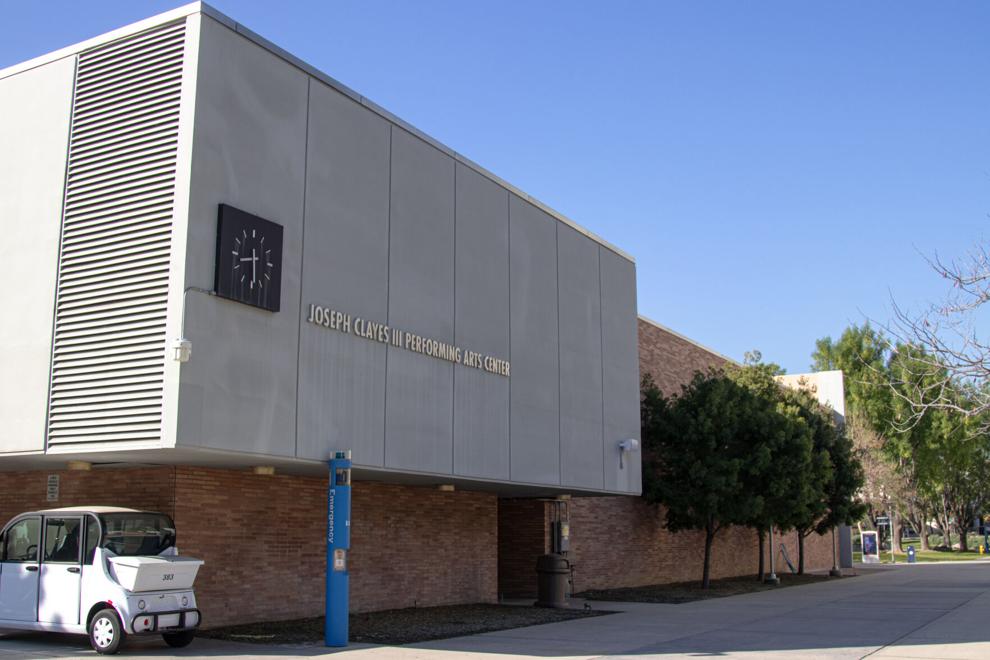 In a pandemic-free world, actors are backstage getting ready for their scenes as they practice lines with other co-stars. They're having their hair, makeup and wardrobe done as they transform inside and out to become the character they're portraying. 
But when the play switches from the stage to online, actors are left with a team of one — acting through a little box on the screen, amplifying the difficulty of a quality performance. 
"I'll admit that it was very lonely when we did it on Zoom. Being stuck in your room, it's a little hard to be creative when you're stuck in a place where normally you'd come to just relax and lay back. It was definitely hard to even mesh and feel the energy from your partners or other cast members just because you're looking at them through a little box," said Noe Venegas-Lamas, a CSUF junior who plays the role of Bibiano in Cal State Fullerton's latest play, "Policarpa."
"Policarpa" tells the story of the historical Columbian figure Policarpa Salavarrieta, a seamstress welcomed into the homes of Spanish royalist women. She worked with the rebels to deliver any overheard information to help overthrow the Spanish government. 
Eventually Policarpa was captured and killed after authorities found out she was a spy. On the day of her execution in 1817, Salavarrieta shouted a tirade against Spanish oppression and ignited a new wave of fighters to avenge her death and fight for Columbian independence.  
"(Policarpa) basically becomes the savior of this new world that our playwright has created. It's been really great, this role, because there's such an arc to her and there's two different timelines, and you really get to see how much she's changed when she comes into her own," said Sabrina Lopez, a fourth-year student who plays Policarpa. 
"Policarpa" takes the history of Policarpa and recontextualizes it in post-apocalyptic Columbia, layering elements of Columbian mythology and magical realism. The play focuses on issues that are relevant today such as indigenous cultural language and sexism, as well as the realities of war and discrimination. 
"I embellished the memories and impressions I have with exploration about life for Latinx women here in the anti-immigrant U.S. and used a framework of mythologies and stories from Columbia to examine the day-to-day trauma of living while female," said playwright Diana Burbano in the play's program. 
Burbano is a Columbian immigrant, playwright and Equity actor who won the Nu Voices festival at Actors Theatre of Charlotte in 2019 for her play "Ghosts of Bogota." She is also a teaching artist at South Coast Repertory. 
"Policarpa" is directed by Sara Guerrero, a Southern California Chicana native of Mexico, Mestizo ancestry and, on top of numerous accolades, is known as the founding artistic director of Breath of Fire Latina Theater Ensemble, where Burbano is also a teaching artist. 
"What I love about this play, in particular, is that there's these characters live in hardship, and are in survival, and some of them are leaders, and some of them are struggling to survive, and some of them just hope, just have hope in their hearts — And none of them are portrayed as victims," Guerrero said. 
Originally, the play was to be recorded live and in-person, then posted online for viewers to stream. However, the pandemic put a halt to these plans. 
Instead of having actors perform on campus, rehearsal, dress rehearsal, filming and anything that usually happens backstage and onstage moved to Zoom. Actors picked up a film packet that included equipment such as a green screen, lights or even a microphone and webcam. They also had appointments for the actors to pick up costumes, props or makeup that may be needed for their scenes. 
Among the more important aspects of "Policarpa" is the fact that all the actors participating identify as Latinx, which Venegas-Lamas said is essential for the representation of Latin culture. 
"Many of these characters do speak Spanish. Although there are white males or females that do speak Spanish especially during where this is set in Columbia, it was very important to have Latinx people who, although they might not be Columbian, share similar qualities with the Latin culture and it just brings that more authenticity," Venegas-Lamas said. "I feel like being able to have a character that you can relate to as an actor is really helpful in developing it."
Dramaturg Abel Marquez also highlighted the play's representation of the Latinx community, noting the importance of working with faculty and staff to make students feel more represented and have a Black, Indigenous and person of color, also known as BIPOC, voice in their space. 
"We're coming into this new age of representation with theater, and in media and what BIPOC bodies mean onstage, and I think that's really important, and I think this play really emphasizes that," Marquez said.
Venegas-Lamas said that "Policarpa" adds another element of diversity in the characterization of Bibiano, a paraplegic character in the story.
"That role entirely was a very new experience for me, because having to play someone who's paraplegic, I had to do a lot of research and get some help from someone who is paraplegic, just to be able to bring that authenticity," Venegas-Lamas said. 
The play's theme is especially emphasized through the character's costumes, designed by CSUF costume design major Carina Holley. 
"I had a lot of creative freedom actually. The director gave me a guideline of the world of Policarpa is in and it was pretty broad. It was like post-apocalyptic, futuristic in Colombia. And she wanted it to be like, kind of fantasy, comic book type. There's a lot of different aspects to work with and to play with, to design it," Holley said. 
"Policarpa" is available to stream through Cal State Fullerton's department of Theatre and Dance website.