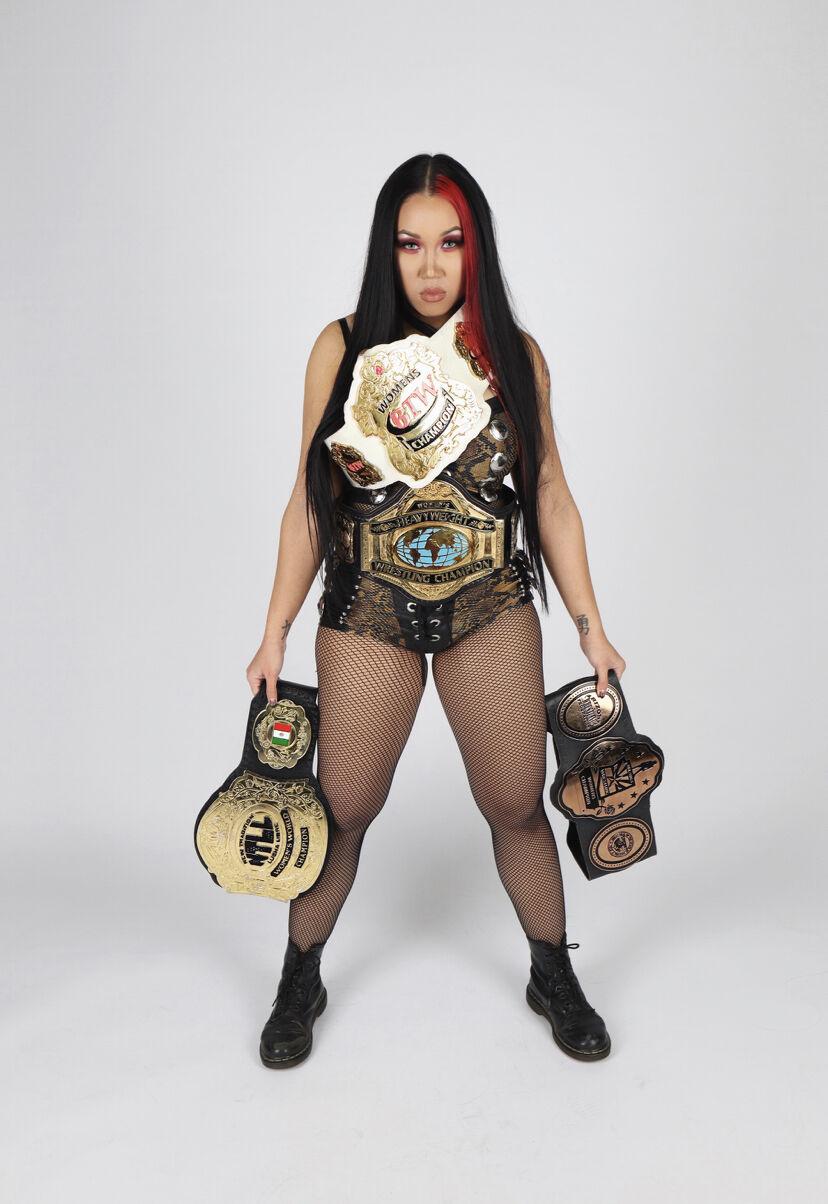 The 2020 Cal State Fullerton alumna Victoria Tran has made quite the name for herself since graduation by completing her life-long dream of becoming a professional wrestler. She has become the first female of Vietnamese American descent to join the industry.
Known by thousands of fans as Viva "The Hell-Bent Vixen" Van, Tran recalls her college experience at CSUF as a positive one. 
"My college experience was great, I mean I had my go-to places, first thing I would always do is, I was a business student so first thing I would do is go to the Starbucks before any class," Tran said 
Tran attended Mt. San Antonio College in Walnut, California prior to enrolling at CSUF and was originally an accounting major, but switched to marketing later in her academic career. 
Tran admits to some early struggles in her accounting pursuits and began to lean toward pursuing her passions of becoming a professional wrestler as a result of this.
"I remember I was miserable in accounting, I wasn't good at it at all and I've always had this secret dream of wanting to be a pro wrestler," Tran said. "And I was like, 'You know what, I'm just going to give it a shot, I'm still gonna finish school, but I just want to give this a shot,' and I did and then I switched to marketing right after." 
Not only has Tran dominated the ring, but she also has a knack for beauty products, especially makeup. 
With her marketing degree, Tran has been able to create her own business. Hellbent Glam is a vegan-based cosmetics and accessories company that promotes exclusive, anti-cruelty products. 
Jenna Charneco, Tran's close friend and fellow wrestling colleague, had a firsthand experience with this and speaks highly of not only Tran, but Hellbent Glam as well. 
"She really knows what she's doing when it comes to makeup, I will say I actually modeled for her and when I was getting the makeup put on I was like, 'Oh my gosh, how do you know how to put all these products together.' I was just blown away," Charneco said. "I actually own a few of her things because it's just a really good product, like she really took her degree and is doing something outside of wrestling and then making a profit off of that." 
Charneco also said that Tran definitely knows what she's doing when it comes to Hellbent Glam. 
Due to her obtaining a marketing degree from CSUF, this has opened more doors for Tran to not only market her wrestling career, but also to bring in a new source of income.
J.C. Ventura, Tran's boyfriend of seven years, has been with her since the start of her career and said that her time at CSUF contributed to her overall success. She said that CSUF  taught her valuable skills outside of the curriculum like public speaking, networking, punctuality and even how to market yourself.
"Within the business of professional wrestling, being in that industry, I do definitely think that all the things she learned are applicable and you may not even know it at times too." 
Tran has successfully collected belts from independent circuits like PCW Ultra, BTW, AWF and NTLL to become their women's champion, cementing herself as one of the premier female wrestlers in the local wrestling scene. 
Owner of the PCW Ultra promotion Josef Samael spoke highly of Tran's career thus far and acknowledged her natural star power as well as her work ethic as the main reasons for her ability to stand out in his promotion. 
"Well she's a star. She has a look that is very unforgettable, she carries herself a certain way, and she has just a tremendous work ethic like you said," Samael said. "Her look really has her stand apart and I think also her interaction with the fans and her passion for the wrestling business, she really wants to be here."
Samael said that she will be a trailblazer for other Vietnamese people and women who may not know about professional wrestling.
Tran's half-brother Bobby Phong shared sentiments about Tran's  impact on the Asian community in the business of professional wrestling due to her accomplishments which also involved performances on bigger promotions like AEW and the WWE.
"She's already been exposed to all that and I feel like no doubt she's going to be one of the main divas superstars one day, no doubt," Phong said. "I don't see her as just a side character anymore. I do see her in the future being something impactful for the career as well as for the business and people like us."
Not only is Tran an inspiration and trailblazer in the Asian community, but she is also an inspiration to any CSUF student who is interested in pursuing a career outside of their major. 
Tran is aware of the hardships potential students may face and advises students to dig deep in order to ensure that they finish their schooling before pursuing other things outside of their learning. 
"I know college is hard and a lot of us want to focus on our dreams, our goals outside of college, but it's always good to just stick it out and have a backup plan," Tran said. "And it'll be over before you know it, I know it's hard while you're in the two years, the four years that you're studying for your finals, all the stress you go through, all the breakdowns, but it is worth it and it'll pass."
Since graduating from CSUF in May of 2020, Tran has yet to make an appearance on campus, but she plans to go back in order to take the proper graduation pictures that weren't afforded to her when she was a student due to COVID-19 pandemic. 
"I am planning to go back to finally do some graduation photoshoots in my cap and gown because I never got to do that, so I want to go back and do that," Tran said. "But I wonder if anyone is going to look at me all weird with a 2020 sash."