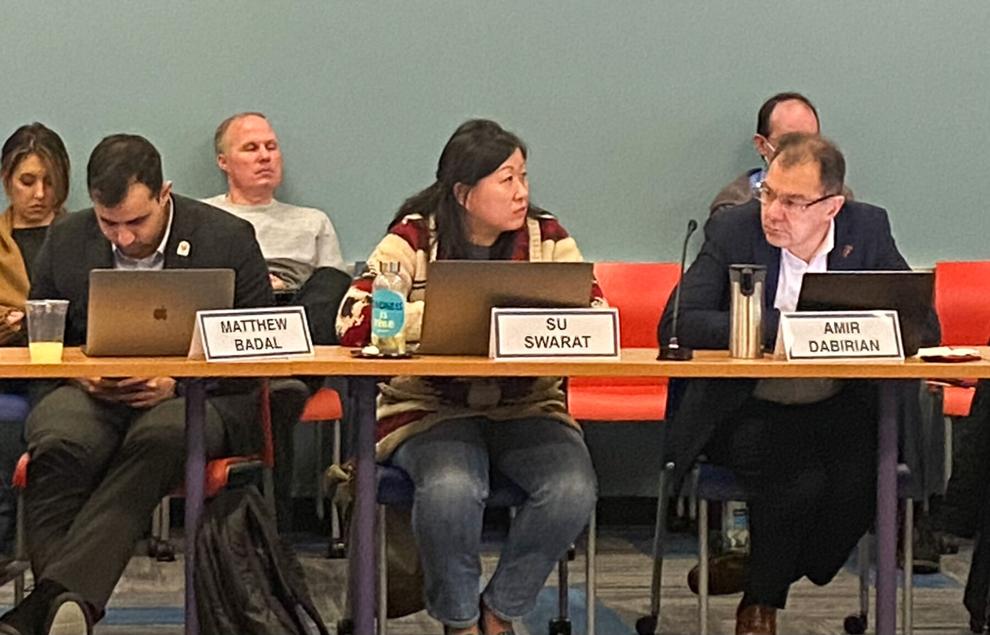 Tensions were high at the Academic Senate meeting Thursday, where senators expressed their opinions on the recent departure of provost and vice president of Academic Affairs, Carolyn Thomas. 
In an email statement that was sent to faculty on Monday, President Framroze Virjee announced the removal of Thomas from her position, just over a month after President Virjee announced his plan to retire effective July 31. 
Karyl Ketchum, a professor in women and gender studies, said the email addressing Thomas' removal did not mention her name and was used to "humiliate and silence" her. 
"I want to understand the process that went into this, who was part of the decision making, what possibly could she have done that would make her disappear mob style?" Ketchum said. "And what I got was, 'Sorry, I can't tell you, it's a personnel issue.' It's more than a personnel issue." 
Su Swarat,the senior associate vice president for Institutional Effectiveness and Planning, will serve as the Executive in Charge for the Division of Academic Affairs. While present at the Academic Senate meeting, but did not comment on Thomas' departure.
In response to Ketchum's comment, Pete Evanow, a full-time lecturer in communications, said he felt Virjee reserved the right to make a decision on faculty employment.
"Former Provost Thomas is still listed on the website. It's all day, she hasn't disappeared," Evanow said. "And with all due respect to her services, President Virjee can do whatever the hell he wants. He's the president of this university."
Gregory Chris Brown, a Criminal Justice professor and California Faculty Association Fullerton chapter president, said he found out about Thomas' departure from colleagues and was completely shocked by the news. 
"I didn't see it coming. I had no idea that was going to happen," Brown said.
With the removal of Thomas, an interim provost will be appointed by Virjee before a nationwide search for a permanent provost begins.  
Jon Bruschke, a professor and department chair in human communications, brought attention to the number of interim positions currently within the CSU.
CSU Chancellor Jolene Koester, who will choose an interim president to replace Virjee, is also an interim chancellor. 
"Now, we are about to go into an interim provost with an interim president," Senator Bruschke said. "And I guess I should also say Dean Sha is the only person between me and Gavin Newsom who is not interim."
Though the email regarding Thomas' removal was not sent to students, Isabella Galvan, ASI representative to the Senate, said students' needs should be considered going forward in selecting a provost. 
"I trust that President Virjee, or whoever made this decision or however this went about, was for the best of the university, also known for the students who need academic affairs and also faculty, who will have to consider the students as well," Galvan said. 
Virjee said he plans to be hands-on in his position until his retirement, and take the issues that faculty have mentioned into account when making a decision for interim provost. 
"I am not intending to appoint a provost who will be a caretaker. We have a lot to do here, a lot to move forward. I do not want to lose momentum," Virjee said. 
Brown said he hopes the next provost will be a person of color, and someone who is sensitive to the campus climate at CSUF.