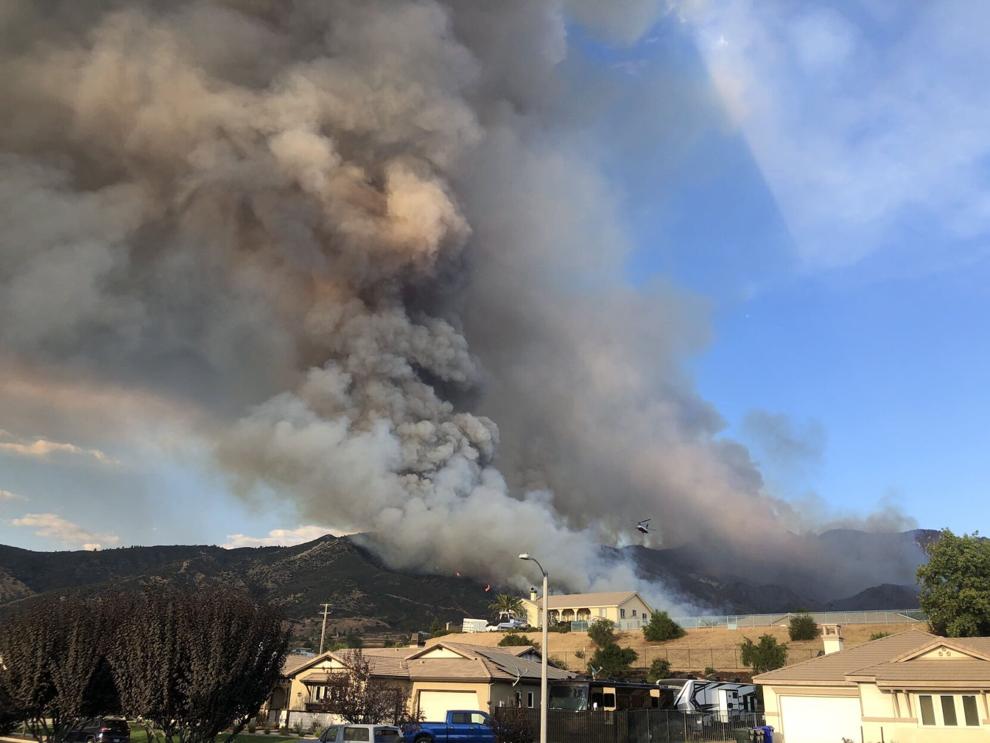 With rising temperatures this summer in Southern California, Cal Fire and the Orange County Fire Authority are preparing for an active fire season. 
According to Cal Fire, the California Department of Forestry and Fire Protection, 2020 was a busy year that saw almost 10,000 fire incidents resulting in over 4 million acres of land being burned, over 10,000 structures damaged or lost and 33 lives lost. 
The Silverado and Blue Ridge Fires were two major fires that took place in Orange County in 2020. 
There was a combined 26,000 acres of Orange County land burned in the two fires that required over 1,100 personnel to contain. Additionally, 25 structures were damaged or destroyed and two injuries took place.     
According to their website, Cal Fire predicts that 2021 wildfires may worsen, and the department has estimated a 75-day increase to this year's fire season. They attribute this largely to climate change that has made for prolonged dry seasons with warmer temperatures, less snowpack and earlier snowmelt that contribute to higher chances of fires.   
Similarly, the Orange County Fire Authority, also known as OCFA, is also expecting a very active fire season, said Greg Barta, firefighter and paramedic at OCFA. 
He said that they have already seen fires earlier in the year, which is not a good sign.
"We're actually looking at weather forecasts and the way that the fuel moisture content, which is the amount of water present in the vegetation out in the brushes right now," Barta said. "We're at critically low fuel moisture levels and we're expecting to have a significant fire season this year."     
In order to make the season go as smoothly as possible, Barta described some of the preparation OCFA has done as well as collaboration efforts with other departments. Preparations include training sessions with different agencies to improve skills needed during firefighting as well as skills for management during incidents, he said. 
He also said there is a new quick reaction force program in collaboration with the Los Angeles County and Ventura County Fire Departments, where they have multiple helicopters that they can quickly deploy early on to help stop fires as early as possible.  
Cal State Fullerton has policies and procedures in place in the event that a fire makes its way onto or near campus with some procedures that are similar to other events, said Marissa Garza, public affairs and communication specialist for the CSUF Police Department.
"As with any large-scale emergency response or campuswide evacuation, the Emergency Notification System would be activated which alerts all students, staff, and faculty via text message, phone call or email of emergencies that may impact them," Garza said. 
She also talked about the collaboration effort that would occur during a fire on campus and with the Fullerton Fire and Police departments. 
"If a wildfire threatens the campus, our department will work closely with CSUF Strategic Communications, ​andcoordinate with Fullerton Fire Department and Fullerton Police Department to determine if evacuation is necessary, determine the evacuation site, and ensure all buildings are clear," Garza said.   
In addition to active fire plans, Cal State Fullerton also has plans in place to prevent fires on campus that can be seen on the university's Environmental Health and Safety page as well as the University Police Department's webpage.
The Fire Prevention Plan from the Environmental Health and Safety page covers a wide variety of topics in fire prevention including detection and fire suppression alarms, sprinkler systems and fire extinguishers as well as what different departments on campus can do to ensure fires do not happen and training procedures if they were to occur. 
For example, Environmental Health and Safety inspects all buildings on campus to make sure they meet fire codes. University Police conducts semi-annual evacuation exercises, and deans, department chairs and administrators correct fire hazards in their control and maintain flammable waste and liquids. 
The University Police Department's 2020 Fire Safety Report outlines what campus members should do in the event of a fire incident, ranging from minor to major events. It details step by step what to do and what not to do given different characteristics of the fire itself. 
In addition, it gives data and statistics on fire incidents on campus housing dating back to 2017 as well as showing which buildings have detection systems checked and evacuation drills.        
According to Cal Fire, in 2021, there have been over 4,100 fire incidents and almost 32,000 acres burned, however the numbers are expected to rise over the coming months. 
To help those who may find themselves caught in a wildfire while at home, Barta said that getting away from the fire is the most important.  
"You want to get to a safe zone and with that I like to say kind of like a football field," Barta said. "That should provide you a pretty safe spot to seek refuge."