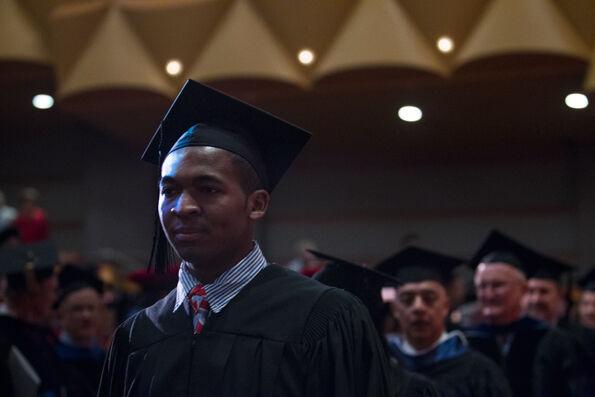 Associated Students Inc. President Dwayne Mason Jr. was the subject of a disciplinary proceeding before spring break by the Cal State Fullerton Judicial Affairs office, according to Berenecea Johnson Eanes, Ph.D., vice president of Student Affairs, and Lea Jarnagin, Ed.D., dean of students.
Miguel Arias, ASI Board of Directors representative for the College of Engineering and Computer Science, claimed that Mason's disciplinary proceedings stem from intoxication from the use of marijuana while traveling to a California State Student Association (CSSA) event in March.
Arias said he was told about the event by ASI Board Chair Yvette Loaeza, who was driving the car that transported Mason and other ASI members to the conference.
Arias said that while on the way to a CSSA event, Mason smoked marijuana in the presence of Loaeza, ASI Vice President Katie Ayala and Kirk Deming, former ASI Board of Directors representative for the College of Education.
Arias claimed that Deming started smoking medical marijuana and shared it with Mason.
"Kirk has a medical (marijuana) card," said Arias. "(Deming) started smoking, and then Dwayne did it." Arias said that even though they were present, neither Ayala nor Loaeza took part in smoking Deming's marijuana.
Deming declined to comment. While both Eanes and Jarnagin could not confirm the offense committed by Mason, Eanes said the proceeding concerning Mason was being handled by Judicial Affairs, but that the Family Educational Rights and Privacy Act (FERPA) laws protect any information concerning a student's privacy.
"It's my understanding that the incident (concerning Mason) is under investigation by Judicial Affairs office and there will be due process," Eanes said. While the outcome and punishment of Mason could not be disclosed due to CSUF disclosure laws, Jarnagin confirmed that Mason's title has not been altered or changed following his disciplinary proceeding.
"I can tell you that (Mason) is currently ASI president," Jarnagin said. Jarnagin said the process for a disciplinary proceeding is to have a Judicial Affairs representative speak with the student once a complaint has been filed.
After looking over all the facts and evidence of the proceeding, the student may both accept the responsibility and state their guilt to the representative, which then results in a punishment that is made at the discretion of the judicial officer.
If the student claims that they were falsely accused, or that they are not guilty of the complaint, the student will then be subjected to a disciplinary hearing.
"I can't speak to the nature of the situation," said Jarnagin. "What I can say is that this office did receive a complaint, and as a result a disciplinary proceeding did take place."
Jarnagin also mentioned that while a disciplinary proceeding and disciplinary hearing could take place over the course of weeks or months, this specific case concerning Mason has already been resolved by the judicial officer at the disciplinary proceeding.
"What I would be comfortable saying is that I do not see (the proceeding) going to a hearing," Jarnagin said.
According to Jarnagin, a student's due process must be taken into consideration during a disciplinary hearing, which could draw out the length of the proceeding.
"There are times when it's a fairly short-natured matter—you can kind of wrap it up," said Jarnagin. "There are other times where cases could take a couple of months."
Jarnagin also claimed that she had no knowledge of whether or not Deming was the subject of a disciplinary proceeding concerning the use of medical marijuana in the presence of other CSUF students.
After multiple attempts to interview and question Mason on the disciplinary proceeding and the allegations of marijuana use on the way to the CSSA event, he declined to comment.
"I have no further information that I would like to add," Mason said. Mason finishes his year-long term of ASI President at the end of the semester. He did not participate in this year's election.