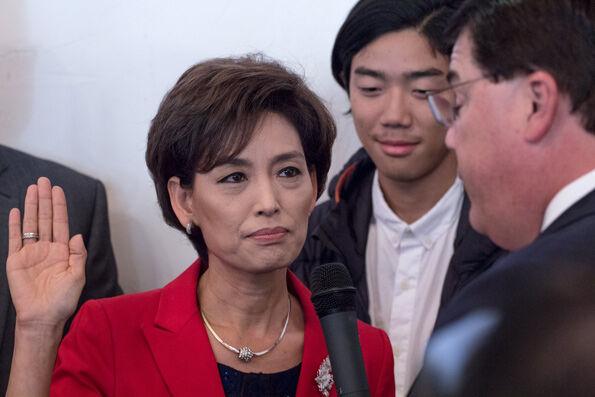 Kim is the mother of one current Cal State Fullerton student—Hannah, an accounting major, and two recent graduates—Alvin and Kelly, communications and political science majors, respectively. Her oldest daughter, Christine, graduated from UC Irvine with a degree in literary journalism.
Flanked by her children and husband of 28 years, Kim thanked the packed room and the CSUF officials in the room, including President Mildred García.
The Republican bested CSUF alumna Sharon Quirk-Silva by a 12-point margin in November and took office last week. On her first day in office, Kim introduced AB 42, which would freeze tuition until the sunset of Proposition 30, and would require student success fees proposed in the future to gain approval from two-thirds of the student body.
Kim is the first Korean-American Republican elected to the assembly. Until last year, Kim worked in the office of Congressman Ed Royce (R-Fullerton) since his election to the House of Representatives in 1992. She served as Royce's director of community relations and
Asian affairs, advising the congressman on issues in the Asian community.
When she started working with Royce, she said there weren't many people who looked like her, or had an immigrant background working in politics.
"Preserving the 'American Dream' is what I'll fight for in Sacramento. Together, we can assure better educational opportunities, better job opportunities and safer neighborhoods for all people in our district," Kim said. "My staff and I are ready, we cannot wait to get to work."
On Business
Kim, who has a bachelor's degree in business administration from USC, was praised for her business acumen by Anil K. Puri, dean of the Steven G. Mihaylo College of Business and Economics.
"I think she has very good ideas on the business community in reducing government regulation and how to grow and support the business in California, which we badly need to do," Puri said. "I think it's time that we improve our business policies, and I know she is a strong supporter of that."
Theresa Harvey, former CSUF Alumni Association president and current CEO of the Fullerton Chamber of Commerce worked with Kim during her time in the chamber, and said that as a businesswoman, Kim knows what businesses need to operate.
"One of the challenges we've had is making sure California is as business-friendly of an environment as possible," Harvey said. "I think (Kim's) voice in Sacramento will be a fresh voice that will hopefully shape business legislation that will allow businesses to grow."
The growing Korean business community in Fullerton will also be well represented in the state legislature with Kim in office, Harvey said.
Campus connection
"We need people to fight for us," García said, and events like Friday's swearing-in are a way to build a connection with those in the legislature who have an impact on how the university is funded. It is so important that we work with our elected officials, that we invite them not only for ceremonies, but we invite them to know all about what we do at Cal State Fullerton so that they fight for us in the legislature and make sure that we get the funds we need since we are the lowest funded per (full-time equivalent student) campus in the CSU."
Kim has also been invited as a guest speaker in classes, something she intends to continue.
"Through those programs, I've been able to work with students and talk to them, and along the way if they can see that someone like me, a first-generation American, could play a role as their role model or encourage them along the way. If I can do it, they can do it too. I want to continue that kind of relationship."
Associated Students, Inc. President Harpreet Bath said he has moved on from his disappointment from Kim's absence at a September candidate forum, and he hopes to work with Kim to make sure she is best representing students.
Associated Students as a whole is yet to solidify a stance on Kim's proposed bill to freeze tuition and ban success fees, but plans on monitoring it as it moves through the legislature, Bath said.