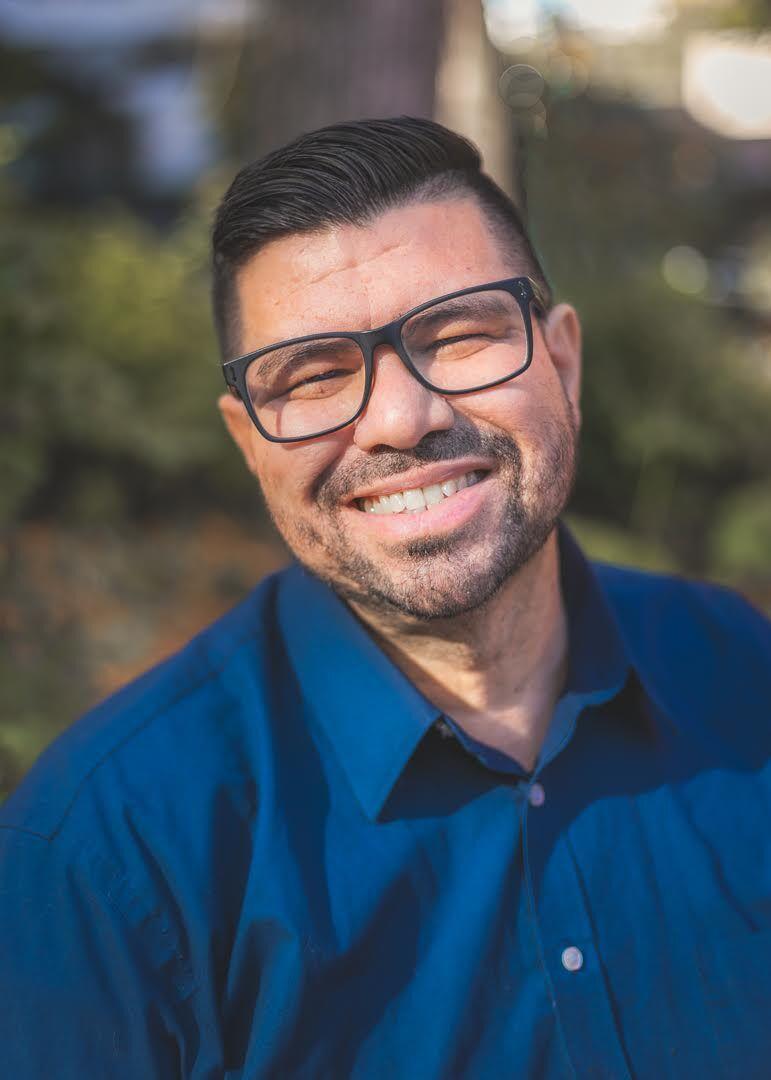 Eddy Francisco Alvarez Jr., an assistant professor in the Chicana and Chicano studies department at Cal State Fullerton, is not afraid to tell his story of reconnecting and loving himself.
Alvarez said his life growing up was filled with many obstacles that he said were not visible to him at first until people pointed them out. While his family was supportive of who he is, he said he still found himself on a journey to heal from his experiences growing up.
Alvarez said having a loving Joteria community in academia has helped him find a place of belonging that helps him heal and overcome those experiences during his journey.
As explained by Alvarez's colleague, Anita Tijerina Revilla, a professor and chair in the Chicana(o) and Latina(o) studies department at Cal State Los Angeles, Joteria is the study of the queer Chicanx and Latinx communities. Revilla said the name Joteria comes from the derogatory terms, "joto" and "jota," that are mainly used in the Latinx community to offend queer people.
Revilla said many people in the queer Latinx community have decided to reclaim the terms and have taken pride and connection to them and started to call this community that they are a part of — Joteria.
Not only has Alvarez benefited from being a part of the Joteria community but according to Alexandro Jose Gradilla, associate professor of chicana and chicano studies, Alvarez is also one of the innovators of the field.
"One of the great things that I think the campus community and students don't realize is that we really have somebody who is a major intellectual innovator," Gradilla said. "Especially within the field of latinx studies. Dr. Alvarez has helped in the creation and the development of the area of expertise called Joteria Studies."
Another reason that Joteria Studies is such an important aspect of Alvarez's life, especially his professional journey in academia, is the way it helps him connect with the community, he said.
Alvarez said that Joteria has helped him connect with students with similar backgrounds, but also be more compassionate as a professor.
Having been a first-generation student himself, Alvarez said he understands what some of his students are going through in ways other faculty may not be able to. He also said his journey with Joteria has brought many advantages in the classroom, but at times he still does not feel like he belongs.
"I think that my experiences have been able to create a bridge and to create a space in the classroom where students can feel that they can be who they are, (and) bring their experiences to the classroom. My experiences have also at times made me feel like I don't belong here," Alvarez said. "Those feelings of not belonging, they don't necessarily go away when you become a professor."
On his journey through academia, Alvarez said he was inspired by one his advisors in graduate school at the UC Santa Barbara, the late Horacio Roque Ramírez, to document the queer Latinx and Chicanx community in Los Angeles and all the stories and history that comes with it. Alvarez said he based his dissertation on this concept which has now transformed into a book that he is working on called "Finding Sequins in the Rubble."
Alvarez said that at a very basic core, telling stories through oral history of queer, trans, lesbian, gay bisexual and joteria in L.A. is a central aspect of the book.
"The other aspect of the book is to show besides their stories, what are the spaces in the city of LA that shaped their coming of age or shaped their experiences," he said. "On that level, there's a spatial analysis that does a sort of mapping of what are the different spaces. In that way providing a different queer LA than maybe a more mainstream perspective of West Hollywood and your typical, what it means to be a queer space."
Alvarez said the title of the book serves as a metaphor about how Joteria navigates marginalization, interpersonal violence, institutional violence and systemic violence and how to come out of the rubble and still find joy and love. He describes the shiny sequins part as a queer artifact or aesthetic.
He explains the rubble and debris, in the context of the city of LA being the negative experiences that many immigrants and people of color have faced over the years. He said events such as Proposition 187 that was approved in 1994 as well as earthquake strikes and the effects caused by the COVID-19 pandemic are examples of rubble.
"I'm sort of theorizing both the ideas of sequins and rubble and how the stories of these folks I'm telling you about fit into that metaphor (Finding Sequins in the Rubble)," Alvarez said.
Revilla said Alvarez's theory is the idea that even when people are experiencing extreme trials and tribulations in life such as first-generation, those from working class backgrounds who are either queer, transgender, women, people of color and others experience a lot of struggles.
"It takes us a lot in order to get into either academia or whatever career of our choice and then we still have to do a lot of care for our family and our community. And so he's looking at the way trans and queer people find the joy, find the beauty in the rubble," Revilla said.
Some advice that Alvarez urges people who are or are not part of the Joteria community is to read some of the work that has been published by scholars, and to find a form of expression to build up the community, but also to help heal themselves. The last piece of advice that Alvarez has is for people to reflect back at their childhood and what brought them joy.
"Read Joteria studies literature, do something creative to express yourself and think about all the things that made you happy as a kid and how you can find some of those things as an adult," he said.