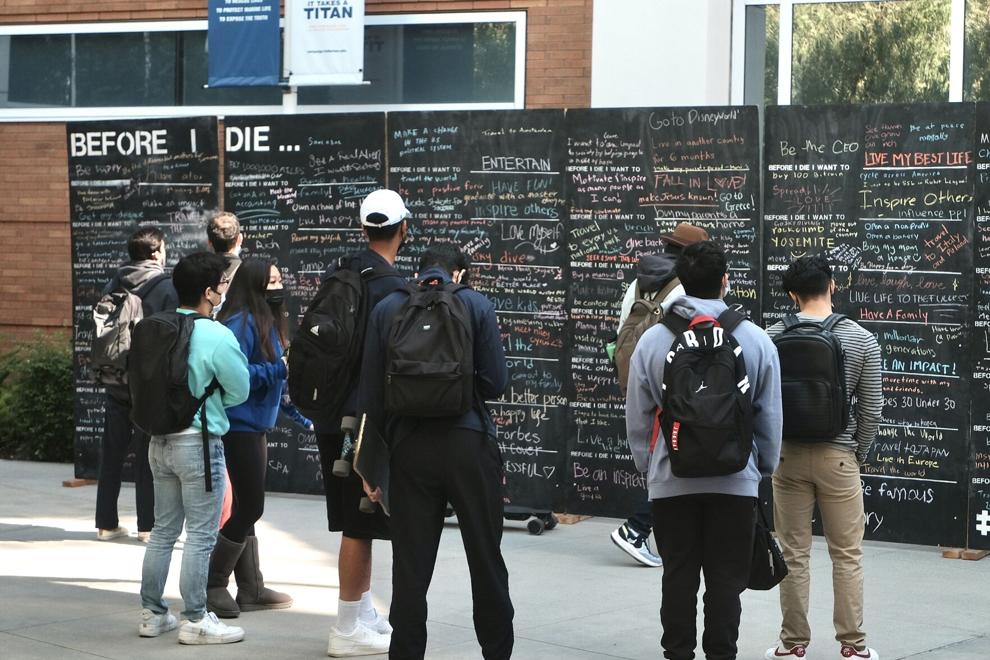 What are your goals in life? That is the question posed by the "Before I Die" wall, an installation on campus, located in the center of the Steven G. Mihaylo buildings, that allows students, faculty and administration to express their life goals for others to see.
By early afternoon Monday, several students had already written on the six large chalkboards that make up the wall, from personal aspirations like "inspire others" to business goals like "own my own company."
Samuel Betancourt, the executive director of outreach for Cal State Fullerton's Business Honors Program, the program organizing the installation, said that he felt the wall was especially meaningful this year, given that many students had to put their goals on hold during the COVID-19 pandemic.
"I think it's more relevant today to just have people just reflect on their goals and make sure that they're continuing them or working towards them or just have some in mind," Betancourt said.
He added that he believes visualizing goals in this way makes a tangible difference and can lead to greater chances of success.
"I think that writing down goals makes it a little bit more real, it feels like it's there, almost like a to-do list," Betancourt said.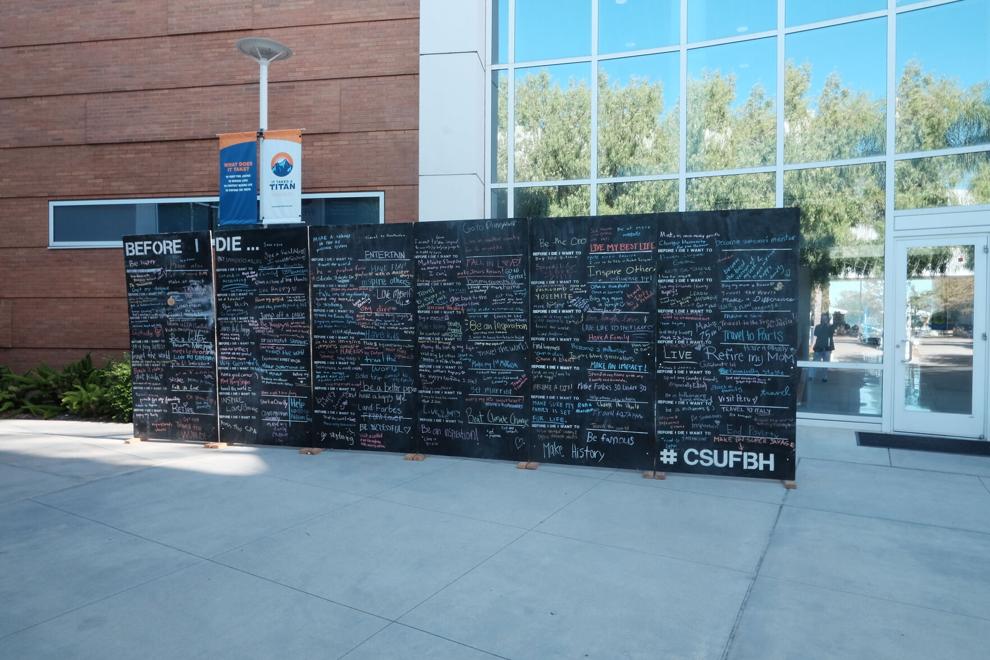 Many students had written messages expressing an urge to travel after the past year's restrictions. Betancourt himself said that his goal was to visit every U.S. National Park. Others expressed hope for societal change, with some writing messages like "end poverty" and "stop climate change."
The "Before I Die" wall installation began in 2013 and is held annually.
One of Betancourt's goals for this year's wall was to get the administration more involved in the event. On Monday afternoon, CSUF President Fram Virjee stopped by the wall and wrote two goals: "shine a light" and "live my dreams." Betancourt said that Sridhar Sundaram, the dean of the College of Business and Economics, was scheduled to visit the wall on Tuesday.
Last year, the event was held virtually due to the COVID-19 pandemic. Using an online platform called Padlet, participants could publicly post their goals, and others could like or comment on them.
The "Before I Die" wall will be displayed in the College of Business and Economics Courtyard from 8:30 a.m. to 4 p.m. until Wednesday, Oct. 20.