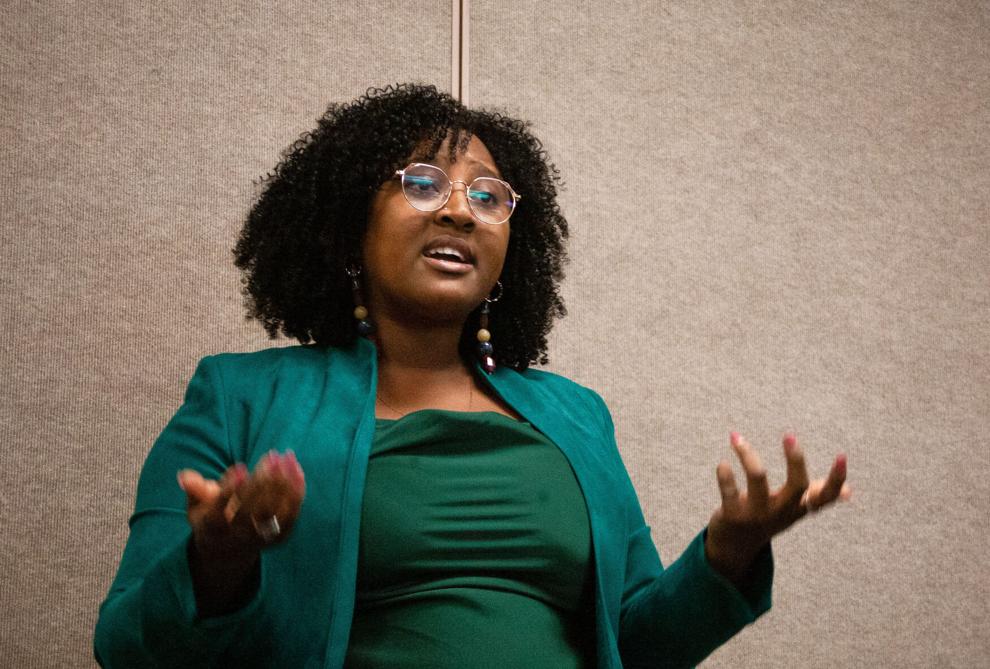 The Latinx Student Psychological Association hosted an event to discuss the mental health of students of color last Tuesday with Dr. Asya Harrison, an associate professor of psychology at Cal State Fullerton.
In collaboration with the National Society of Black Engineers, LSPA put on the event while also discussing the societal standards that have been put in place to keep people of color from succeeding as easily as others.
"We thought this was just an important topic to cover, especially since we're a Hispanic serving institution," said Vanessa Pelayo-Cobian, the president of LSPA.
Harrison was asked to speak at the event because of her research on the childhood and upbringing of Black and African American families, Pelayo-Cobian said. 
The National Society of Black Engineers is a club that provides networking and career opportunities for engineers. Nii-Kwame Oteng-Quarshie, the president of the club wanted to work with the organization because he felt like mental health is something that is often overlooked in STEM, or science, technology, engineering and mathematics.
"A lot of the time, it's just about staying on the grind and just working, working, working, and not taking the time to assess what's going on with your mind," Oteng-Quarshie said. 
 Harrison and Pelayo-Cobian began the discussion with an article about the education of minority children and unequal access to academic resources.
The group touched on microaggressions, which can be detrimental to students' progress and self-esteem. 
"Microaggressions are usually not conscious, intended to be malicious. They are statements that people say that are inherently racist, because of the foundation and the thoughts and the ideology behind those statements," Harrison said. 
Harrison brought up an example of a microaggression she faced. Harrison had gone to the bathroom a couple times in the same day but ran into the same person twice. The person said to Harrison, "I see you so much it's like you could work here."
Harrison said she felt uncomfortable because it reflected how people of color are historically exploited in places like the service industry.
"Depending on who was saying that to me, which was the older white woman, I very much felt that she was equating me to the positions that she usually sees Black and brown bodies, which is not a colleague or a professor," Harrison said. 
Harrison likes to tell her students to remember a situation where something happened to you, and you felt uncomfortable afterwards but didn't know why. This is likely a time when they experienced a microaggression.
Another topic was cultural barriers that prevent people from finding solutions to their mental health. Pelayo-Cobian said machismo, the belief from Latinx culture that men shouldn't cry or show their emotions, is one of the cultural barriers that prevents people from seeking help.
Pelayo-Cobian said she recommends people go to CAPS to use their resources and participate in activities to help their mental health. 
"There are a lot of different ways you might want to replenish yourself and do self care to get yourself back on track," Harrison said.