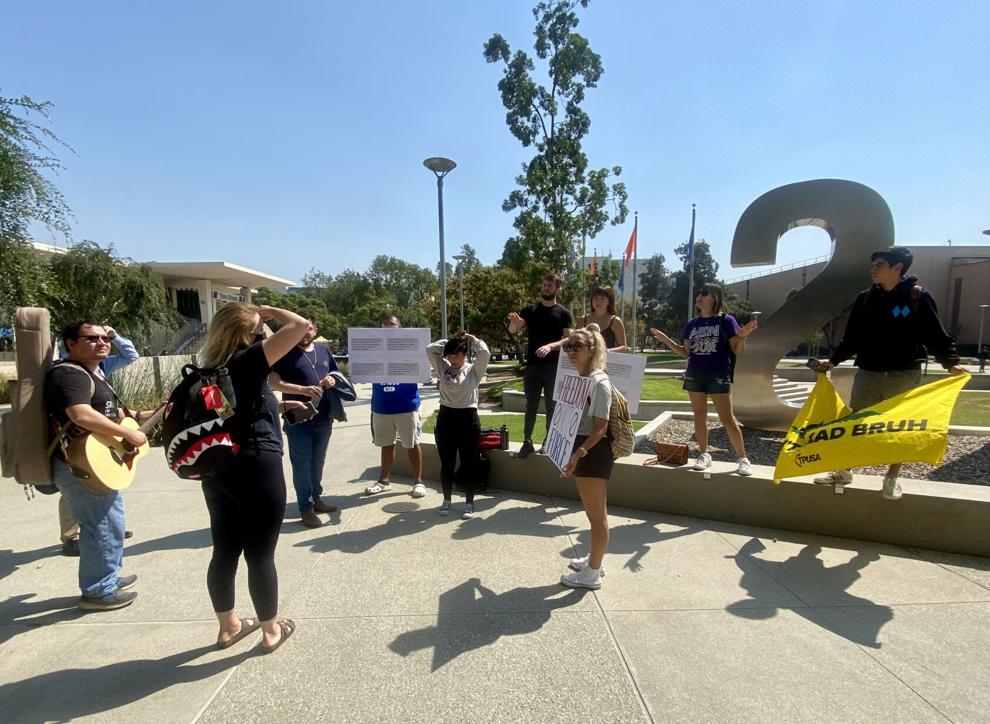 On Monday morning, nine protesters gathered in front of the Titan Letters near the Titan Student Union to protest Cal State Fullerton's vaccine requirement.
The vaccine mandate states that all CSU faculty, staff and students must be fully vaccinated against COVID-19 by Sept. 30.
Turning Point USA at CSUF organized the on-campus protest. Demonstrators were there to "fight for medical freedom and privacy," according to the group's Instagram post.
The protesters declined to speak to a Daily Titan reporter.
The CSU policy states that in order to access the campus and participate in campus programs, individuals must be fully vaccinated by the deadline, according to the Titans Return website. Individuals who are not fully vaccinated must have an approved medical or religious exemption.
One student at the demonstration held up a sign showing screenshots of texts from the university.
The text messages stated the student would lose access to the portal if they had not started to upload their vaccination record or exemption request effective Monday.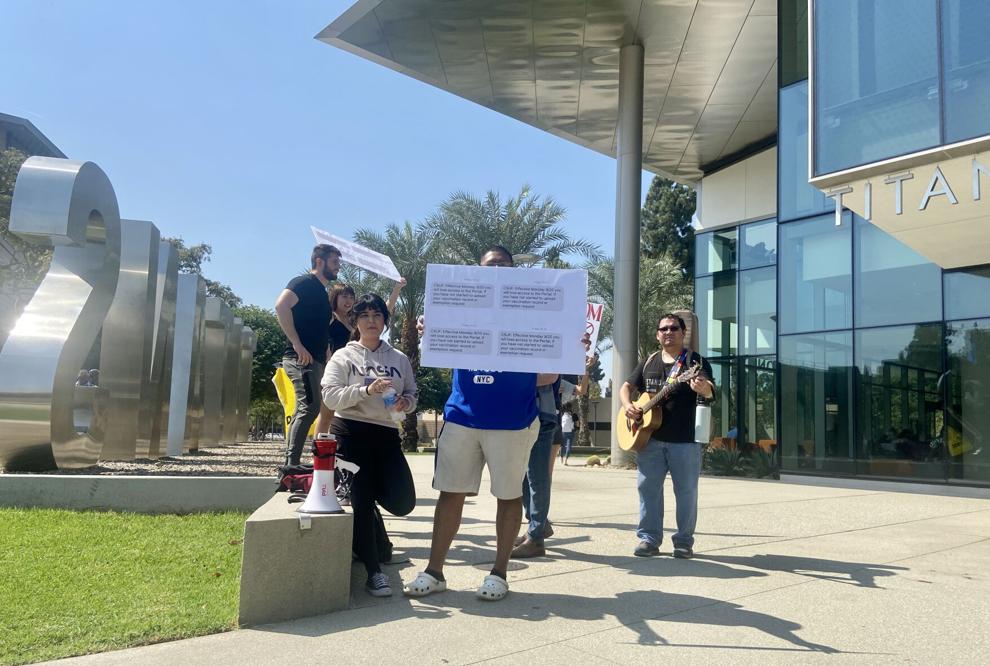 A similar notice appeared on Canvas last week but has since been removed from the website.
Marcos Zelada-Rodas, CSUF student and chapter president of TPUSA, said in an email to the Daily Titan that the texts shown were sent to CSUF students but the administration later reverted their decision and no one has been locked out of canvas.
"We are grateful and hope it is a sign of progress," Zelada-Rodas said.
He added that the group will continue to organize protests and events in a peaceful manner to showcase their voices and discontent with the vaccine mandate.
"We are NOT anti-vaccine. We support anyone who wishes to get vaccinated. The same way we support anyone who chooses not to for a variety of reasons," Zelada-Rodas said. "We are seeing medical discrimination and segregation all around us. The CSU system and CSUF administration mandates are contrary to what we believe in. We believe in medical freedom."
Zelada-Rodas said that every protest held has included people from different political parties and different vaccination statuses. The students also come from a variety of backgrounds who will continue to be vocal for medical freedom and medical privacy, Zelada-Rodas said.
"We will continue until changes are made. It may take a week, it may take a year, or even a lifetime but we will always stand for what is right and continue to organize different events and demonstrations," Zelada-Rodas said.