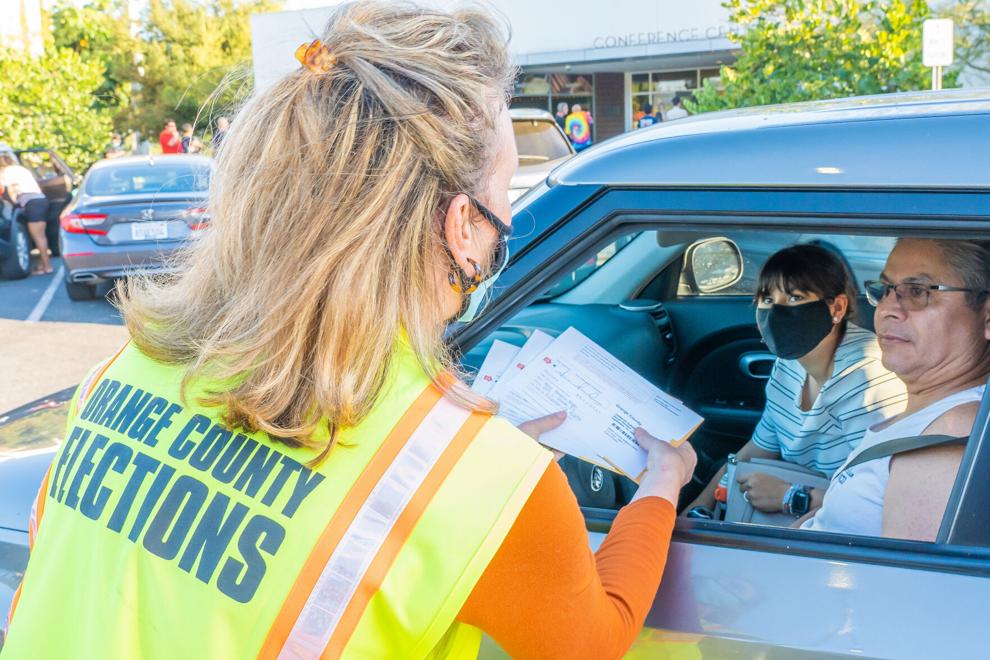 After the Sept. 14 recall election results, political organizations on campus have shared their thoughts on the future of California under Gov. Gavin Newsom.
Claudia Lazaro, a fourth-year political science major and president of the Cal State Fullerton Democrats, said she believes that this is not the end of the movement to oust the democratic governor.
"I think we should use this movement and this energy that we have right now to keep the momentum going for the upcoming governor election that's not even a year away," Lazaro said.
Student Republicans on campus are keeping their heads up and looking to future elections to ensure their voices are heard.
"We were disappointed. We definitely wanted to see new leadership. However, the fact that we had a recall is historic within itself, so we're encouraging Californians to not lose hope and to keep looking forward to 2022," said Noelle Fitchett, communications director of the CSUF Republicans Club and a senior double majoring in biochemistry and philosophy.
Fitchett said the club does plan on working on several campaigns this upcoming election season; both on a federal and state level.
Young Republicans in the club such as Alex Loniak, the CSUF Republicans vice president, said he is frustrated with the overall leadership from the California Grand Old Party during the recall effort.
"Things have to change dramatically moving forward. I think the California Republican Party knows that it's a joke and it's not really taken seriously," Loniak said. "They need to realize that they're not playing the right games, not doing the right things."
Nicholas Stratos, president of the CSUF Progressive club on campus said the recall results came in faster than expected.
"Tonight really wasn't as much about California moving forward as it was not moving 10 steps backward," Stratos said. "I think it was actually an incredible showing of how important voting rights are because even in an election like this in an off year, the voter turnout was amazing."
On the ballot, voters were asked, "Shall Gavin Newsom be recalled (removed) from office of Governor?" After polling stations closed at 8 p.m. it became clear within the first few hours that Gov. Newsom was going to be victorious by the end of the night.
As of Wednesday, Newsom sustains a majority vote of 63.8% with 72% of the ballots counted
"'No' is not the only thing that was expressed tonight," Newsom said at a news conference after the recall failed. "I want to focus on what we said 'Yes' to as a state: We said yes to science, we said yes to vaccines, we said yes to ending this pandemic."
Newsom ended Tuesday night on Twitter with a simple message to Californians.
"Now, let's get back to work."
Conservative radio host, Larry Elder, led a group of 46 replacement candidates with 46.9% of the voters in favor of the recall.
"Let me just say this," Elder said during his concession speech to a crowd in Los Angeles "Stay tuned."
On Monday, President Joe Biden rallied for Newsom in Long Beach urging Californians to vote "No" on the recall election.
"Gavin will be a governor who will help us finish the job. Folks, send a message to the nation: courage matters, leadership matters, science matters. Vote to keep Gavin," Biden said.
The petition to recall started June of last year as a critical response to Newsom's handling of the coronavirus pandemic, California's homeless crisis, high tax rates, strict gun laws and other various complaints.
Due to the impact of COVID-19, the petition was given a four-month extension to meet the 1,495,709 signatures required to trigger the recall.
According to the California's Department of Finance, the recall election was expected to cost California taxpayers $276 million once the results are finalized.
Orange County, which historically voted for former Gov. Arnold Schwarzenegger in the last California recall to remove Gray Davis in 2003, saw a 50.3% voter turnout with 52.65% voters in favor of keeping Newsom in office.
Mail-in ballots proved to be extremely popular this year in Orange County as 779,844 were turned in, compared to 129,847 in person ballots.