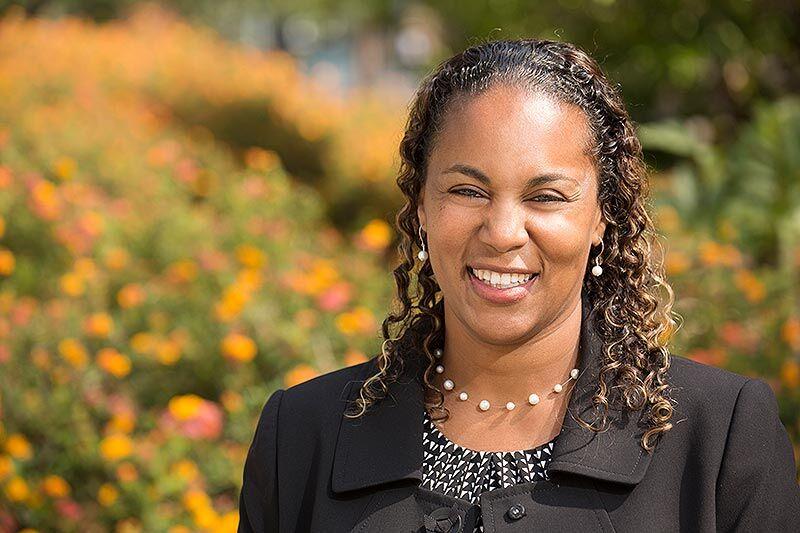 Cal State Fullerton's dean of Education, Lisa Kirtman rallies to create valuable programs for her professors and by extension, the program's future educators and their students.
Before she was promoted to the role of dean in 2016, Kirtman was an educator and a department chair.
Growing up, Kirtman said she never thought she would become a dean, let alone know what that was. She said she became a teacher because she wanted to change the world one class at a time, a mentality that has followed her into her work as a dean.
"We are one of the largest teaching credentialing programs in California. I believe we have an opportunity to make a positive impact on so many K-12 teachers and ultimately improve schools for children," Kirtman said. "My hope is that as the dean I can help shape policy and practices to continue that dream I had as a teacher to 'change the world.'"
Kirtman said her own experiences with racism and discrimation as a Black woman has influenced her passion to hire and retain people of color in the college.
"Discrimination has occurred to keep students of color out of higher education and out of certain fields, and history has tried to remove indications of the contributions of people of color," Kirtman said.
Kirtman said that there are barriers deeply rooted in institutionalized racism that people can't see because of already set practices, but that having people of color in these areas is one way to combat this challenge.
"Bringing in faculty of color helps us see the barriers that we may be missing. They create new voices and new perspectives. They allow students of color to see themselves in the faculty, staff and administrations," Kirtman said.
Kim Case, the associate dean of the College of Education, works closely with Kirtman and has been a colleague of Kirtman since she was a professor in Elementary and Bilingual Education, a program within the College of Education.
Case said Kirtman has shown what it means to foster inclusive education for the faculty, staff and students at Cal State Fullerton.
"When she became department chair, she was the type of leader that inspired people to want to work harder for our students and our programs. She has always been unwavering in her passion for student success and her commitment to equity," Case said. "As a mentor, she has instilled in me that the work towards diversity, equity and inclusion begins on the inside and at a personal level."
Ding-Jo Currie, a distinguished faculty member in the Higher Education Leadership program, said that Kirtman's intersectionality in her personal and professional life has become one of her strongest assets.
"I respect a leader who is justice-minded, and I feel that that's important," Currie said.
Dianna Lopez, assistant dean, said that she would not be the professional and leader that she is today without Kirtman's mentorship and leadership.
Lopez said Kirtman is a transformational leader, focused on the growth and wellbeing of people in the university's community.
She said Kirtman is not doing work for the spotlight, but rather to advance diversity, equity and inclusiveness in public education.
"I've grown as a leader, I've grown as a woman of color in higher education, I've grown as a Titan, I've grown overall because of her investing in me professionally," Lopez said. "I feel supported. I feel I can go to her if I need something. I can go to her for advice; I can go to her for anything pretty much."
Lopez spoke about the work that Kirtman has done to hire and retain people of color within the college to diversify the faculty and staff, by creating new policies and establishing a culture that retains people of color.
Lopez said that Kirtman is incredible because everything she does, she continues to keep in mind the kindergarten kids to the 12th grade kids, and that she makes sure that the faculty and staff are prepared to serve those students and serve them well.
Marc Ecker, a distinguished lecturer for the College of Education, said he thinks Kirtman's biggest accomplishment is her efforts toward building interdepartmental collegiality and increasing communication.
"I think she has really made efforts to break down those walls and to advocate and increase the level of interdepartment communication," Ecker said.
Natalie Tran, professor and chair of secondary education, said that Kirtman's experience as a teacher and woman of color has shaped the way that she provides leadership for the college.
"She understands the challenges the students of color face, she understands what it takes to support and ensure that our students of color are successful, as well as what it takes to support our faculty," Tran said.