Over 40 faculty and employees from the California State University Employees Union marched up and down Nutwood Avenue and Yorba Linda Boulevard on Saturday to protest the layoffs of more than 70 staff members at Cal State Fullerton. 
Cal State Long Beach and Cal Poly Pomona allies were present, practicing social distancing as cars drove by and honked in support of the CSU employees. 
Due to the ongoing pandemic, the CSU system's finances took a major hit, spending about $200 million on new expenses and refunds since the operating budget for 2020-21 shrunk by 4.4%.
Many teachers have criticized the high salaries of the system's upper management. Current CSU Chancellor Timothy White's salary is $478,000 and his recently named successor Joseph Castro will start at a salary of $625,000 in January. Castro will also receive a monthly auto allowance of $1,000 and an annual housing allowance of $95,000.
In an interview with CalMatters, a nonprofit news agency, Castro was asked how he would respond to the budget crisis without burdening students and staff.
"We've looked at our management structure here and we've made adjustments because COVID has created a different work level for some people," Castro said. "So all of those things came first, and I think that's the right way to do it, to not do anything to affect the quality of teaching and learning. And then, to try to keep layoffs to a minimum."
Many of CSUF's layoffs are from the custodial and environmental health departments due to the lack of work. However, Cheryl Parker, administrative support coordinator for CSUF's Environmental Health and Safety Department, does not believe the reasoning behind the layoffs and is astonished that essential workers are being laid off.
"We are a very small operation, which for the most part, usually goes unnoticed and unappreciated," Parker said. "The thought process behind laying off key and essential safety employees is dumbfounding."
Employees from other CSU campuses were present at the protest on Saturday. Although some campuses have not had layoffs yet, there are still questions as to if or when that may happen.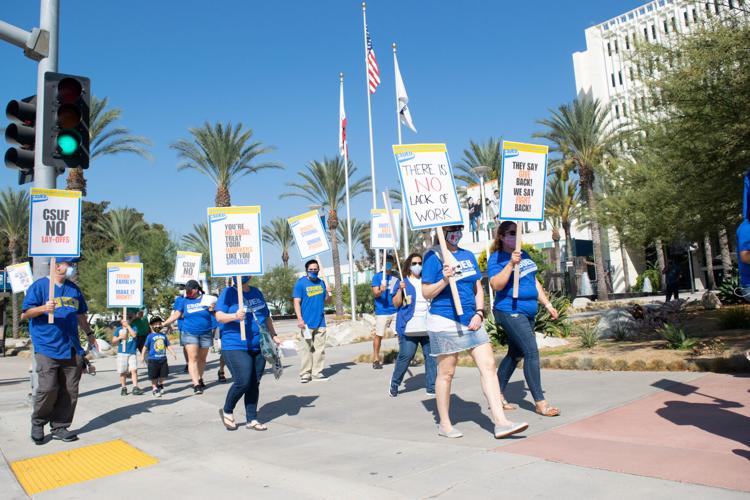 "At Pomona there hasn't been any layoffs, but we're here to support the people here so we're here to support the people in the rally," said Hector Maciel, the employee union chapter president at CPP. "We're anticipating and planning for layoffs at Pomona."
On Sept. 14, union members spoke with Assembly Member Sharon Quirk-Silva via Zoom to bring attention to the $1.5 billion surplus that the university holds to reduce layoffs. Quick-Silva said she does not know why the CSU system would not use this fund to help with the layoffs of the environmental department.
Quirk-Silva has been an outspoken critic of the rainy day fund, and was one of the leading questioners on the issue when it was brought before the state assembly.  
As for lack of work on campus, Vicky McLeod, the employees union's legislative committee chair, said that at CSUF more than 100 labs and classes are held on campus, students live in housing, the first level of the library is open by appointments, the book store is open for pick-up and the Starbucks and Carl's Jr. are open for take out. 
Just like at CSUF, workers at the Pomona campus are overloaded with work but they have received notices of potential layoffs in the future, said Isabel Sam, Pomona's evaluations unit analyst. 
Martin Brenner, the CSULB chapter campus representative, attended and expressed concerns for the students about the layoffs. 
"What worries me is that they are de-prioritizing the people that provide direct services to students," Brenner said. "It's the staff that keeps this place clean, that mows these lawns, that trims these trees, that keeps your labs working, that prepares your materials, that processes your application for financial aid."