Of the entire list of approved in-person courses at Cal State Fullerton this fall, the majority are being held in a hybrid manner, with faculty at liberty to decide which format they prefer to hold their class in. However, once a class has been made virtual, the professor can no longer change the format.
There are a total of 97 classes approved for in-person instruction, ranging from kinesiology to theatre courses, totaling 200 sections.
Some classes, like chemistry and general biochemistry laboratory, adapted to a hybrid format to accommodate safety measures, such as social distancing.
Marcos Ortega, an assistant chemistry professor, said his class typically consists of 16 to 18 students per section, but the class size was reduced to 12 students this semester. The course is held twice a week, with two groups alternating between in-person and virtual instruction.
"I felt it was important that the students got this experience with hands-on learning, even during a pandemic," Ortega said in an email to the Daily Titan. "The application of biochemistry in the lab is so important to learning."
Some classes contain two sections, like Anthropology 402, with one section as a lecture and the other section as a laboratory.
Of the total 200 sections, the amount of hybrid and in-person classes are almost the same. There are 76 hybrid sections, 73 in-person sections, 20 fully online sections, and the professors for the remaining 31 sections did not respond to requests from the Daily Titan.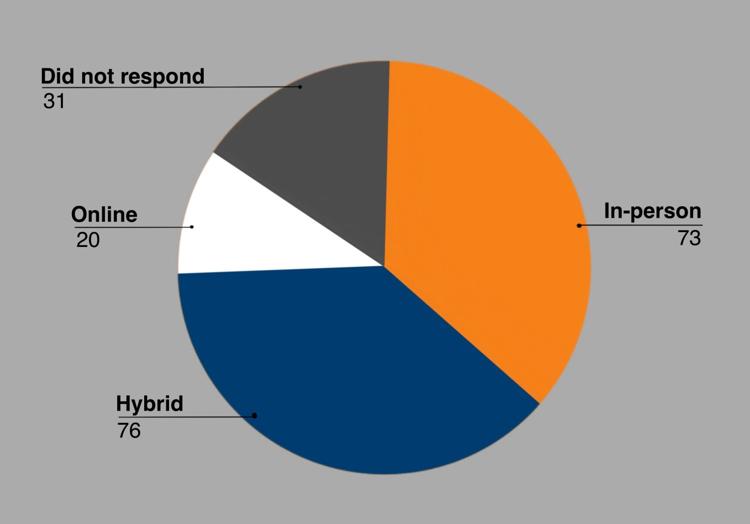 Of the 97 approved classes, there are 14 classes listed with no sections included, as they are intercollegiate sports such as men's soccer and women's tennis. Though these classes are on the approved list, they are not allowed to be on campus for any athletic activities, said Sean Collins, interim director of athletics communications.
Approved nursing classes were listed as all classes by appointment. There are 24 nursing classes offered this semester with a total of 112 sections. Ultimately, only one class, Nursing 403L, which holds four sections, was approved for in-person instruction.
Dr. Merri Lynn Casem, the department chair of biological science, said a virtual semester is not ideal, as faculty members are left to balance teaching and learning with the health and safety of themselves and students.
Regardless, Casem said she believes that this semester is simply a trade-off and not a total loss.
"I can't give you that hands-on skill, but I can give you a different set of skills that we include in the past that now we're going to emphasize," Casem said. "Is it what I want? No. Is virtual what we should do forever? No. But, can I give you a quality education? Yeah."
Casem said that learning is a personal experience that can happen in a classroom, bus or wherever a student can engage. Learning is something professors can facilitate, but not something they can force. The actual act of learning will always be real, never virtual, she said.
However, some students have expressed frustration with an almost-entirely virtual semester, as they have claimed that virtual learning is not as effective as learning in a classroom. Some students said that they have considered taking the semester off due to predominantly online classes.
Marie Johnson, the dean of the College of Natural Sciences and Mathematics, said she has no judgment for students who believe taking the semester off will be beneficial for them. But ultimately, she wants people to be successful whether there is a pandemic or not.
"We've worked very hard to make that possible during the pandemic so that if a student wants to stay in school, they can continue to make timely progress." Johnson said.
Both Casem and Johnson noted that the sciences have an advantage in regards to safety conditions. Part of the standard procedure for lab classes includes personal protective equipment, such as lab coats, goggles and gloves. The addition of masks is not as shocking as is the need for physical distancing.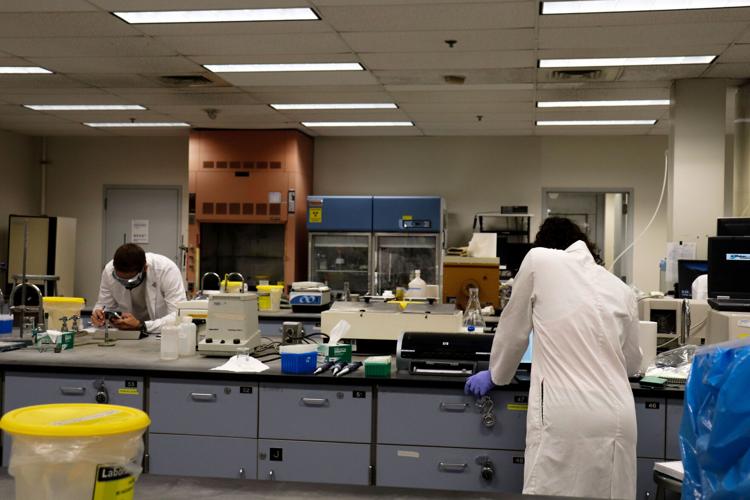 "It's not in our nature to be physically separated from one another. I think the hardest thing I've struggled with is that when you're thinking about your science, you naturally huddle up with someone to talk it through." Johnson said. "We clump up and talk. Now you have to break that habit."
Samantha Davis, a first year liberal studies major at CSUF, said she is struggling to adjust to a virtual ceramics class.
Davis said she feels as though she got the short end of the stick when her approved in-person class turned virtual. Her professor posts videos and readings to learn the techniques and has Zoom meetings for any questions, but Davis said she feels as though she is missing out.
Aside from the adjustments made by her professor, Davis said she is more so frustrated with having to pay for her own supplies. Though she said she is fortunate enough to be able to afford it, she can imagine how stressful it might be for those who cannot.
"I'm sure the school could've figured out a way to loan out supplies," Davis said.
Though spring has been confirmed to be virtual, there has been no announcement as to which classes will be offered online or virtually.