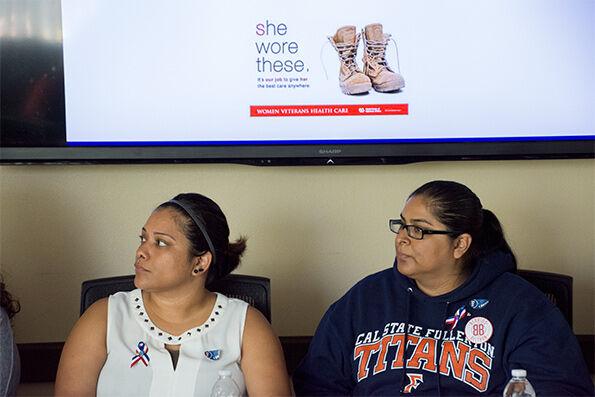 Female veterans shared their experiences and hardships in the male-dominated military during a panel hosted by the Cal State Fullerton WoMen's Center on Tuesday.
The event, titled "Women in the Military: Self Reflections," was part of the university's Women's History Month celebration.
Catherine Ward, assistant director of engagement and student success at the Veteran Resource Center, gave the opening remarks. Ward, who has worked with the student veteran population since 2009, said that of the approximately 500 students that make up the veteran population on campus, only 88 identify as women.
"Women veterans end up being their own advocates as long as they have a platform and a place in which to speak up and tell their stories," Ward said.
All four panelists — Janet Gatihi, Claudia Acosta, Deanne Locker, and Yareli Mendoza — are female veterans and graduate students at CSUF. Each panelist shared what it was like to be a woman in the military.
Locker said she struggled to build up the confidence to carry on her duties as a "mean" female sergeant.
"I have a bubbly personality, so it was hard for me to put on my sergeant hat and not let people get away with anything," Locker said.
When Locker got pregnant, her supervisor asked her, "How could you do that to your soldiers?'" she said.
At that point, Locker decided to get out of the service because she felt her hard work was not acknowledged when she wanted to start a family with her husband.
Mendoza, who is pursuing a master's degree in public administration, never felt like she was good enough for a male-dominated career like the Air Force.
She spent five years as Air Force military police, but did not feel appreciated, even when she scored highly on her exams. Mendoza felt like she had to put in more effort just because she was a woman.
"It was really tough on your self-esteem always living every day knowing you are never going to be as good as a man," Mendoza said.
Despite her struggles, she made amazing friends and got to travel a lot, she said.
Gatihi joined the army when she was very young. In 2004, before being deployed to Iraq she asked to be taken out of the deployment team.
"I did not want to deal with shipping dead bodies," Gatihi said. "I did not want to to be traumatized by that experience."
After getting out of the army, Gatihi did not have a sense of veteran support until she got to CSUF. She is now happy to have made it thisfar.
As for Acosta, an injury prevented her from moving forward with the Marine Corps. Even though she was good in all the other areas, she had to accept that her body could not take the training.
Being in such a male-dominated environment, Acosta felt that she was not allowed to show weakness. "If you get injured, you suck it up and don't show it," she said.
For Acosta, it was hard to get out, but her experience in the military has given her a foundation to overcome any challenges. She is often told that she does not look like a veteran, but to her there is no specific criteria to how a veteran should look like.
Analleli Barragan, a human services student who attended the event, found the women's experiences interesting. She said that she would like to work as a social worker with women in the military.
"You don't really hear about them so you don't know a lot about them. That's why I came out," Barragan said. "It changes your perspective."