The smiles and laughter from Latino journalists did not mirror the struggles they have faced leading up to the InquireFirst conference hosted by the Latino Communications Institute at Cal State Fullerton and the Latino Journalists Club.
The past week served as the first instance InquireFirst and CSUF collaborated to host the annual conference (previously held at Stanford University), which trains Latin American, Caribbean and U.S. journalists who report for Spanish-language media.
"Our objective at InquireFirst is to provide training for Latin American journalists in areas like investigative journalism, journalist safety, digital storytelling, science health and environmental coverage. It's really important to support our colleagues in Latin America," said Lynne Walker, the president and executive director at InquireFirst.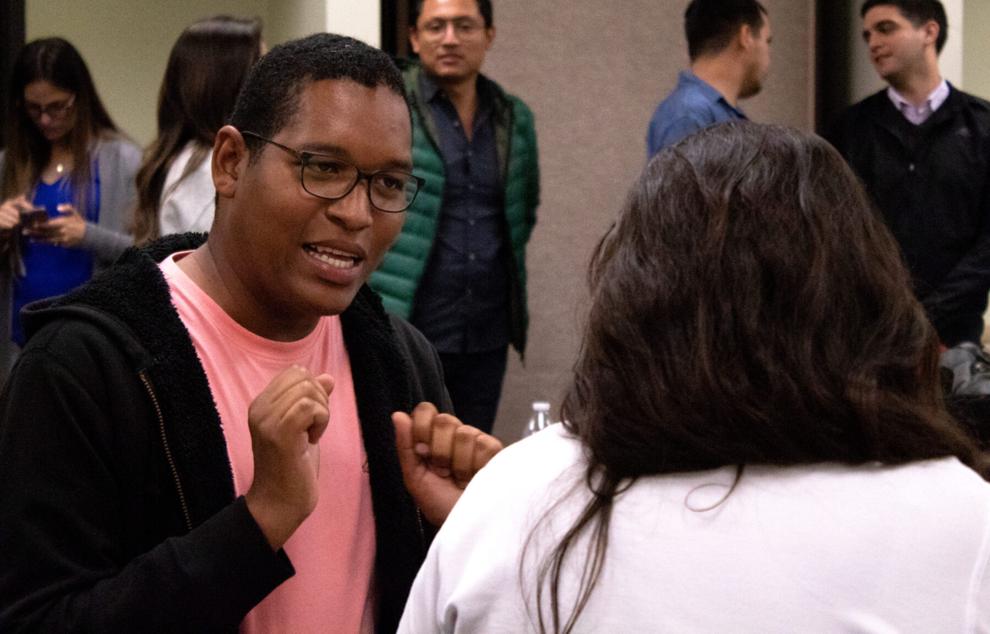 With different experiences in different countries and territories, the narratives from storytellers reflect the context-specific issues they were voicing. The detailed stories of drug trafficking and murder in small towns rippled through a conference room in the Titan Student Union.  
Inez Gonzalez, the CSUF Latino Communications Institute director, and InquireFirst's Vice President Walt Baranger, who also is the advisor of Daily Titan, helped bring 12 journalists from Bolivia, Mexico, Panama and Paraguay to attend nine workshops over five days that covered the basis of fact-checking, cyber security and multimedia journalism.
"A journalist from Mexico was saying 'Well, you know there's limitations of what we can do for fact-checking because you get killed if you get caught fact-checking a certain issue.' I got chills just hearing that because it is a very dangerous career in some countries so these are the people that are risking their lives," Gonzalez said.
Listening to the different stories journalists from Latin countries have.

InquireFirst and @csuf teamed up to bring these journalist a different experience from field reporting; one that doesn't involve risking their security. pic.twitter.com/vBaugaSNcE

— megan garcia (@garciamegan_) February 28, 2019
Among the keynote speakers was Ginger Thompson, an investigative reporter for ProPublica, who touched on her own year-long experience investigating the 2011 massacre in Allende, Mexico fives year after it occured.
In a ProPublica article, Thompson wrote about the drug operation sparked by the U.S., which led the Zetas cartel to flood the city within days to kidnap and/or murder men, women and children as they demolished the town.  
The attack was after the Drug Enforcement Agency interrogated a member of the cartel for information on two kingpins — intel the DEA later shared with the Mexican government. Soon after, the Zetas targeted anyone connected to the informants, according to Thompson's article in ProPublica.
While ProPublica was the only media outlet to publish detailed coverage on the massacre, they were not alone in the town. The New York Times made its presence known in Allende with a caravan of armed guards to protect their reporters.
"I think for me, the moral of the story is when it's necessary to go in heavy with armed guards, you should know that. There are war zones and times where it's necessary," Thompson said.
Thompson said there are instances, like five years after the 2011 massacre in Allende, where the armed guards were not necessary and made reporting on the issue more challenging.
"This town, covering this story, this way — I think armed guards made it hard. It put up a barrier between the reporters and the people they were trying to write about," Thompson said.
Thompson's workshop advised reporters on how to navigate the tricky waters of investigative reporting in high-risk situations. Enrique Dávalos, a Paraguayan news anchor and radio host, said he has experienced these situations firsthand.
Dávalos' team of reporters investigated someone who was impersonating a doctor and the impersonator went to prison.
"Honestly, we had some fear at the time of publishing those materials or even after the fact with the consequences that can come with it. By luck, we still haven't faced anything," Dávalos said.
The reporters worked, motivated by the belief that powerful politicians should be imprisoned if they're not providing basic needs to the people of the country.
Dávalos said Paraguay has enjoyed almost 30 years of democracy with the only real risk for reporters being in border cities and areas run by drug traffickers, where journalists are still being killed.
"There are border cases where the risk is bigger for journalists stationed in those zones that they need private security because public security can't be trusted. My work, is lucky enough to not run those risks," Dávalos said.
The fear of reporting in drug-trafficking countries without protection is warranted among journalists, especially with the danger going unresolved. During his six-year presidential term that ended in 2018, about 60 journalists were killed under former Mexican President Enrique Peña-Nieto's leadership.
"It's a devastating record and I think it speaks volumes to the kind of president he was and to the kind of relationship that his government had with the press. Almost none of those assassinations were resolved. A lot of journalists died and no one was held responsible for it and I think that's his record. He should have to answer to that," Thompson said.  
Drawing some similarities to Mexico, where the press was funded and controlled by the government, Paraguay has overcome that control by moving toward freedom with the media in the past three decades, Dávalos said.
It was not until 1989 that freedom of the press resumed in Paraguay, after a coup removed dictator Alfredo Stroessner and newspapers were allowed to reopen their doors since they were closed by the regime.
Stroessner had a reputation of having journalists jailed, tortured and beaten during his 35-year reign, according to the Los Angeles Times.
The region itself has a history of media censorship, with journalists being targeted by dictators like Rafael Trujillo in the Dominican Republic, Manuel Noriega in Panama, Augusto Pinochet in Chile and more recently with Nicolas Maduro in Venezuela.
The conference took place the same week Univision reporter Jorge Ramos and his team were detained by Maduro at the presidential palace in Caracas after an interview.
Estas son las imágenes que ?@jorgeramosnews? le mostró a Nicolás Maduro y que provocaron que Maduro se levantara de la entrevista,? que retuvieran al equipo de Univision y que confiscaran su trabajo. Esto es lo que Maduro no quiere que vea el mundo. pic.twitter.com/UfSZ3lr5Jm

— Enrique Acevedo (@Enrique_Acevedo) February 26, 2019
Ramos told The Washington Post that Maduro ended the interview after Ramos questioned him on the lack of democracy in the nation and showed him a video of young men looking for food in the back of a garbage truck. Ramos said his work was confiscated by Maduro in an attempt to censor the media.
Mariana Mondragón Rodriguez, a general director of NotiGape Radio in Mexico, said what happened to Ramos did not surprise her.
"I think that occurs a lot in certain countries in Latin America; the intent to deprive a journalist from publishing something that won't be convenient to them," Mondragón said.  
She said journalism is one of the most important jobs in the world.
"I think without journalism, people won't have access to real information. They'll have information because it exists on social media, and everything else that deals with social media platforms, but they won't have investigative journalism," Mondragón said.
En su presentación con @InquireFirst, periodista @EileenTruax platicó sobre formas creativas para dirigir informes de investigación con recursos limitados. pic.twitter.com/CScMkgaWn8

— megan garcia (@garciamegan_) March 3, 2019
She said that it is hard to conduct investigative journalism in Latin America with comparison to U.S. media outlets, and that American journalists in high-risk situations can go to someone with security, unlike in Mexico.
"In Mexico, if a journalist is in a high-risk situation in terms of their profession, they can't run to the police because they don't know if the police are personally involved in that situation," Mondragón said.
With a lack of security and high risk of death, investigative reporting comes at a price for the Latino journalists who attended the InquireFirst conference, along with their colleagues in native countries.
Marlene Del Carmen Testa, an investigative reporter for La Estrella de Panamá, emphasized that her family priorities outweigh the instability and low-salary of being a reporter.
"I would die to be a journalist, I love my profession. But I also have three children in university. One goes to a private university, I also have a granddaughter who I love and I also have another child who needs to succeed," Del Carmen Testa said. "I'm already thinking that in three years I'll have to go to a different country to be a journalist because I also have to achieve my dreams."
[su_divider]