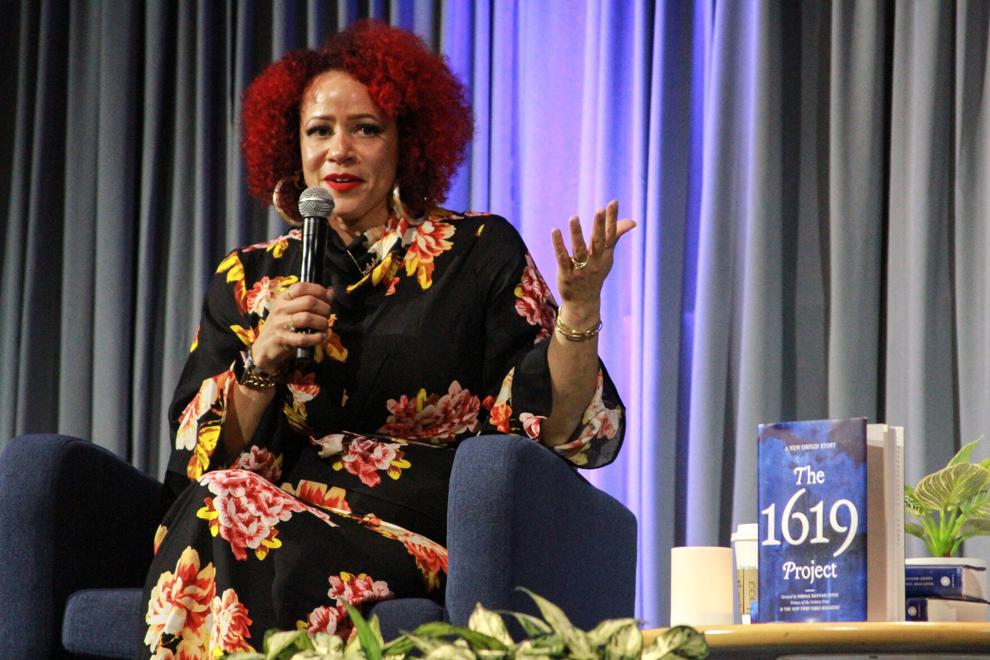 Pulitzer prize-winning journalist Nikole Hannah-Jones spoke to students about racial injustices and democracy on Thursday at the Titan Student Union Pavilion in a discussion hosted by the Associated Students and the Division of Student Affairs. 
Hannah-Jones is an investigative journalist for the New York Times Magazine who focuses on civil rights and racial injustice. She previously wrote for other publications such as the Oregonian and ProPublica. 
Hannah-Jones was invited by ASI during Black History Month as a part of the Beyond a Conversation series to highlight the impact Black people had in American history and democracy.
During her conversation with ASI President Lydia Kelley, Hannah-Jones spoke mostly about her Pulitzer prize-winning book, The 1619 Project. The project is also a podcast and a documentary series on Hulu.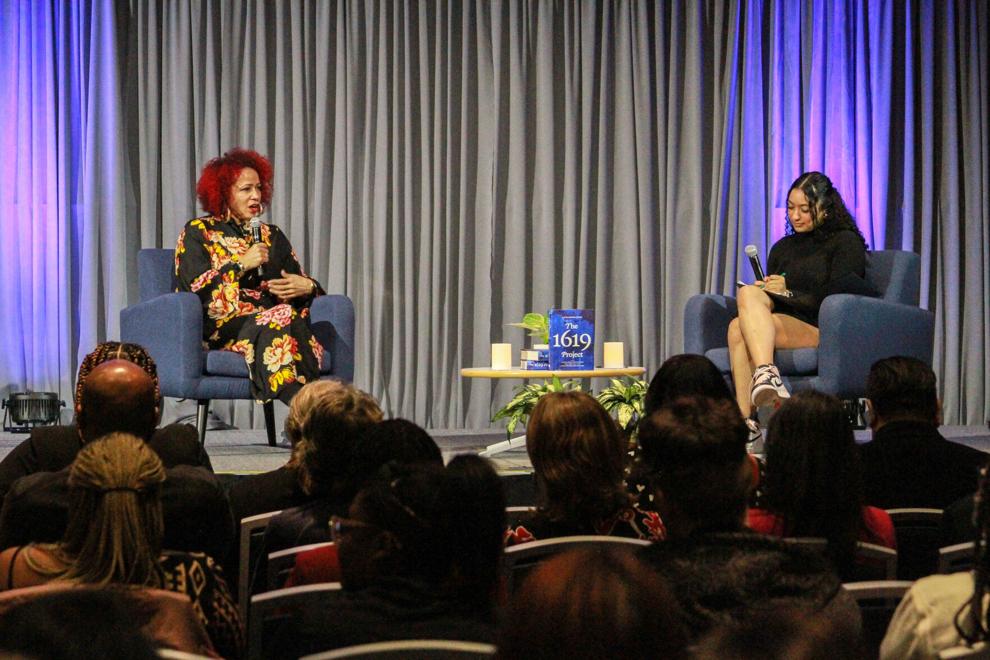 The 1619 Project was first published as a series of articles in The New York Times to investigate the origins of the slave trade. Hannah-Jones said the project attempted to unsettle our national narrative and our kind of collective memory of who we think we are as Americans. 
"That's basically what The 1619 Project is. You think you understand capitalism, well you don't. You think you understand democracy, well you don't. That to me is compelling journalism," Hannah-Jones said.
In partnership with a children's book author named Renée Watson, Hannah-Jones also co-wrote a children's book called The 1619 Project: Born on the Water. She said she wrote the book to help Black children understand that their lineage and heritage matter.
"I really wrote that book to my younger self," Hannah-Jones said. "Our children don't have the luxury of not being taught about race, the history of race, and having to deal with that. Because our children are going into a world where they see that."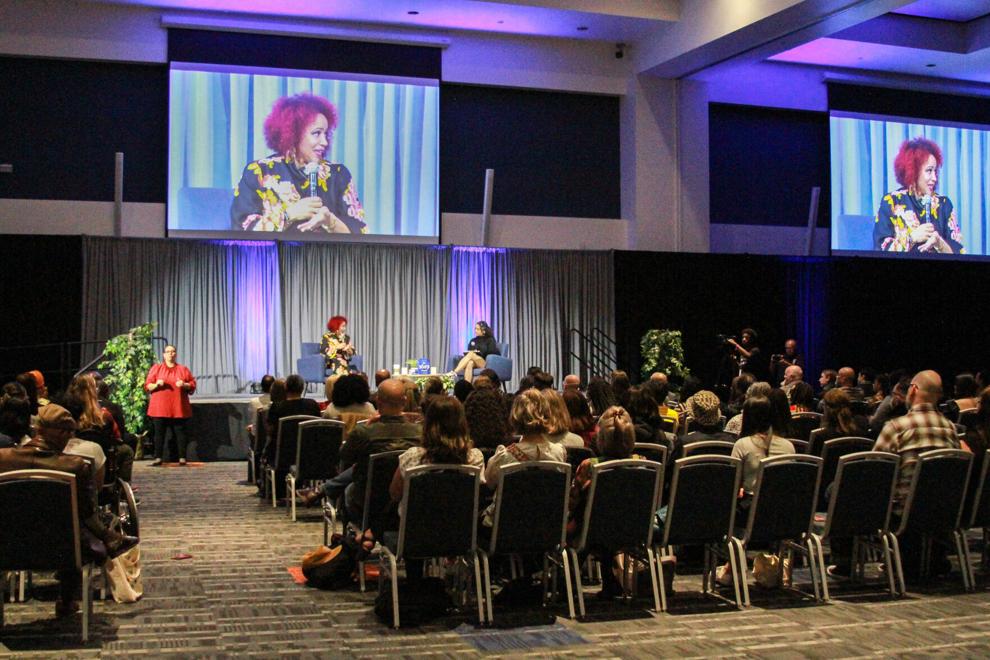 When looking for jobs, Hannah-Jones encourages students to stop worrying about feeling like a "diversity hire." Hannah-Jones said if she is qualified for a job, she is going to get hired either way.
"We cannot fix a race-specific system of inequality by pretending that racism no longer exists. I'm just not interested in that." Hannah-Jones said. "We bring something important in every space that we're in. Whether it's valued or should be or not; that's not my concern. And it shouldn't be your concern either."
Kelley said she thinks the best way to learn about other cultures is to immerse ourselves in other communities. 
Hannah-Jones also talked to students about work and their passions. She said she also worked multiple jobs in college, so she understands the struggle. 
"Even if it's hard and it's not fair, if you're going to succeed, that's what you're going to have to do. What I do hope though is that you can look at me and know that it won't always be this hard. If you invest yourself in this way that you can make it to where you want to be," Hannah-Jones said.
Kelley said she believes that everyone deserves the right to a quality education.
"I think that it's important to highlight the work that our students do and everything that goes into them wanting to be here and earn an education," Kelley said.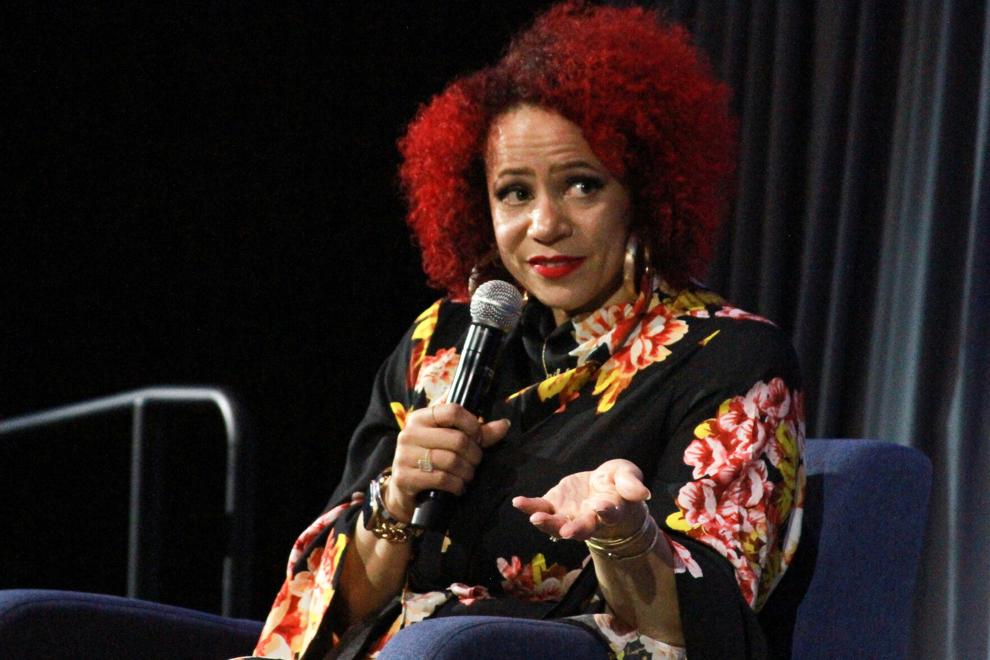 Hannah-Jones said she hopes students try to use the resources available to them on campus and enjoy their college experience.
"There's plenty of time to be out in the world. You should try to take as much advantage of everything that the university has to offer as possible," Hannah-Jones said. 
Helayna Carnes-Williams, the liaison for the National Association for Black Journalists, said she loved that this event happened during Black History Month.
"Honestly, it was really inspirational, especially being a Black journalist. She kind of spoke to a lot of us when she said not to think that we don't belong in spaces that we actually do belong in," Carnes-Williams said.
Kelley said she was inspired by Hannah-Jones for the way she has taken journalism to a completely different level.
"I think what's beautiful about her is that she has a multitude of avenues that she's worked on and I think I resonate with that on a personal level," Kelley said.