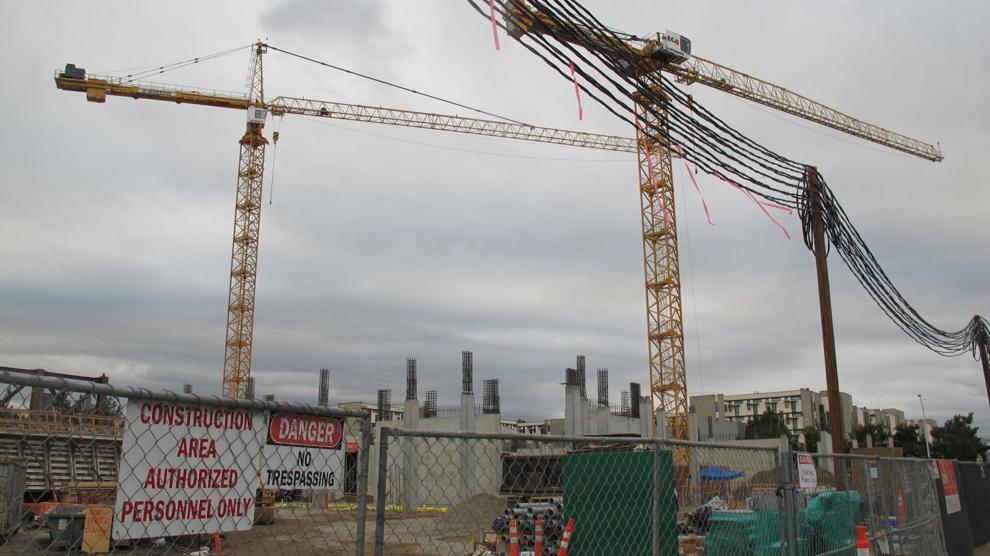 Cal State Fullerton is building new campus housing south of the Gastronome for students, which is expected to open in fall 2022.
Larry Martin, the executive director for Housing and Residential Engagement and the Titan Experience, said the building will be designed as suite style apartments with three continuous wings and tailored towards sophomores and juniors. He said the campus housing will fit roughly 600 students and bring the total number of students in housing up to 2,200.
The new building will take up space in Lot E and move the parking spaces that were available there over to the service lot by Titan Hall, Martin said.
The goal for the new housing project is to replace the double apartments that are already on campus and create a pipeline for students who can live on campus all four years at CSUF.
Martin said he saw positive experiences from students with on-campus housing.
"We have great success with first year freshman and new transfer students who want to live on campus because they see the benefit as they start their journey and get connected to campus and resources and to the people so we just wanted to build on that and hope that students will see the benefit in staying for a second year," Martin said.
The new housing will be a great way for students who live on campus to continue their experience while having more privacy, Martin said.
"You're going from 54 people to living really with eight people, each suite is eight and there will be several suites on a floor so you'll still be in community but have a little more privacy," Martin said.
Beyoncé Diaz, a residential advisor on the first floor of the Sycamore housing building and a junior at CSUf, said living on campus provides a sense of community for students coming from different countries.
"I think it's good. I mean it provides more housing for students because CSUF has a lot of students who come from around the world, other states and even here in the community. So I think it's good they are providing more housing for students," Diaz said.
The new housing structure is a part of Cal State Fullerton's Physical Master Plan from 2020-39. The master plan consists of a new event center, crosswalks and building add-ons for the campus. The master plan is set to utilize the most open space possible.
Open space is one reason why many students come to CSUF — 79% of current CSUF students were attracted to the college because of the quality of outdoor spaces, landscaping and art, the 2021 Master Plan states. The Master plan says it creates open space to "promote intellectual growth" and to bring diverse students together.
CSUF's efforts for creating more open space is based on adding more stories to a building and vertically expanding them to provide students with improved architecture and open space.
Ellen Treanor, the associate vice president for strategic communication, was part of the development of the new Physical Master Plan and said she is grateful for the work to improve the space on campus.
"I appreciate the thoughtfulness that went into looking at the height and saying, 'If we go up another two stories then we save space,' we can save green space, we can save areas outside. I mean we live in the perfect climate," Treanor said.
Treanor said the Physical Master Plan was a great step in innovating CSUF as much as possible without fully urbanizing the campus. Although, she said she had some concerns about the parking structure.
"The piece that I had a lot of questions when I first saw the master plan — really had to do with parking because parking structures are extremely expensive, they are very hard to gain back how much they cost," Treanor said.
Diaz said one of her concerns is the campus having enough space for housing — as one of many students' concern is finding enough space to park on campus. Although, she said she sees its efforts as being a more beautiful campus through construction of new buildings and an open scenery.
The master plan has been supported unanimously by the board of trustees. The roughly $125 million new housing project will be the one of many new or improved areas on campus that will innovate CSUF, but also keep as much green and open space as possible.