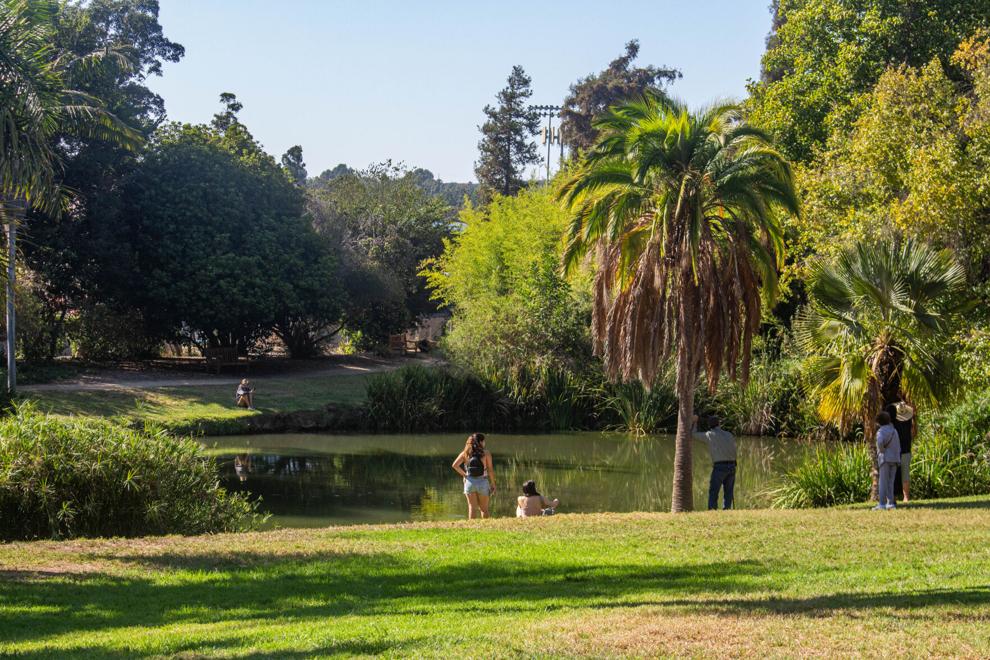 The Arboretum will hold its first in-person plant sale since reopening. The California Native Plant Sale will begin on Nov. 5 and 6, and the funds will go toward sustaining the cost of running the Arboretum, according to Tiffany Tustin Vasquez, the sales and facilities rental manager of the Arboretum.
The self-funded Arboretum sustained losses during the COVID-19 pandemic closure, and reopening and getting back to in-person events is a big step to regain some of those losses, Vasquez said.
This summer the Arboretum received $1 million in funding from the state to help cover monetary losses during the pandemic. Harriet Bouldin, the development manager at the Arboretum, said those funds have not come in yet and there is no set time frame for when they will come in.
Vasquez also said that since the state funds are not in yet, the Arboretum has been relying on its visitors and events to help sustain the costs for running operations.
"We are a self-funded arboretum so it's important we have the backing of the university as well as our community to help support the arboretum. By really being able to open up the facility rental it's been a great help in some of our projects that we are putting together, and also the plant sales, and just having the school come in to be able to visit the Arboretum. All those things have been a great help in supporting while funding comes through," Vasquez said.
The first day of the sale will be exclusive to members of the Arboretum and Titan Card holders where attendees will have the opportunity to bring questions, plant lists or garden layouts to discuss with the Arboretum's team of Horticulturists from 2 p.m to 5 p.m. The sale will be open to the general public the next day between 9 a.m. and 3 p.m.
Over 100 types of California-native plants will be on sale at the event. Greg Dyment, Arboretum director, said the sale is something they always have this time of year. Last year's sale was online due to the COVID-19 pandemic, but it will be in-person this year since the Arboretum has reopened to the public.
"Fall is for planting and here, since we're a lot about sustainability, and drought tolerant and low water-use plants, the best plants for that are the native plants that grow here naturally — the ones that are native who don't need water," Dyment said. "The reason we're doing it this time of year is because fall is a great time to plant those kind of plants."
Gregory Pongetti, the living collections curator at the Arboretum, said that with all the other events and everything starting up on campus, they decided to hold this year's sale in person.
"We've also been open to the public. We've been having other rental events happening here and everything is located outside," Pongetti said. "I think people will be able to socially distance just fine and wear their masks and I think it should be a real safe sale to do."
Dyment also said that there are several other departments at Cal State Fullerton that they have to work with to start on any projects they have planned.
"We have a whole list of projects, I'm not sure which one we will be working on first. There's more than just us that gets involved in projects so we also need the campus facilities to be involved and all these other departments have schedules as well," Dyment said. "We have a list and we are going to move on the list as fast as we can with our partners across campus."
Vasquez said that due to the lift on COVID-19 restrictions, some people feel more comfortable holding an event, especially in a space that is outdoors such as the Bacon Pavillion in the Arboretum. She said they have started to see more inquiries. Vasquez also said that they put clients in touch with several other vendors such as caterers that are approved by the Arboretum to help with any events that they are planning.
With the reliance of events and visitors for the facilities, the Arboretum staff is working on plans to have more events lined up for the rest of the school year.
Pongetti said that although these plans are being made, nothing has been finalized as of yet.
"Our goal is to have a few more plant sales. We're hoping for doing it in the month of December and then also in January. Then we would will take a short break and then pick up more sales in April, May and probably June," Pongetti said. "As far as other events go we don't have any other ones listed yet. I think we all kind of wanted to see how this plant sale goes."