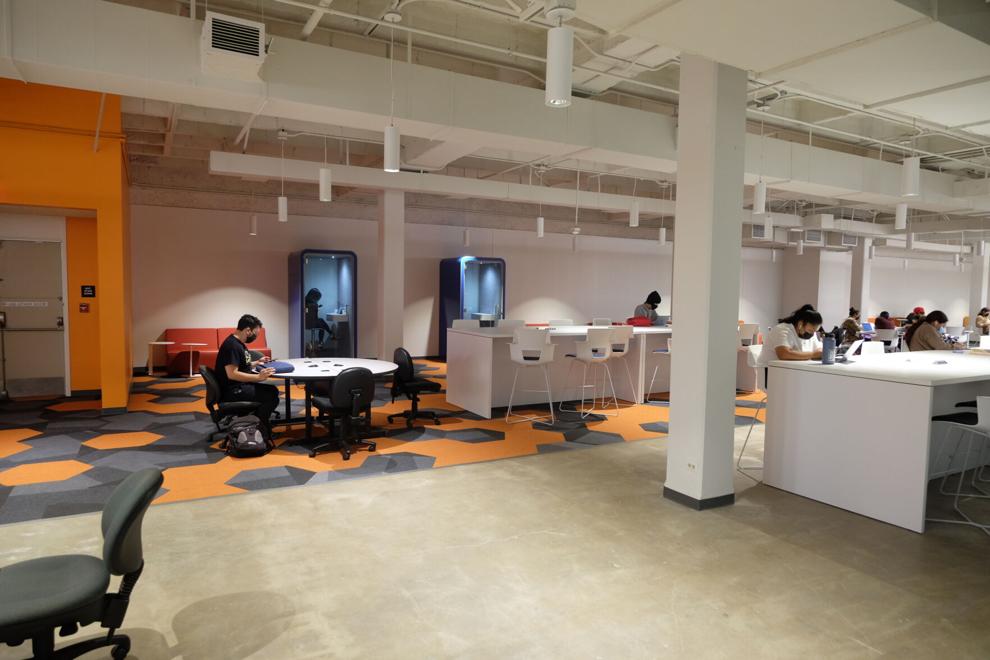 Several "phone booth" style study spaces have been added to the Pollak Library to give students more private areas on campus to log into remote courses.
Looking vaguely like something out of a 1960s sci-fi movie, each blue phone booth, manufactured by the commercial furniture company Nevins, stands approximately 7 feet tall with two glass sides and a uniform, grey carpeted interior. The booths feature lighting, a small shelf with outlets and wireless charging stations, a fan for ventilation and are soundproofed to give the user a semi-private, distraction-free environment.
With only 65% of classes offered in-person this semester, a much greater portion of the student body will be taking both in-person and fully-online classes. This presents a logistical issue for students who need a place to join a Zoom call with minimal distractions, which the library hopes to solve with its new additions.
Mike DeMars, the library's associate dean of public services, said these additions to the library are primarily for the growing number of students who are taking both fully-online and in-person courses during the same semester.
"We imagine that these spaces are going to be valuable for people who, let's say have an 11 o'clock biology class in person on campus, but then they have a 1 o'clock Zoom appointment," DeMars said. "Can't get back to their apartment in Brea on time so they need a space to take a class and that's what these are for."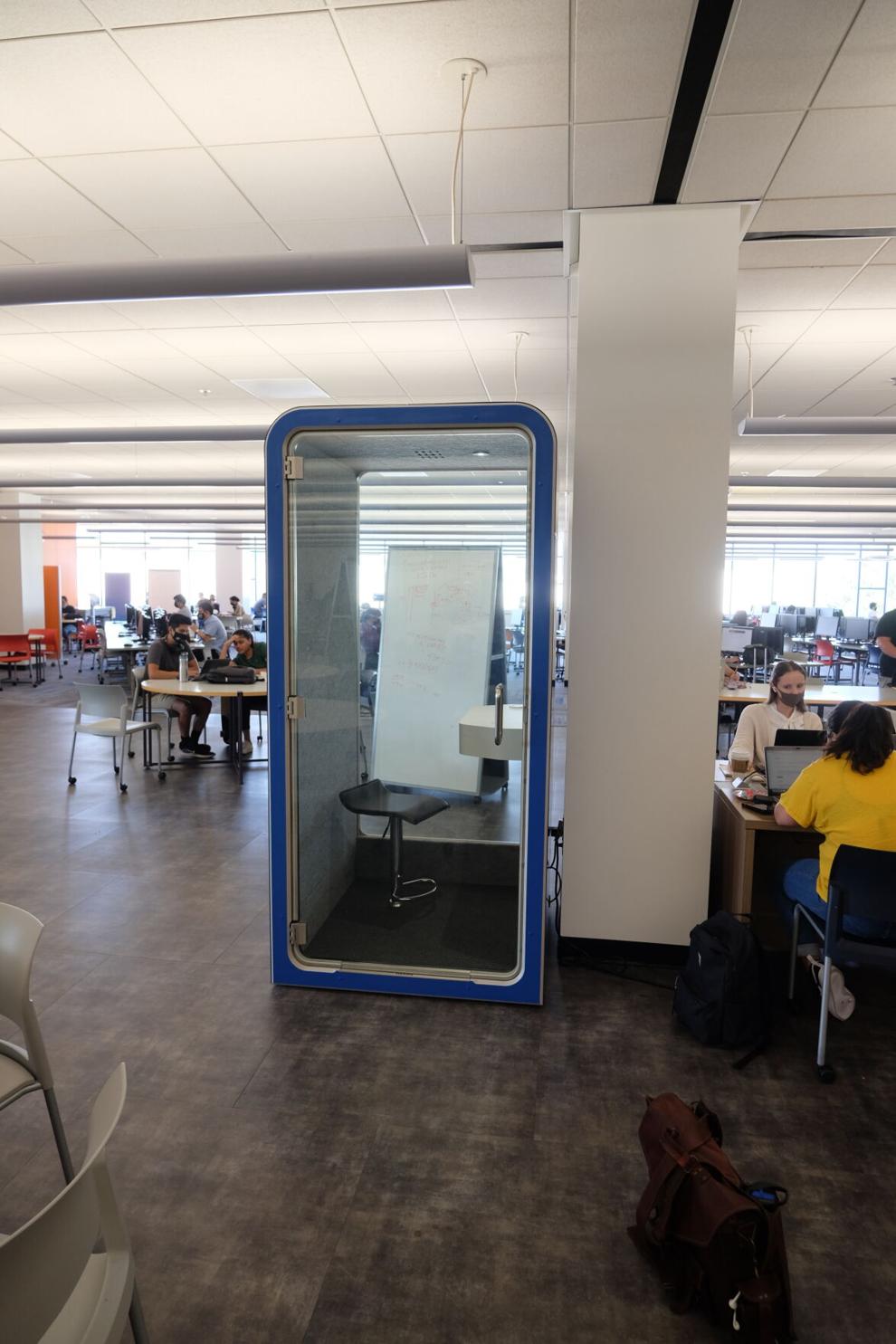 Currently, the library has two booths on the first, fourth and fifth floors for a total of six booths. DeMars said the library is expecting six more at the end of the month which will be placed in the south part of the building, and from there will evaluate how many more they may need based on perceived demand. The library will also be adding similar booths that can fit up to four students in October.
These booths will eventually be bookable through the library website from the same place that students can book study rooms. Until then, they are on a first-come, first-serve basis. DeMars said that it was still too early to tell how much these booths are being used and that the library has not advertised them in any way.
"I wasn't sure if I should put a sticker on it there saying 'try me out for a Zoom' or something," DeMars said. "I just wanted to see if people just organically go into them."
DeMars said that he hopes these will be bookable through the website in two or three weeks. Kevin Phillips, the library's head of circulation, said the reservation schedule for these booths is still being worked on.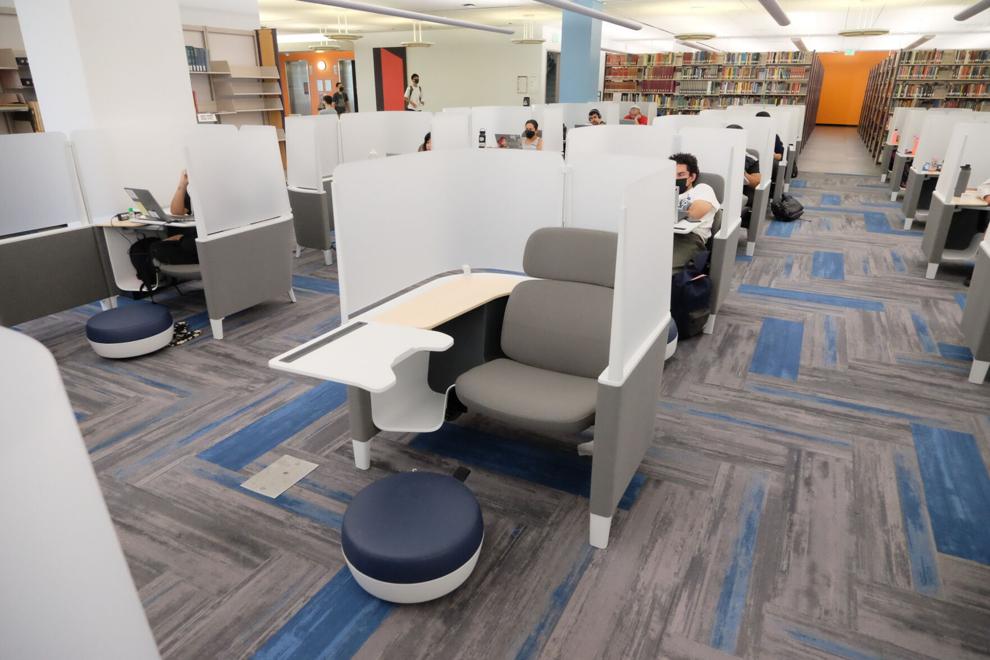 In addition to the booths, the library's third floor has several semi-enclosed desks for student use. They are also on a first-come, first-serve basis, and DeMars said they tend to fill up quickly and remain in use throughout most of the day.
The fourth and fifth floors of the university opened this semester for the first time since 2014, when the 5.1 magnitude La Habra earthquake caused extensive damage. The library reopening was initially scheduled for April of last year, but plans were delayed due to the COVID-19 pandemic. The earthquake caused over $6 million in damage on campus.
DeMars said that he often sees students using the floors for Zoom classes, and that while only the third floor is designated for quiet study, the others are still open areas for students to get work done.
The university has also made available several classrooms on campus for students who need a place to log into a course. The schedule for these classrooms can be found on the academics section of the Titan Returns: COVID-19 Recovery website.