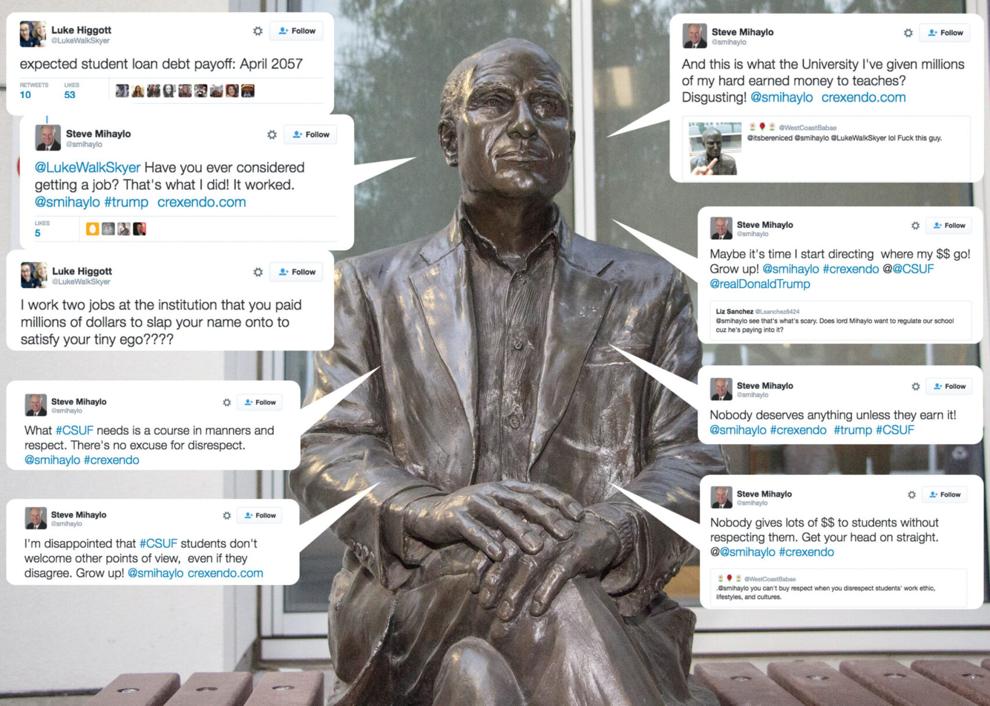 This past week, a discourse on Twitter erupted between CSUF donor and alumnus Steve Mihaylo and multiple students, causing Mihaylo to question how his monetary contributions to the university are being used.
"You know, I think I'm owed an apology for the vulgarity and some of the things these kids have said to me without even getting to know me, and I'm going to reserve judgement on anything I do for Cal State Fullerton in the future," Mihaylo said. "I've been giving it (money) to them (Cal State Fullerton) with no strings attached, and in the future, I'm probably going to designate where it goes."
The initial tweet from June 2015 that started the correspondence was from CSUF student Luke Higgott, Twitter handle @LukeWalkSkyer.
Higgott tweeted, "expected student loan debt payoff: April 2057"
Steve Mihaylo, Twitter handle @smihaylo, replied, on November 30 of this year, "Have you ever considered getting a job? That's what I did! It worked. @smihaylo #trump crexendo.com."
Higgott tweeted back, "I work two jobs at the institution that you paid millions of dollars to slap your name onto to satisfy your tiny ego????"
Higgott, 21, senior computer science major, works two jobs at the university in Housing and Residence Life as a social media marketing assistant, and he also serves as vice chair for Facilities and Operations for the Titan Student Center's governing board. None of Higgott's tweets contained vulgarities.
"I was surprised, actually, and more taken aback that someone who invested so much of their fortune into higher education could have such negative things to say to students," Higgott said in an email.
Higgott also said that he thinks because Mihaylo graduated in 1969, he is looking at modern students' experience "through a much different lens."
After this interaction, an avalanche of tweets, tags and hashtags followed. CSUF senior English major Marie Watschke, Twitter handle @WestCoastBabae, tweeted a picture of herself giving the middle finger to the Mihaylo statue outside of Mihaylo Hall with the caption, "lol F*** this guy."
She also tweeted, "@itsbereniced @smihaylo @LukeWalkSkyer welp, guess it's time to go S*** on a statue."
Mihaylo tweeted in response to Watschke's tweet saying, "And this is what the university I've given millions of my hard earned money to teaches? Disgusting! @smihaylo crexendo.com"
Watschke said that she was mad because she thinks Mihaylo doesn't understand what college students are going through.
"He thinks that we're entitled and that we don't work hard enough, and that's just totally not true," Watschke said. "I don't feel bad for flipping off his statue, and I don't feel bad for that vulgar display against him, because he made me feel that way. He made me feel angry."
Mihaylo said that he does care about students and the challenges they face, but that millennials need to move away from the "age of entitlement."
"I think it's a systemic problem that people expect somebody else to take care of their actions. We all do things that create situations and circumstances, and we have to live with those things," Mihaylo said. "If you make the choice to borrow money, you should be aware that you're going to have to pay it back."
Mihaylo offered to help students by paying any student 10 percent for product leads and 1 percent for service leads that his telephone company Crexendo sells to businesses. This is so that students have another opportunity to earn money to assist in any financial situation they may be in.
Jeffrey Cook, chief communications officer at CSUF, responded to the Twitter interactions on behalf of the university saying, "The university is not party to the Twitter exchange, and we cannot represent Mr. Mihaylo's perspectives … We continue to be grateful for Mr. Mihaylo's investment and belief in his alma mater but beyond that, again, the university isn't really party to the exchange that's on Twitter. I think the initial posts that prompted the exchange are regrettable, but we can't represent his perspectives or interpret his perspectives."
Mihaylo said that when he attended CSUF, free speech was a lot more welcome and that both conservative and liberal thinkers respected each other's ideas.
"Today, I don't think that's the case. There's too much vulgarity and screaming whenever someone has an opinion that's different from theirs. They don't really back anything up with facts. It's more emotional today," Mihaylo said. "They're not taught to respect other peoples' opinions for one thing, and they use vulgarity to drown people out. That's just not right. I would be happy to debate anyone, but I want it to be civil."
Mihaylo said he understands that students struggle with tuition and student loan debt, but that he too had to undergo many challenges and struggles in life to get to where he is today.
"I think it's wrong for students to assume that I was born with a golden spoon in my mouth … I'm proud of the hardships I had to withstand as a young person. It's kind of like steel. Heat causes it to be stronger, and adversity causes people to be stronger."
Mihaylo was in foster care from the time he was 9 years old until he was 17, shortly after which he served in the military for three years in the 101st Airborne Division.
Mihaylo has been a long-time donor to Cal State Fullerton and said that collectively, he has donated probably at least eight figures.
He said that he receives numerous phone calls a day from people asking for financial aid.
"As I said, (I get) two to three calls a week from people that need assistance, and maybe I'll start giving it to schools that use it more prudently."