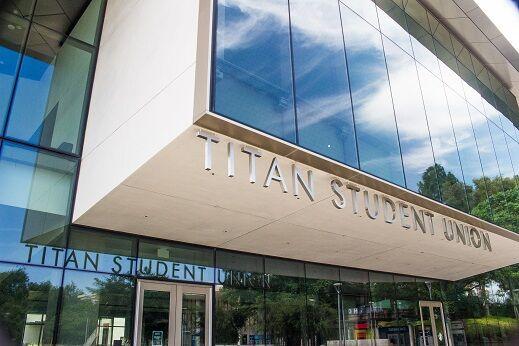 Cal State Fullerton's student leaders are focused on bringing campus resources to students at home as they move into an unprecedented academic year. 
CSUF's Associated Students government may have left behind their offices in the Titan Student Union, but ASI President Marcus Reveles said that will not deter their work in the upcoming semester. 
He has his eyes set on building up mental health resources which have become pivotal as the pandemic drives up anxiety and depression.
"Whenever this is over, students are going to come out of this with physical, emotional and mental health being heavily impacted from quarantine and COVID," Reveles said.
CSUF's Counseling and Psychological Services is largely unrecognized by many students, he said. Reveles and his team are striving to improve awareness of available resources via marketing and collaboration between departments.
Reveles also wants to continue the conversation regarding racial issues both on and off campus. Last year, a fraternity's virtual flyer watermarked with a racial slur sent the campus into turmoil, which was later followed by the appearance of racially charged hate notes in campus housing and white supremacist stickers on campus.
CSUF created the website Titans Together in February in an effort to promote inclusion and education along with connecting students to under-utilized resources.
"A big issue that I've noticed when it comes to diversity and inclusion is that there are students in marginalized communities that don't feel welcomed on campus and feel that they're being tokenized," Reveles said. "There's a lot of celebration of culture, which in my opinion is great. But there needs to be that extra step."
Gov. Gavin Newsom recently signed Assembly Bill 1460, which mandates ethnic studies as a California State University graduation requirement for the freshman class of 2021-22. 
Reveles praised the bill,  adding that ASI plans on having a social justice speaker series throughout the year. No speakers have been confirmed yet he said. 
"I really want to keep momentum running on even years and years and forever after I graduate. I hope that's the direction that we continue to move," Reveles said.
Student leaders are also preparing new ways for incoming students to connect with the campus from afar. While freshmen are normally thrown into on-campus events such as Discoverfest, the annual showcase of student organizations, this year's freshmen will only experience it through their computers. 
Khai Hoang, ASI chief communications officer, said he is striving to ensure that students will still be able to communicate concerns to the administration, as well as improving resource accessibility.
"One of the big things that my team has been looking at is making sure that students have access to CAPS resources, Title IX resources, different civic engagement resources that we're working on in terms of distributing to students," Hoang said.
With the ever-changing COVID-19 situation, Hoang noted the need for flexibility- as students start the fall semester there is no update on what the spring semester could look like as of now.
Selene Hanna, ASI executive board secretary and treasurer, said she is confident about the new board's ability to handle this year's unique challenges. Personally, she is aiming to make sure that organizations feel financially supported. She wants to implement creative ways to spend funding that is no longer necessary, such as travel funds.
"My goal is to make sure that clubs and organizations are aware of what they can and can't do and that they don't hit roadblocks," Hanna said. "Just to be a support for them to help guide them to make sure that all of our student organizations feel good about this upcoming year financially."
Though the pandemic has disrupted daily life, Reveles said that hasn't immensely hindered  ASI's planned permanent food pantry, which would provide free groceries to students facing food insecurity. He said that it is still on track to be completed by the fall.
Almost all other CSUs have permanent food pantries on campus, leaving CSUF lagging behind, but the ASI board of directors passed a motion to build the pantry last fall. 
Hanna, who was on the board last year as well, stressed the importance of continuing development with the project amid the pandemic.
"It doesn't matter if we're virtual this year," she said. "We still need to help support our students."