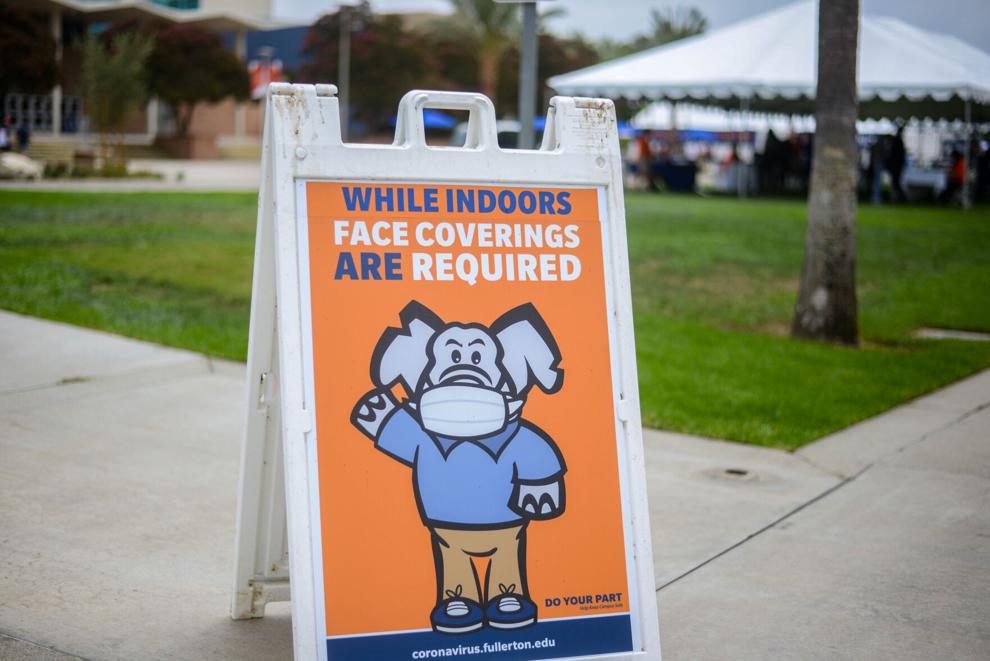 As Cal State Fullerton returns to in-person session, some students' response to the recently implemented COVID-19 vaccine requirement and mask mandate remains starkly divided.
Among those supporting the CSU's COVID-19 vaccine mandate is Chantelle Leon, a fourth-year communications major, who believes the vaccine mandate is a good option for students. 
"I think that of course masks will help, but I feel like vaccines can even prevent outbreaks from happening on campus," Leon said. "And I do know that, not everyone is happy that the campus did require the vaccine, but I feel that people should think about [that] if you get the vaccine, you're not only just protecting yourself but you're protecting others around you."
Leon said she has been vaccinated since March and is excited to be back on campus.
About 60% of students have uploaded proof vaccination status roughly translating to about 25,000 students, according to Ellen Treanor, associate vice president of strategic communications. 
Treanor said the university currently has fewer than 200 student vaccine exemption requests.
Some students are openly opposed to the university's COVID-19 vaccine requirement and plan to attend classes without uploading vaccination records. Noelle Fitchett, a fourth-year biochemistry and philosophy double major, has protested for students to have a choice in taking the vaccine.
"I think that the vaccine mandate, though it's seeking, I believe, in their perspective the well-being and health of everyone, I think it's an overreaching of power and it's really infringing on students' rights to be able to choose," Fitchett said.
Fitchett organized and attended an on-campus protest on Aug. 7, in partnership with groups like Turning Point USA at CSUF and CSUF Republicans. The protest aimed to stop the university's vaccine mandate and let individuals make their own medical decisions.
Treanor said the number of registered students for the upcoming fall semester remains the same as fall 2020. 
"There hasn't been an increase in dropped classes, but there has been an increase in the number of online options we're offering," Treanor said. "We're at about 65%, maybe a few points lower, for in-person." 
Jillian Devine, a second-year English and art major, said that online courses required for her major were unavailable in the fall 2021 semester. 
She said she believes the COVID-19 vaccine mandate is not a good option for students because a certain part of the population is being limited and separated from the rest. 
"I'm fine for the vaccine. I'm fine for people getting the vaccine. My only problem is when someone forcibly makes you do it," Devine said. 
Devine added that she is not vaccinated and is unsure whether she will be getting vaccinated in the future, but is afraid of being kicked out of the school or not being allowed to attend.
Gil Acosta, a third-year business major, said that the university has made the best decision in enforcing the COVID-19 vaccine requirement for the fall semester.
"I think that if they don't want another surge of COVID cases to happen again, they do have to ask all the students to have the vaccine," Acosta said.
Acosta said that he received his vaccination in March, and although some students do not agree, he believes the vaccine will keep most students safe. Acosta added that the mask mandate extension is also a good idea. 
According to the Titan Return: COVID-19 Recovery website, the faculty FAQ for fall 2021 states that there will be consequences for students and employees who do not comply with the university's policies and directives. 
"The intention is not to kick anybody out of their classes, that's the last thing we really want to do," Treanor said."The intention is that the faculty wants to create a safe environment in class."
An earlier version of this article incorrectly stated that Treanor had said 40% of CSUF students have yet to upload their COVID-19 vaccination records, Treanor did not say this. The Daily Titan apologizes for the mistake.