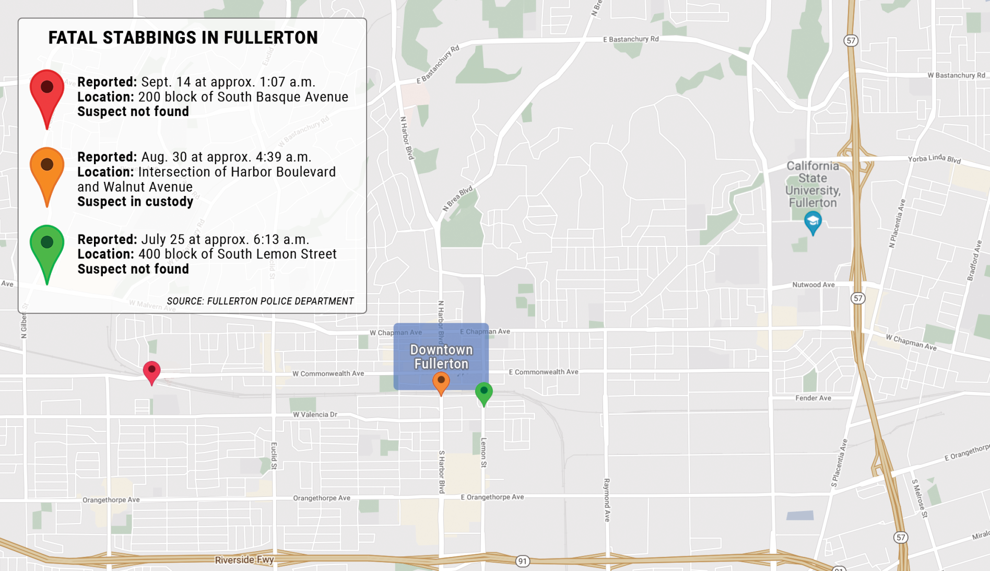 A map of Fullerton with the three locations where fatal stabbings occurred on July 25, Aug. 30 and Sept. 14. (Carly Uyematsu / Daily Titan)
A man was found dead near the Fullerton Pooch Park on Sept. 14 with possible stab wounds, making this incident the third fatal stabbing in Fullerton in three months.
Sgt. Brandon Clyde, a public information officer for the Fullerton Police Department, cleared any speculation that the stabbings are related.
"There is no concern at this time with the police department that there is a serial killer on the loose, and the investigators have been working diligently and looking at any connection between all three homicides that we've had and looking for any patterns or connections," Clyde said.
Officers responded to the 200 block of S. Basque Avenue around 1 a.m. and located a male with possible stab wounds, said Sgt. Billy Phu, Fullerton Police Department public information officer.
"We located the male and he was unresponsive and the paramedics declared him deceased on scene," Phu said.
Residents took to the comment section of the press release on the Fullerton Police Department's Instagram post to voice their concerns with the number of reported stabbings.
Fifteen days prior to the Basque Avenue stabbing, a victim was found dead near the intersection of Harbor Boulevard and Walnut Avenue.
On Aug. 30, police arrived at Harbor Boulevard near the Fullerton transit station, where a man was found with stab wounds on the pedestrian bridge.
The third homicide was reported on July 25. Officers responded to the 400 block of South Lemon Street where a man was found with stab wounds, according to a press release from the Fullerton Police Department. The paramedics declared the man dead at the scene due to blood loss, the release said.
Sgt. Clyde said that the victim was identified as a transient, but he was unable to comment on the identification of a potential suspect because of the ongoing investigation.
Of the three incidents, only the Aug. 30 investigation has identified a potential assailant. On Sept. 5, Fullerton Police Department issued a press release with updated information regarding the fatal stabbing on Harbor Boulevard.
The update said that investigators identified Abigail Jorge Gonzalez-Castillo, a 29-year-old male from Fullerton, as the suspect and arrested him on suspicion of murder with special circumstances. He is currently being held at the Orange County Jail without bail.
When asked about the special circumstances, Sgt. Clyde added that in this case, Gonzalez-Castillo was lying in wait. According to the Shouse California Law Group website, "lying in wait" refers to a type of murder in which the suspected assailant waits for the victim and then kills in an ambush-style attack.
Sgt. Clyde identified the victim that died on Harbor Boulevard as Joseph Angel Olvera, a 24-year-old local Fullerton transient.
All three homicides are still under investigation.
LexisNexis Community Crime Map gives residents an idea of the crime in the area with the information and data provided by various police departments.
Clyde said individuals, especially college students, should be aware of their surroundings when walking to their car to make sure they can identify any potential threats and have a cellphone available to call 911 is important.
Capt. Scot Willey, of the Cal State Fullerton Police Department, said the university teaches bystander intervention to help the campus community keep an eye on each other. He also echoed advice given by the FPD on being aware of one's surroundings at all times.
"The biggest thing is just to be constantly aware and to try to have a buddy system working or be with a group of people that are all looking out for each other," Willey said.
In regards to campus safety, the CSUF Police Department provides students with crime prevention training and safety escorts. There are also a number of emergency blue phones around campus that connect to CSUF police dispatchers.
In the case of an emergency situation, Willey advises students to stay safe and to be a "good witness."
"You don't have to run in and help," Willey said. "You can also be a good witness and get as much information as you can, get the description of the person, their height, their weight, color of their hair, what they're wearing, the color of their clothes. The biggest thing is their direction of travel."