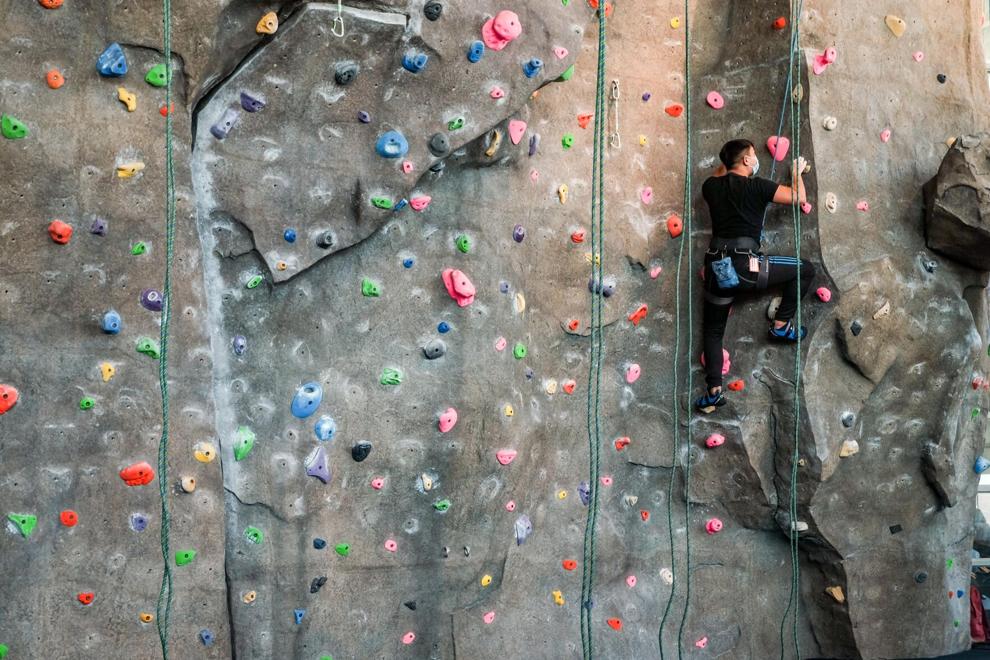 Now that the Student Recreation Center's indoor rock wall is open and available for all current Cal State Fullerton students to use, climbing has provided students with both physical and mental exercise.
Michael Brown, the rock wall and outdoor adventure coordinator, said he has seen an increase in student participation, possibly because the Tokyo 2020 Olympics featured rock wall climbing for the first time this year.
"It kind of introduced a lot of people that haven't been introduced to climbing, gave them this other opportunity to see it, so I think that gained a lot of interest, not only on campus but in the climbing community as a whole," Brown said.
While the Olympics and social media may have possibly led to more exposure, Brown said that people new to rock wall climbing should not feel pressured to rush to an elite level of skill, and the sport is much easier than it may appear.
"When you're climbing a ladder, you're not dragging your body up with your arms, your arms are there for balance and your legs are doing all the work. It's the same concept with the climbing wall," Brown said.
Brown also said he understands that rock wall climbing may seem like a daunting form of exercise, and admits that he occasionally gets intimidated.
"I've been climbing for 13 years now and every now and then, I get into a situation where I'm like 'What am I doing up here?'" Brown said. "It's natural. It's a natural reaction for humans to be a little scared when you're off the ground."
However, Brown said he believes that climbers are in good hands when visiting the Titan Recreation Center, as an assortment of safety gear is used when climbers are on the rock wall.
"All of our equipment is rated for 23 kilonewtons. It's not a direct correlation, but it's a couple thousand pounds," Brown said. "I could pull up a Honda Civic with all the equipment we have. So it's super safe, and it's easier than you think."
In addition to the safety gear, trained staff are also present to assist climbers. Karli Valenzuela, a rock wall attendant, said she believes that the activity is not only safe, but is an effective mental exercise.
"It works your brain to look at all these rocks and figure out different ways to go up. It's a good puzzle solver," Valenzuela said.
Students have also found that the rock wall provides an opportunity for physical training.
This is largely the appeal of the rock wall for sophomore Thomas Le, who climbs twice a week.
"It's a bit of strength training, core training, it also keeps me in shape," Le said.
While Le said he considers himself a beginner, he uses the suggested routes available on the Titan Recreation website to help him improve as a climber.
"I would practice the beginner ones, redo those until I'm able to master them, and then eventually move onto higher levels," Le said.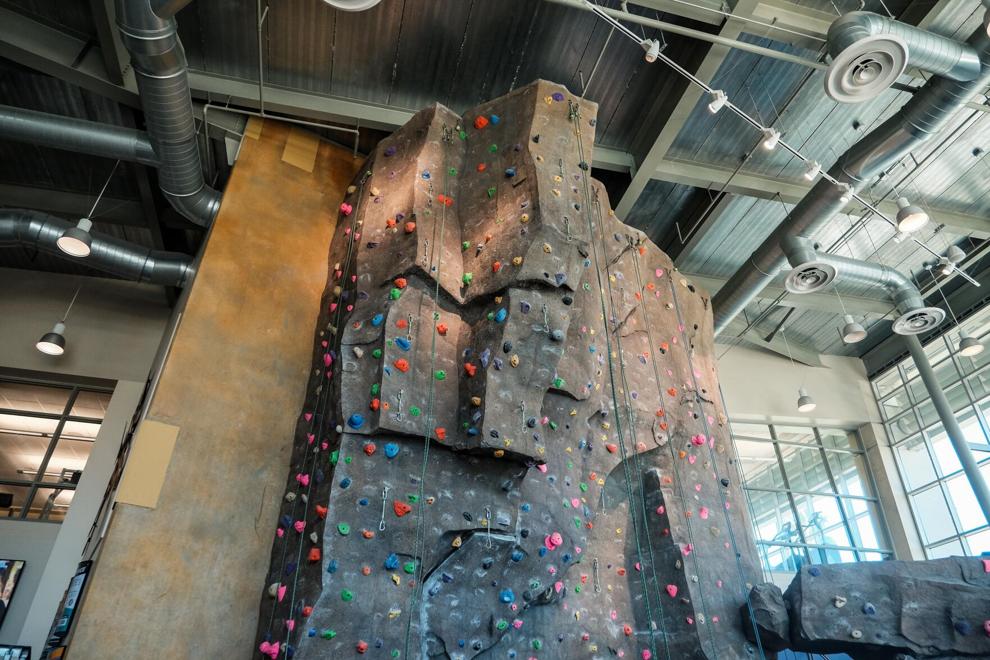 Nicholas Chau, a CSUF alumni, said he visits Titan Recreation Center twice a week to use the rock wall, and said more students should take advantage of the center.
"You're only here for four or five years, a lot of people don't even know about the rock wall, they don't even know about the gym, just do it," Chaun said. "It's part of your tuition, why not take advantage of it."
Access to the rock wall is included in student fees and is available for use Monday through Thursday from noon to 8 p.m., and from noon to 4 p.m. Friday through Sunday.
Students also have the option to take courses to learn more advanced techniques in rock wall climbing. The courses available include climbing fundamentals, lead climbing and top rope belaying courses. These courses cover basic techniques, how to lead climb, which is solo climbing that includes climbers clipping themselves into bolts drilled into rocks, and safety skills that new climbers must know in order to pass a rock wall belay test.
Courses are between two to three hours long, and fees range from $25 to $55.