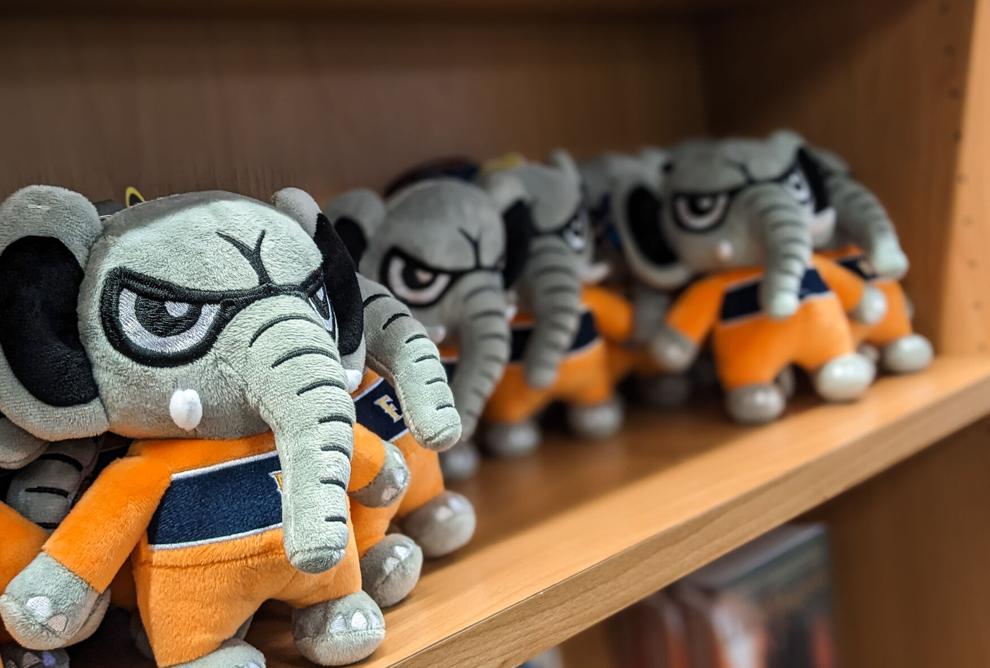 Cal State Fullerton's elephant mascot, Tuffy, is undergoing a makeover. When CSUF's old animated Tuffy ends its trademark registration in 2027, a new Tuffy is replacing it.
Today, Tuffy is trademarked as a side profile of a scowling elephant's head. Historically, Tuffy has always had aggressive features. Since 1962, the school's mascot has been an elephant.The redesigned Tuffy will be drawn as a friendly cartoon version with a thicker black outline.
The application for the new Tuffy trademark is in the approval process with the university. Once the design is approved, the formal trademark application process can begin with the U.S. Trademark and Patent Office.
In an email to the Daily Titan, the Titan Shops director, Kim Ball, wrote that an approved Chancellor's Office law firm manages trademark applications and registrations for Tuffy.
Tuffy's trademark process begins by first undergoing a review process within the university and paying the $70 trademark fee.
The trademark process can take 12 to 18 months, depending on backlogs at the trademark agency.
The application will either get instantly approved, or the university will get issued a letter requesting further information. The Trademark and Patent Office will then publish the trademark on its web site.
According to Brand Central in the Department of Strategic Communication, the new Tuffy was created in a joint effort between Titan Athletics and Strategic Communications.
In their illustrated form, Tuffy's facial expression ranges from a game face to a lovable character. Tuffy represents Titan Pride and transcends gender going by they, them and their pronouns. Tuffy is non-verbal, and does not have a partner or family members.
Titan Shops is partnered with about 80 vendors who have applied for licensing rights and have permission to use Tuffy on products.
"Part of that process is they have to submit every single piece of artwork with our logo on it for review. Then we can determine if they're using the right colors and mark and if they're using it in an appropriate way," said Ball.
Vendors to Titan Shops include Nike and Champion, who have submitted their products and passed a university review process.
Like Associated Students, Titan Shops can place the university's name on their shirts and use the Tuffy logo without paying royalties, but they still must ask permission.
Tuffy is an informal mascot for Titan Athletics sports teams. It is also not trademarked.
"I do not recall Tuffy the Mascot being copyrighted or trademarked," said Jayce Smith, associate director of marketing in Strategic Communications, in an email.
Ball said if Tuffy is sold on products, it can legally be sold if solely the elephant is printed. If there is "Titans" or "CSUF" signage signaling that the products are distributed in the name of Cal State Fullerton, the distributor can run into legal issues because "Titans" is trademarked.
Cal State Fullerton trademarks include variations of the university's seal. The university's active trademarks also include "California State University Fullerton" with "University Fullerton" sitting below "California State." 
The rest of Cal State Fullerton's trademarks are on their Brand Central site under "University Logos," including the university word mark, monogram, and seal.
Abandoned trademarks include "Titans" and "F" in stylized form. The trademark of a variation of the university logo featuring an elephant expired on August 13, 2021.
Ellen Treanor, vice president of strategic communications, wrote in an email, "In rare occasions, not renewing a trademark could lead to trademark abandonment which may result in loss of legal protection. Since my tenure here, there has never been a gap in our trademark registration processes."
Since the new Tuffy is not yet trademarked, it can be difficult for Cal State Fullerton to sue because the university does not have legal ownership over the mascot, said Emily Erickson, a Cal State Fullerton professor who teaches communication law.
The clothes and customization of Tuffy vary and can be requested from university Strategic Communications.