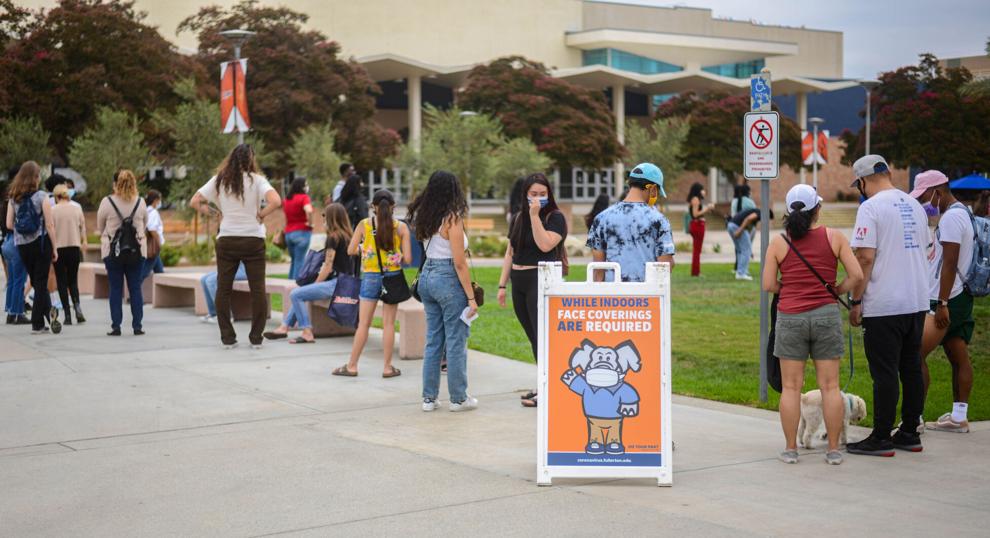 The university is not locking the student portals of unvaccinated students, backtracking from a previous announcement.
"The university is not locking portals and only setting up registration holds to encourage completion of their verification," said Chi-Chung Keung, Cal State Fullerton director of news media services. "The Student Affairs staff are working with every student to prevent any delays in their education goals."
The deadline to have both doses of the vaccine — or one if given the Johnson & Johnson vaccine — was Sept. 30.
"If they do not upload a verification of their first dose of the vaccine or provide a valid religious or medical exemption by September 20th, 2021, their access to the CSUF portal will be disabled," according to a timeline provided by the CSU chancellor's office, regarding students with an in-person class. "Non-compliant students after September 30, 2021, will receive a text that they have been disabled from all campus access including their email."
Students with all online classes were also subject to the Sept. 30 deadline and facing closed portals.
Unvaccinated students received these warning texts, said students at a Sept. 20 protest, but the university backtracked and did not lock portals. Keung said it is moving forward with registration holds for unvaccinated students without an exemption for the spring semester.
With exemptions or a vaccine being the only way into the CSU next semester, there may be a dip in enrollment for the upcoming semester. Keung did not speak on this, but said "the university will admit non-vaccinated students but they will need to provide an exemption or a vaccine card."
Vaccination numbers are posted on the Titans Return: COVID-19 Recovery website, but student rates have not been updated since mid-October. As of Oct. 19, 87.8% of students had submitted vaccination records while 7% had approved exemptions, leaving 5.2% unaccounted for.
Employees were 92.15% vaccinated with an additional 4.4% having approved exemptions, as of Nov. 4.
The university has fallen behind in updating its weekly campus case counts, which are refreshed on Tuesdays. The last entry was Nov. 2, which contributed to a cumulative 128 reported on-campus cases and a cumulative 156 reported off campus since campus reentry on Aug. 2.
Spring semester will see a heftier amount of in-person classes, said Provost Carolyn Thomas. The number will jump from 60% of in-person courses this semester to around 80%. The remainder is planned to be online or hybrid. This is a far closer parallel to the class schedules pre-pandemic, which consisted of about 90% in-person courses.
Inching closer to a pre-pandemic reality, it's undetermined if face coverings will continue. The mandate of face coverings in indoor spaces was last extended through the end of November, but could be subject to another extension. The vaccination requirement, which the CSU announced back in July, will remain in place for the spring semester.
"The safety and well-being of all students, faculty, staff and campus guests are our utmost priority," Keung said.