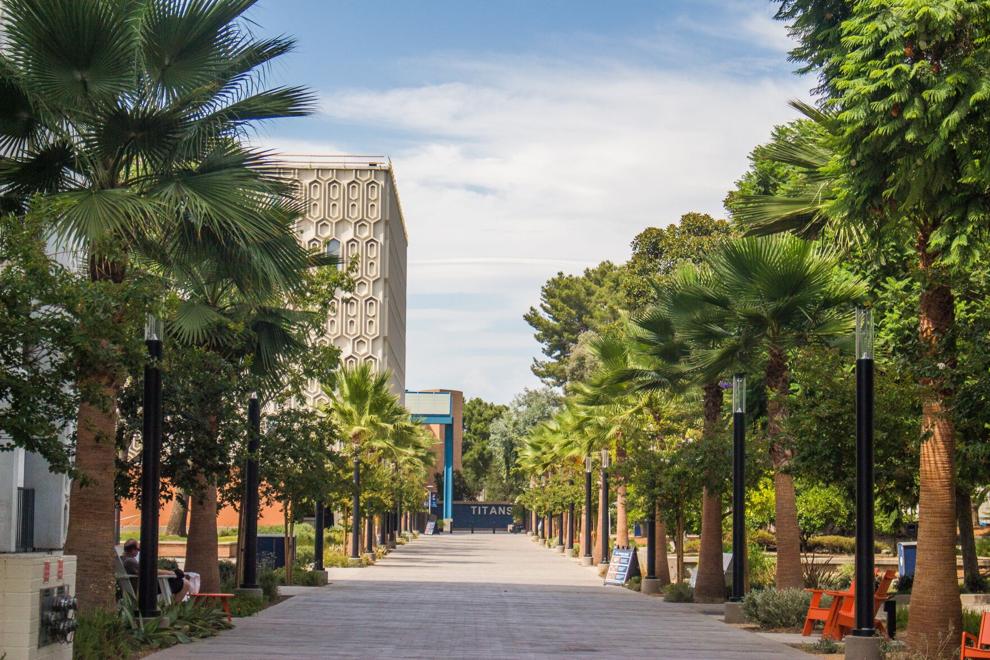 The Study Abroad and Global Engagement, or SAGE, office at Cal State Fullerton will continue to offer virtual global learning opportunities to students this summer and into the fall 2021 semester while traditional in-person programs are currently being evaluated, said Jack Hobson, senior director of the Global Titans Center.
Hobson said that traditional mobility abroad programs for the fall 2021 semester are currently being evaluated and will be determined shortly. 
"Our desire is to return to physical mobility as soon as it is both safe and feasible for our Titans and the countries that host them," Hobson said. 
On March 18 2020, Hobson announced the suspension of all summer study abroad programs, including all in-person programs until the 2021 winter session. Due to the rise in COVID-19 cases earlier this year, the center continues to only offer virtual study abroad programs, he said. 
The center currently has a backlog of students whose plans for traditional study abroad were delayed due to the COVID-19 pandemic, Hobson said. They also have other students who have participated in various modes of virtual learning throughout the last year and this summer. 
"The balance of the numbers between our students who wish to participate in traditional study abroad, study away, or virtual global programming remains to be seen," Hobson said.
The SAGE office remains committed to offering CSUF students a broadened portfolio of international, domestic and virtual global learning opportunities, Hobson said.
Hobson added that students who participated in virtual global learning experiences during the pandemic experienced first-hand how others throughout the world were also shifting their teaching and learning to adjust to the pandemic.
"I think the entire SAGE team and our partners across the CSUF campus involved in international education have learned enormously," Hobson said. "We each have a broader perspective on global education and that, while powerful traditional mobility is not and will not be the only mode of providing global experiences to our Titan community."
Although virtual experiences are not intended to compete or replace traditional mobility abroad, Hobson said they are ideal for enhancing and broadening their offerings. 
Every month, the study abroad office allows students to join virtual information sessions led by a Global Titan ambassador to learn more about the study abroad programs and their offered opportunities. Information session dates and times are available on the SAGE website and the program's Instagram page at @titansabroad.
Aaron Dam, a fourth-year philosophy major, and CSUF Global Titan ambassador, said he studied abroad at the National Taiwan University in Taipei, Taiwan, as part of the CSU International Programs during the 2019-20 academic school year. 
Dam said he was in Taiwan from late August 2019 until March 2020, where he returned to the U.S. due to traveling constrictions. Although his study abroad trip was cut short, Dam said he finished all of his courses with the National Taiwan University online from his own home.
"Overall, it was one of the most profound and enjoyable experiences of my life," Dam said. "It was my first time living alone and living abroad. I got to make many new friends, from Taiwan and across the world." 
Dam added that along with making new friends, he also improved his Mandarin Chinese and became an international student volunteer to facilitate cultural exchange as he interacted with Taiwanese elementary school students. 
As a second-year Global Titan ambassador, Dam said he volunteers with the SAGE office to promote study abroad and global engagement opportunities, create and run events and facilitate information sessions for any student interested in the program. 
After returning from Taiwan last year, Dam said he felt that becoming an ambassador was a perfect chance to make up for the missed opportunities when he left Taiwan. 
Because of the COVID-19 pandemic, students could not study abroad, but Dam said students continue to sign up and participate in the online information sessions offered each month. 
"In terms of virtual programs, there has been growing interest, especially in virtual internship programs," Dam said. "I personally know a few of my fellow Global Titan ambassadors who participated in free virtual language courses hosted in Coventry University in the U.K."
Josephine Mueller-Ellis, a fourth-year sociology major, said she signed up for the MICEFA Paris Abroad program for the 2022 spring semester. Initially, Mueller-Ellis said she had planned to attend a fall 2021 program, but switched to the following year, in hopes that the world will be a little more "normal" next year. 
The program requires participants to fly to Paris, Mueller-Ellis said, and classes are expected to be in person. She said she would rather take in-person classes over a virtual study abroad program. As a sociology major, Mueller-Ellis said she hopes to learn as much as she can about other countries. 
"I am very excited to study abroad. I am mostly looking forward to seeing how other countries and cultures live compared to the U.S.," Mueller-Ellis said. "With the vaccinations now getting distributed to the public, I hope Paris life will be everything I want it to be."