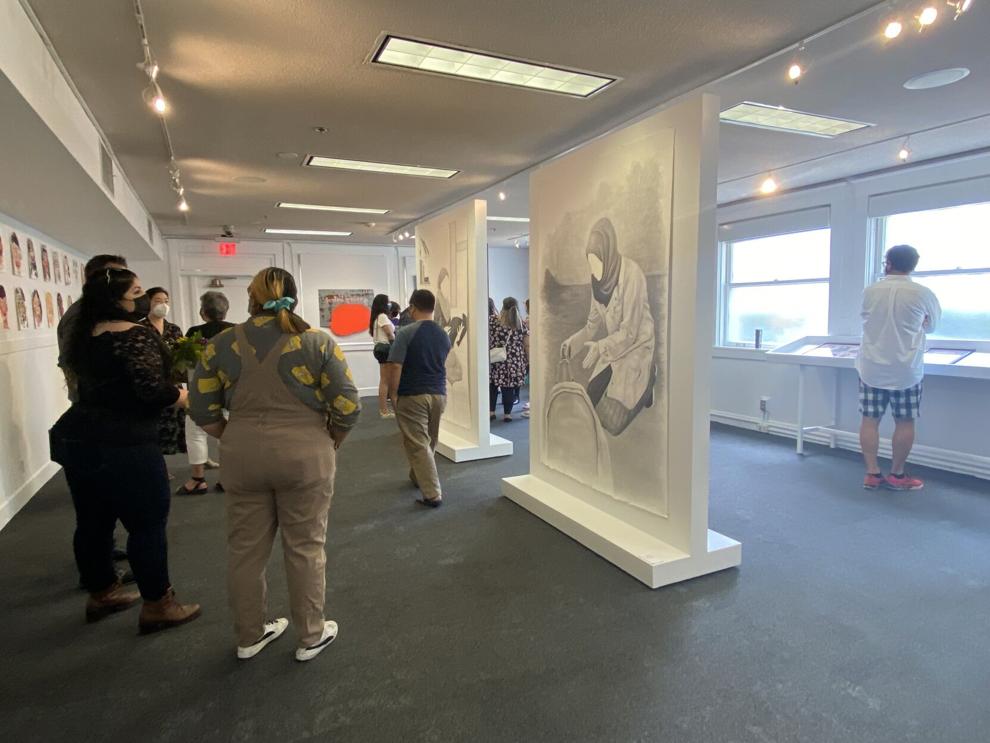 Cal State Fullerton's Begovich Gallery partnered with the MUZEO Museum & Cultural Center for this summer's exhibition, CSUF MFA at MUZEO, featuring nine graduate students that completed their visual arts masters degrees in fall 2020 or spring 2021.
Yara Almouradi, Amanda Carrigan, Caitlin Christianson, Negin Hedayat, Allison Holland, Matt Key, Hadley Mattwig, Aimee Scholz and Niccole Ugay all displayed their artwork at the exhibition.
According to the MUZEO website, the show included illustrations, installations, paintings and sculptures. The theme of the exhibition is based on "the human condition while also demonstrating the evolution of each artist's studio practice before and during the COVID-19 outbreak."
Jennifer Frias, director and curator of the Begovich Gallery, said that planning the exhibition began this spring. She said that after working with MUZEO on the William Camargo exhibition, Katie Adams Farrell, the executive director at MUZEO, reached out to collaborate for summer programming.
Due to the COVID-19 pandemic, the students could not show their final master's thesis projects on campus. Adams Farrell said since the students could not show their work on campus, it made sense to exhibit them at MUZEO.
"We were talking about how these students didn't have a place to show and MUZEO has a couple of open galleries during the summer, maybe we could do something," Adams Farrell said.
Frias said the exhibition took five months to complete, and the work required before the exhibition included "preliminary correspondence with the students, an orientation, studio visits, delivery of their work, condition reporting, preparing and distributing press and social media-related materials, installing the exhibition, and finally, the presentation of their work to the public."
Adams Farrell said studio visits that took about six weeks to conduct were held entirely through Zoom meetings and included artists discussing their art mediums through online platforms such as Google Drive and Instagram.
"We zoomed with the artists and they were able to show us some of their things from their platform," she said. "Sometimes that meant they were going to their Instagram, sometimes they were accessing their Google Drive, so there's different media in the show".
One of the featured artists was Matt Key, who graduated from CSUF this spring with a master's degree in painting and drawing. Key said he made five pieces from 2018 to 2020 with the intent for viewers to engage thoughtfully and collaborate in the creation of meaning of his work, but his work was never displayed publicly.
Key said showcasing his work was a great opportunity. He said although online school was difficult for him, through the encouragement of his professors, he experimented with various mediums and styles
"It was definitely challenging, but I created things that I would not have otherwise," Key said. "I found my time at CSUF to be immensely rewarding and have grown as an artist and teacher as a result."
Amanda Carrigan who graduated in fall 2020 with a master's degree in illustration said that she made her 12 lifestyle pieces from 2018-2021 centered around moments in time that were special for her.
Carrigan said she started half of her pieces before the COVID-19 pandemic and her pieces were focused around her daily tasks while working and having online classes at home.
Like Key, Carrigan said she was happy with the opportunity to have a show when she couldn't during school. Carrigan also said even though she was "shy" to present her work, having the show motivated her to continue her art.
"Even telling my family about this is a stretch for me. So seeing the turnout and seeing the support and everything means a lot," she said.