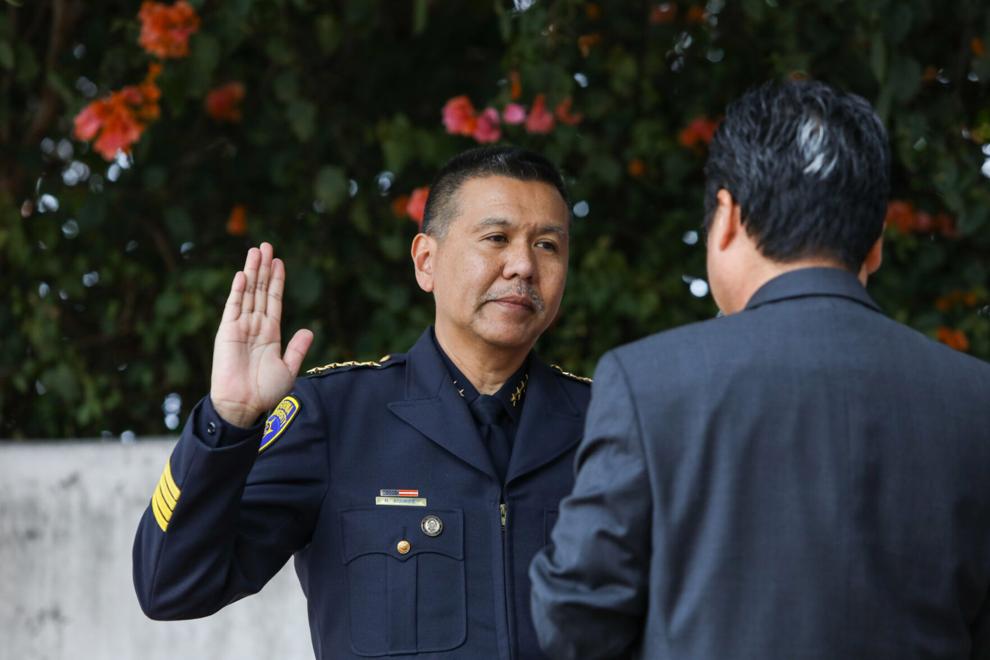 After 25 years of working in law enforcement — including three years at Cal State Fullerton — police Chief Raymund Aguirre has announced his intent to retire on August 1. 
Carl Jones, a former CSUF operations captain, will return from retirement and temporarily rejoin the university's police department as the chief of police until the position is filled.
University Police Capt. Scot Willey said that working alongside Aguirre has been fantastic, and he will be missed. 
"We are very very sorry to see him go," Willey said. "He's been a great mentor to all of us and a good fit for our department." 
Willey said that the announcement was not much of a surprise as those within the campus police department were already aware of Aguirre's decision to retire. 
Aguirre joined the CSUF University Police in 2018 as chief of police. During his time at the university, Aguirre actively served on numerous committees and task forces on campus, within the Cal State Universities and local and regional public safety agencies.  
This year, Aguirre was appointed as a board member for the California College and University Police Chief's Association. Aguirre also participated in campus activities and in student-led and athletic events. 
As an active supporter of the CSUF Men's Soccer Club, Aguirre was chosen as the keynote speaker for the Asian Pacific Islander and Desi Association graduation in 2019. 
Under Aguirre's leadership, the University Police received awards and recognition for its professional excellence and outstanding campus safety initiatives, which distinguished the department as a leader in the CSU. 
The National Campus Safety Summit awarded the University Police and Strategic Communications the Collaboration award for the department's crisis communication and management of the homicide incident that occurred on campus in 2019. 
The department also received special recognition in February 2020, as it was awarded the 'Safest Campus' title in the United States by the Safe Campus Summit. 
In 2019, Aguirre introduced Game Changer,which is a program that utilizes sports to create a conversation between police officers and justice system officials, and the community. The program encourages respectful and solution-oriented two-way dialogue to discuss community problems and devise solutions. 
Within the program, moderated focus groups serve as a safe space to allow members of the community, law enforcement, elected officials and members of the judicial system to discuss the issues that exist and arise between each other. 
In November 2019, after serving for more than 20 years with the University Police, Jones retired as the Operations Captain. 
Jones, a U.S. Marine Corps veteran, also worked at Cal State Long Beach for four years, and has served as a cadet counselor, tactical officer and instructor for 19 years at the Rio Hondo Basic Police Academy.
Willey said he is ecstatic to have Jones return to the university's police department. Willey mentioned that he has known Jones for many years since he started his career at Cal State Long Beach in 2000. 
"He's just a phenomenal human being. He's got a wealth of experience," Willey said. "As much as we're going to be sad to see Chief Aguirre go, we're pleasantly surprised and happy to get Carl, pull him out of retirement, and have him come back and work with all of us."