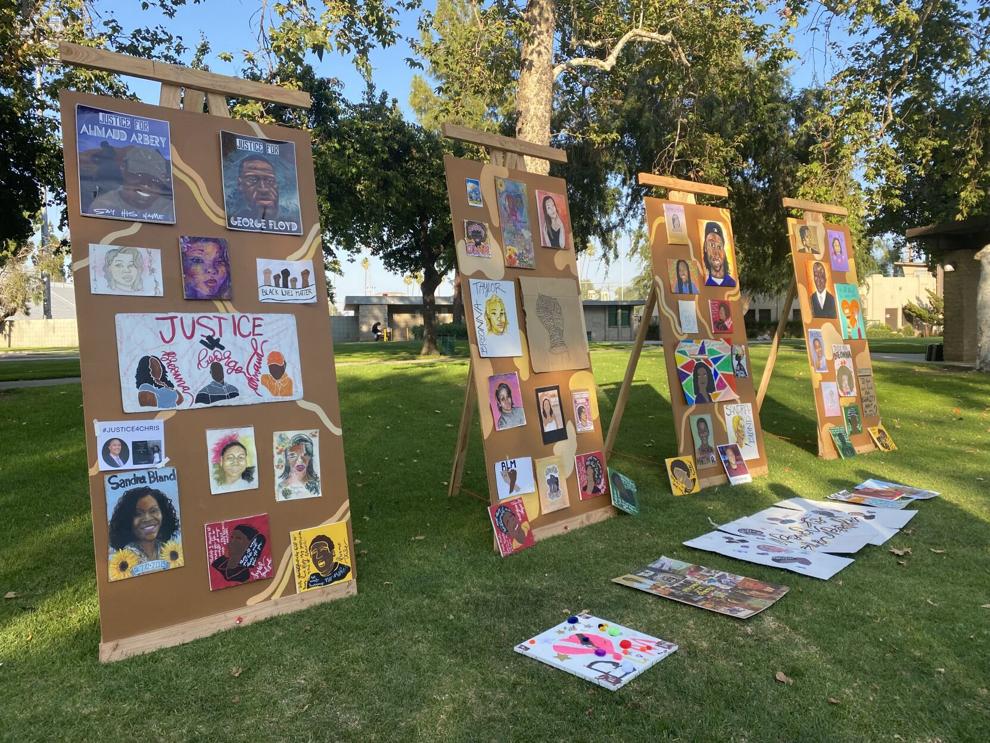 The Orange County Protests' Community Coalition held its second Juneteenth celebration on Saturday in La Palma Park for a day of entertainment, education and commemoration of Black history in America.
At the park, the coalition displayed four large collage murals with art collected over the last year by community members. The collages displayed love, mourning and the feelings surrounding the violence brought on by white supremacy to the brown and Black communities, said Zoe-Raven Wianecki, co-founder of the coalition.
The event also had a stage area for speakers and the band, Weapons of Mass Creation.
The event's goal was to raise money for mutual aid, a practice of reciprocal collective care, in Orange County.
According to the coalition's website, mutual aid is an act in which people take responsibility for caring for others by performing actions that cultivate love and community. Mutual aid includes many different actions such as supporting childcare collectives and creating free food and water supply networks.
The coalition hosted payable lawn games such as giant pong, sold baked treats and provided a donation area with snacks, dry goods and hygiene products.
All other proceeds went to mutual aid projects such as child care collectives, housing rights, mental health collectives and more.
Tatiahna Chrishon, co-founder of the coalition, said that mutual aid was implemented about three to four months after the coalition began. Currently, the effort has allowed them to collect 2,000 pounds of produce and spread the food throughout the community.
The Juneteenth event was another place where the coalition collected donations from people in attendance.
In order to make the event a reality, Wianecki said the coalition collaborated with other organizations such as Anaheim Autonomous Coalition, UCI4COLA and Weapons of Mass Creation.
At the beginning of the event, Wianecki addressed the donated art pieces on display, the upcoming performers and the coalition's involvement with mutual aid programs. She ended her speech by stating to non-Black attendees that they need to show their support.
"You cannot just be allies, you must be accomplices," Wianecki said. "That means putting your money where your mouth is. That means putting your action where your mouth is. That means engaging and investing in Black and brown communities."
After the Weapons of Mass Creation performance, they invited community members to go on stage to perform poems that amplify Black voices.
Tauheedah Shakur, author of the poetry book "Hide and Seek," performed four poems from her book that related to her experience of being Black. One of the poems titled "Sorry unborn black boy," is an apology for the world Black children will be born into, Shakur said.
"I'm sorry you see people that look like you only when they have been taken by bullets," Shakur said. "I'm sorry that before you were born, I saw your name written on graves. I'm sorry that I can't think of your future without wanting to cry."
After everyone performed their poems, journalist and activist Sarah Sulewski, spoke about the history of Juneteenth and its effect on the Black community.
Sulewski said that while the holiday celebrates the end of slavery on June 19,1865, there are still more systematic changes, like to the criminal justice system, that need to be made.
"So all of us celebrating here today, I want you to understand that it is our duty to liberate ourselves to create a world better than this where we are not suffering because we're black, queer, disabled, formerly incarcerated, poor, houseless, undocumented etc.," Sulewski said. "What change have you committed yourself to breaking so we are one step closer to building the world we deserve?"
Toward the end of the night, everyone received a cup and candle for the mass eulogy in remembrance for people in the Black and brown community that have passed.
Chrishon said that holding events like this Juneteenth celebration is important in educating the community.
"You can only expect action so much, and not everyone can donate, not everyone has the time to go out," Chrishon said. "So by educating ourselves we can at least create a more educated society so that we can all understand one another and what other people go through, regardless of it being ourselves."