The Fourth of July has traditionally been a symbol of freedom in America. However, several of today's activists say that America's Independence Day does not represent freedom for all, as demonstrations for justice continue around the nation. 
"The fact that the holiday is consistently celebrated … since 1776, and they haven't addressed the fact that people were not all free as of July 4, 1776, is what brought us to doing this protest today," said Esther Fagbamila, a member of the local activist group Upset Homegirls. "We want to specifically do events that bring awareness to things like this, so if people don't know about it we're going to do something about it."
Upset Homegirls, a group established by five Black students, organized and led the protest on Saturday at Amerige Park, in Fullerton, and welcomed participants with music, masks, water and snacks.
Daily Titan reporters estimated roughly 50 protesters gathered at the steps of Fullerton City Hall under the blistering sun, holding up signs in support of the Black Lives Matter movement. 
"The outcome was excellent, it was everybody who had love in their hearts and wanted to support and celebrate the day, but our way, and that's the best way to do it," Fagbamila said. 
The group had coordinated a previous demonstration in early June which amassed over 1,000 participants. 
As the protesters marched and chanted around downtown Fullerton and circled back to their initial meeting spot, they were met with honks of support as well as fingers of disapproval. 
The group had informed protesters, prior to the march via their flyers, to not engage with any counter protesters or hecklers as to maintain the focus on what they're fighting for and to also represent themselves as a peaceful organization.  
Laryssa Odd, another member of Upset Homegirls, said that although they did not get the same turn out as their last protest, they were grateful for the ones who did attend and understand the safety risks associated with protesting, especially with the surge in counter-protesters.
"A lot of people were probably concerned about what was really going to happen, whether we were going to have the counter-protesters or not because, like we said, this is a very big holiday for a lot of people, so for people to go against it might make people feel threatened," Odd said.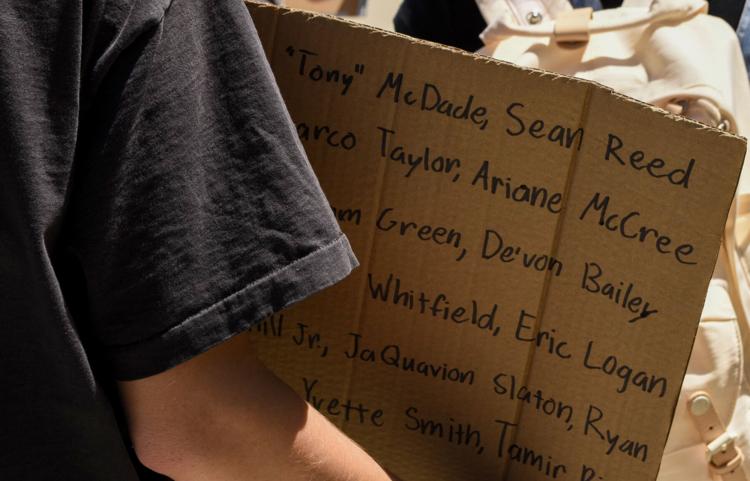 While police officers were present, they remained mostly out of sight and uninvolved as the organizers had contacted law enforcement prior to their event. The Fullerton Police Department also provided the protesters with two full bags of masks for the organizers to distribute at the event, said Brandy Factory, a member of Upset Homegirls. 
This event and the organization, as a whole, received a lot of support from the local community, as volunteers brought snacks and water and distributed leftovers to the homeless.
One of the main goals of Upset Homegirls is outreach and creating a presence in the broader Orange County community. Factory said it is important to them that people who do not feel seen or helped know that the organization exists to support them.
"We want everybody to be able to come to our events and know that we want everyone and everyone is welcomed, but the premise is the Black fight," said Ariel Parker, a member of Upset Homegirls.
The event had several speakers in attendance; one of whom was Mei-Ling Malone, an associate professor of African American Studies at Cal State Fullerton, who had also spoken at Upset Homegirls previous protest. 
"The history of America is one long-running thread of corruption, the abuses of power, of oppression, of greed, and Black lives have always been disposable under a system of racist capitalism and always will be as long as our structure remains intact," Malone said as she addressed the crowd. 
She said the Fourth of July was the perfect day because it provides the opportunity to resist a part of a problematic society which promotes false holidays that celebrate oppression and racism in a manipulative way. She added as more people become critical they question much of what society internalizes as "normal."
"I definitely feel that resisting the fourth is a good start in changing our culture," Malone said. "If we can resist in numbers, each one person makes an impact in this world, their energy, their thoughts, what they do and what they believe in. And the more of us that can reject these problematic holidays, I think the more possibilities we have for transforming our society, transforming the narrative and enlightening."
Ana Bane, a Fullerton resident and participant at the protest, said she was moved by the speakers to use the platform Upset Homegirls created in Amerige Park to sing a Jewish mourning prayer and blessing. 
"My faith demands me to fight for justice and in the Torah, our sacred text, we are commanded to fight oppression whenever we see it," Bane said. "I really feel like white people and middle class, upper middle-class people have an obligation to defend marginalized people."
Marching was not the only way Upset Homegirls wanted to protest, as the group led the protesters in dances and invited everyone to participate.   
All four members in attendance were sporting custom black shirts that read "BLK JOY," which translates to Black joy, which is the idea that Black communities' happiness is a form of resistance.
"A lot of people don't understand that Black joy is rebellion in the sense that systemic oppression is trying to keep us from being joyful with all the discrimination against our people," Parker said. "We can protest, and that's also an act of rebellion, but sometimes that negative energy takes too much of a toll on you."
Last on their protesting agenda was a candlelight vigil. Fagbamila, Odd, Factory and Parker distributed tealight candles to participants as they took turns lighting and placing them on the steps of City Hall. 
"Today is not a holiday that we will be celebrating due to the history of it and so while others are lighting their fireworks, we will be lighting candles for the lives that have been lost due to injustices," Odd said in a closing statement.