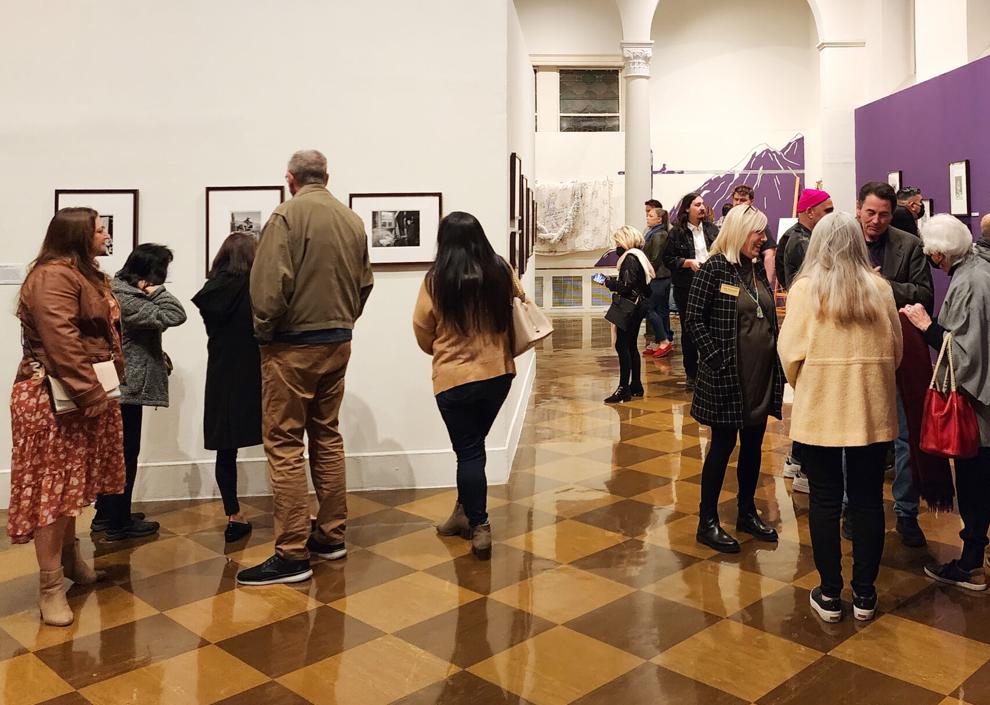 The Fullerton Museum opened an exhibit on Saturday featuring photographs and artwork inspired by the history of Japanese internment camps in California during the Second World War. 
The museum, located at 301 N. Pomona Ave., is displaying 50 photographs taken by landscape photographer Ansel Adams. The images taken by Adams show the living conditions of an internment camp in Manzanar, California, where more than 110,000 Japanese immigrants and Japanese Americans were forced to live in overcrowded conditions behind barbed wire and guarded towers during World War II. Along with Adams' photos, more than 25 other pieces of artwork from various artists and documents are being displayed for public viewing. 
According to the Library of Congress website, just two months after the attack on Pearl Harbor, 
on February 19, 1942, President Franklin D. Roosevelt signed Executive Order 9066. This led to thousands of  Japanese Americans and Japanese descendants being incarcerated and forced to live in prison-like camps across multiple states, including California, Washington, and Oregon.
Elvia Susana Rubalcava, executive director of the Fullerton Museum, said that the Fullerton Museum booked the Manzanar exhibit to help students of all ages make historical, artistic and human connections with the history they are learning in school. Sharing U.S. history like what occurred at Manzanar is important to know in order to do better as a country and speak up in moments of injustice, Rubalcava said. 
Rubalcava said this exhibit has been in the making for a long time. This show was booked between the years of 2018 and 2019 to be unveiled this year. 
Despite the long wait, Rubalcava said this is one of the one of the museum's most popular show openings with about 300 people having visited the exhibit within the first hour and a half of its opening. 
Fullerton councilmember Ahmad Zahra, who also served as representative on the museum board, said that showcasing the photographs of what occurred at Manzanar is helping bring more awareness to the important history of the internment camps. Along with the diverse community in Fullerton and Southern California, Zahra said that this is an important form of cultural diversity and representation through art. 
"This is the chance for a museum to bring these stories together and, and give us these experiences," Zahra said. 
The Fullerton Museum welcomed four to five guests who were forced to live in the camps to see the exhibit. Rubalcava said when the survivors saw the photos taken by Adams, it brought back happy and sad memories for them. 
"Because as we know, sometimes history repeats itself. And these messages, the message of the show, the discussion, the critical thought, it all is really important that we continue to have these discussions," Rubalcava said. 
Manzanar was one of 10 internment camps where the U.S military incarcerated Japanese residents and Japanese Americans during World War II. It is estimated that nearly two-thirds of those who lived in the camps were born in the United States.
Adams took photos at Manzanar in 1943 and 1944 for his book, "Born Free and Equal: The Story of Loyal Japanese Americans." The book documents what Japanese Americans and Japanese immigrants' living conditions were like. 
At the time the book was published, Adams faced backlash for his photography and his takes on the issue. This book discussed Adams' belief that the Japanese Americans were facing unfair treatment and were being punished for a crime they did not commit.
After being in the photography business for over six decades, Adams passed away in 1984. 
Adams' 50 photographs of Manzanar and 25 other documents and artwork will be displayed in the Fullerton Museum until April 9.