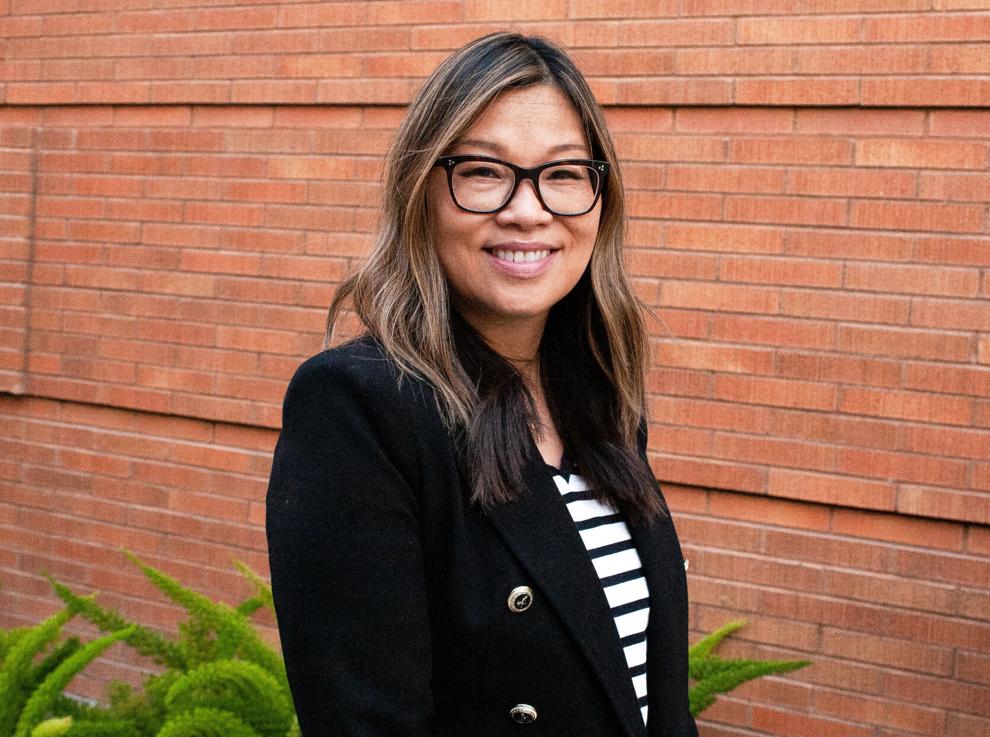 Life can be uncertain for college students facing a world of different career paths, but self-doubt does not have to be a barrier to success. Long-time public servant and dedicated community member, Lisa Kim, recently became the first Asian American city manager of Garden Grove, despite starting her college career unsure of her future in urban planning.
Kim spoke about her 30-year journey in public service last Thursday at Steven G. Mihaylo Hall to give advice to students who are looking into a future of public service. The event was hosted by the Pi Alpha Alpha chapter at Cal State Fullerton, which is the Global Honor Society for Public Affairs and Administration. 
Sarah Hill, who is a political science professor and teaches the public administration internship class, put on the event to support students in their professional development. She invites people who are far along in their career to speak at the event, and she said Lisa Kim was someone who was highly recommended. 
Despite serving the position of city manager for two months, Kim initially was not interested in public service and wanted to be an architect while studying at Cal Poly Pomona.
She majored in urban and regional planning but was uncertain if it was the right major as Kim spent her first three and a half years trying to understand what urban and regional planning meant.
Despite the uncertainty, Kim graduated with a bachelor's degree in urban and regional planning from Cal Poly Pomona in 1993. 
"At the time, I wasn't sure if that was the direction I wanted to go," Kim said. "But looking back in hindsight, the best decision I ever made."
Kim was born in Hong Kong and had been a world traveler throughout her childhood. Her father was a chef and worked for Mr. Chow's restaurant, a restaurant that combines traditional cuisine of Beijing and Chef Yi Jia Qian's original recipes. Kim's father assisted in the opening of each location, so she lived in London for eight years until third grade. 
After that, Kim moved to the United States, where she lived in New York and later settled in California for the opening of the Beverly Hills location of Mr. Chow's.
As a first-generation student with a part-time job, Kim said attending Cal Poly Pomona was the most affordable option.
Her three-decade long career began when Kim interned with the City of Pomona, where she eventually landed a full-time job. She stayed there for five years, was promoted from a specialist to a project ordering coordinator and then moved to West Covina. 
Kim spent the majority of her career, 16 years, with the city of Orange. When she was first interviewed for her job, Kim was hard on herself because she felt like she did not perform well in the interview. It was not an interview that got her the job though; it was having someone who could advocate for her.
The director at the city of Orange called one of her references and asked if they would consider Kim for the job. Kim recalled her reference telling the director that not hiring her would be a huge mistake.
She received a 30% pay increase after becoming a project manager. She was the youngest project manager in the history of Orange at 27. Kim recalled the moment to be scary for her, but reflected that she was hired based on her skills.
"It gives you a little bit of perspective that it's not your age. It's not your color of your skin. It's your capabilities and skill sets that you bring to the organization and have been," Kim said.
Kim's daughter, Emily, a third-year majoring in human resources management at Cal State Fullerton, is proud of the work that her mother has been able to achieve.  Emily said that her mother inspired her to be an amazing leader herself and was able to find a major that she is interested in because of her mother's help.
"She's the best mentor that you can get. And she is honest, but gives you the straight facts, which I think is important to hear," Emily Kim said.
Cathy Nguyen, a senior majoring in public administration, was inspired by Kim's discussion about getting your foot in the door. She asked Kim about how someone could improve their first 30-second impression and was told to interview herself in the mirror.
Kim ended her presentation to the organization by saying that, although it was not an easy path for her, she was able to find something she loves. She also said that she hopes she can inspire anyone wanting to go into public service.
Kim said she was happy to be able to share her knowledge with other women, Asians and Pacific Islanders, but she hopes that it is not all she is.
"I was hired because I have the credentials and the skills to do the job. I think having API and female, my hope is that that doesn't make me," Kim said. "It's just an opportunity for me to share with other women in leadership or young professionals that you can rise in your profession, if you do your job and hone in on your skills."