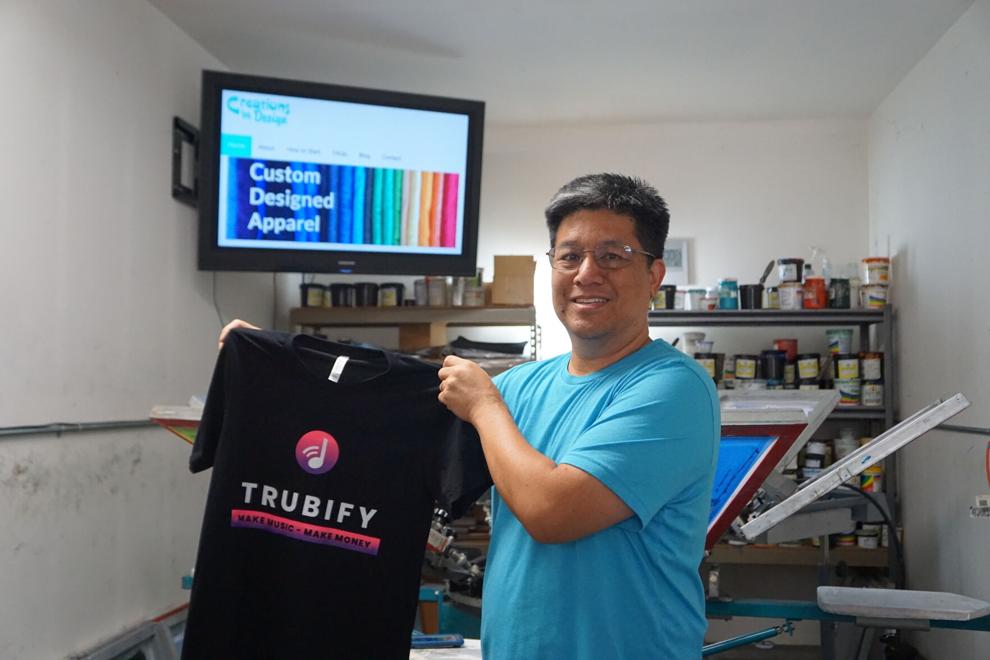 Jeff Lau, owner of home-based business Creations by Design, realized that he had an excess stock of T-shirts and was left without an efficient way to repurpose them.
"It was that gradual realization that 'Hey, why don't I put this to use?' rather than just donate blanks somewhere. What if I could figure out a way to put a little bit of style onto it, or add more value onto it," Lau said.
The overstock of clothes eventually became an obstacle for Lau to maneuver, and they were a hassle to sort through. This led Lau to the idea of reimagining the goods with a slightly different style, and thus, his non-profit branch DigniTees was formed.
Lau began making T-shirts when he was in high school. From a part-time job, the craft turned into a hobby for the Orange County resident. His growing interest in it eventually transitioned the hobby into a full-time job and soon a business.
Creations by Design was established in 2003 to create T-shirt designs for local businesses, schools and community organizations in the Orange County area. DigniTees eventually grew from Lau's business as an avenue to donate the remaining surplus of blank T-shirts back to the community.
This spring, Lau partnered with a group of Cal State Fullerton students to do public relations for his company, Creations By Design. Upon working with the group, Lau presented a larger vision for what he wanted DigniTees to grow into.
Typically, Lau would redesign shirts with a slogan and donate them to other nonprofits, such as the Vietnam Veterans of America or the Salvation Army. Although indirect, the practice allowed Lau to utilize his extra clothing for a good cause, eliminating his problem while also helping others with theirs.
However, Lau said the everyday operations of running his for-profit business hindered his ability to focus on his nonprofit sector. With most of the work falling on his shoulders, Lau said that his main focus fell on completing current orders, which caused him to hold off on his separate venture.
Lau said the students have been the "feet on the street"' in regards to making connections and going beyond for DigniTees. Their involvement has also allowed Lau to give more attention to his prioritizing his nonprofit.
"It was just one of those things, when you make something a priority you tend to do it. Because I had agreed to work with them it was something I needed to follow through on," Lau said.
Thrown together to complete their public relations capstone requirement, Rhett Rivera, Christian Sutton, Lauren Finney, Diego Pabalan and Emma Baxter helped Lau expand the nonprofit sector of his business.
The capstone project allows students to participate in a setting related to their field of study, and gives them the opportunity to apply the concepts and strategies they learned from previous courses.
Rivera said the group expected to perform the typical outreach that was required of those in public relations, such as social media or newsletters. Their goals soon changed when Lau said that his desire was to build the nonprofit sector of Creations by Design.
"At the end of the day, the important thing for us is to be helping out our community," Rivera said. "That's one of the coolest things about the capstone, is that it gets you connected with these local small businesses who might have been struggling because of COVID and it gives you an opportunity to give back."
Sutton drafted and sent out a pitch letter to a handful of nonprofit organizations, Rivera said. The group waited for a response on a possible partnership until they received a response from Crystal Wishart, the fund development and communications coordinator team lead at Laura's House, a domestic violence agency located in southern Orange County.
With a couple hundred employees, purchasing staff shirts can be costly for Laura's House, taking away funds that could be used for clients, programs and services. But the lack of a uniform does not allow for the staff to properly represent Laura's House when out in the community, Wishart said.
"To find somebody like Jeff who has the extra inventory and has the printing equipment already and wants to give back was serendipitous," Wishart said. "He is working his magic behind the scenes to make that happen for us."
Prior to the email from the CSUF group, Wishart was working to find someone that could help. Coincidently, the staff shirt idea fell in line with Lau's mission and goals, Wishart said.
The desired artwork was sent to Lau, along with the T-shirt sizes of Laura's House staff members, and as he works to finish up the uniforms, there could be several phases to the partnership, Wishart said.
"I like the idea and I hope more businesses do it, where they're starting to give back to the community kind of growing this charity arm and seeing ways that they could help people who may need it," Wishart said.
Coincidently, Lau's act of donating T-shirts was a hopeful trigger to jumpstarting a bigger movement.
His long-term goal is to provide essentials through the clothing he donates, he said. The aid would be personalized, he said, to avoid giving someone a hand-me-down or an item that had no value in the marketplace.
"Try to provide a little bit of dignity back to those people that are either down on their luck or due to some circumstances are not able to afford some basic necessities and in my case that would be a shirt or some type of clothing," Lau said.
In addition to Laura's House, DigniTees has made a connection with Beyond Freedom, an Orange County-based nonprofit that aims to combat sex trafficking.
Lau said that in the future, he hopes to work with organizations that require assistance and need, such as churches and educational organizations. There's a big laundry list and it's just a question of not biting off more than they can chew and taking it slow, he said.
"The more that we do the more we will have the opportunity to look for other organizations to be involved with," Lau said.