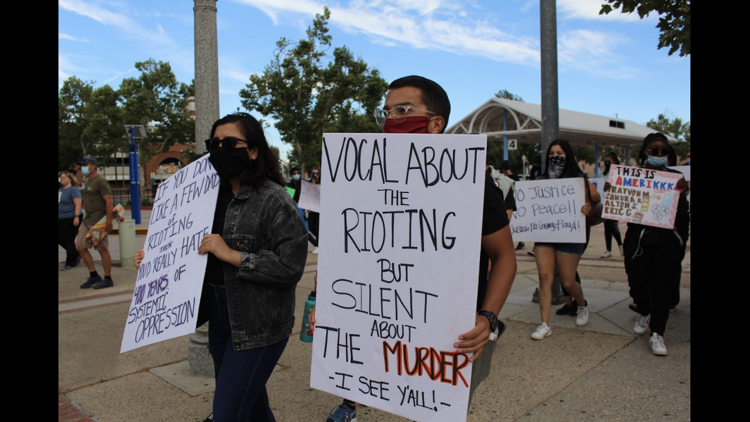 Police broke up a peaceful protest in Fullerton on Saturday afternoon as demonstrations and riots erupt across the country over the death of George Floyd, a Black man who died after he was pinned under the knee of a white Minneapolis police officer. 
Around 125 protesters blocked the intersection on Highland and Commonwealth avenues as hip-hop music played over people chanting "Whose street? Our street," "No justice, no peace" and "Justice for George Floyd."
The crowd of protesters made their stop at the intersection on Highland Avenue, where they took a knee in the name of justice and George Floyd. 
Within 40 minutes, the North Orange County S.W.A.T. unit declared the protest an unlawful assembly and the crowd fizzled down to less than half its initial size. 
Two people were arrested at the protest. One was arrested for vandalism and another for failing to disperse, according to a press release from Fullerton Police Chief Bob Dunn.
As protesters were pushed back by the formation of police officers advancing down Highland Avenue, eradicating their blockage of the intersection, the woman leading the chants refused to disperse from the intersection.
She was then arrested for resisting dispersion. Three officers were involved in her arrest, with one of them seen placing a knee on her neck while the other two were holding her down and handcuffing her. 
Following, the line of officers cornered protesters into an alley next to Two Saucy Broads between Commonwealth and Santa Fe avenues before dispersing.
Some protesters left through an exit in the alleyway and reconvened at the original meeting spot. Others followed orders and dispersed. 
Protesters initially met at the bus depot near the Fullerton train station at 4 p.m., where multiple leaders took turns speaking about police brutality, racism and accountability. 
"It's worth it though, to make a sacrifice for humanity, to stand up for justice, and like this sign over here says, no justice no peace," one protester said.
While spectators from cars and nearby restaurants filmed the protest and showed solidarity with the protesters, others yelled in disagreement. A man coming out of Garcia's South of the Border Cantina and Grill yelled, "f–k you" at the protesters walking by. 
The Fullerton Police Department said they attempted to connect with the protest organizers to assist with facilitating peaceful protests and ensuring that the rights of everyone in the community were protected. They never received a response, according to the press release. 
By approximately 6:30 p.m., the police were monitoring the area and most of the protesters had faded out. 
Floyd's final pleas of "I can't breathe" as he was held down by the knee of an officer echoed the words of Eric Garner in 2014, a Black man whose death was ruled a homicide following a police chokehold. 
These words have spurred nationwide protests, most prominently in Minneapolis — the site of Floyd's death. Saturday saw several demonstrations in Orange County itself, including Orange and Santa Ana.
A peaceful protest is planned for Sunday afternoon at the Santa Ana Courthouse.
This article was updated on Wednesday, June 3 at 4:00 p.m. to remove the names of those arrested in order to protect their identities.