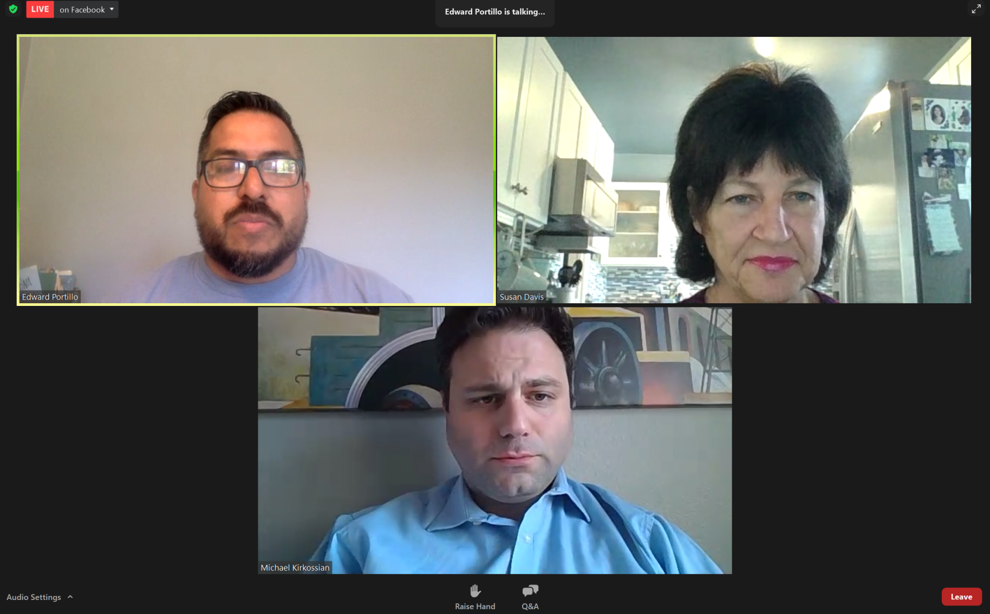 The National Alliance on Mental Illness Orange County, also known as NAMI, held a virtual presentation, titled In Our Own Voice, on Wednesday where mental health advocates discussed their experience in recovery.
The program coordinator of NAMI, Edward Portillo, introduced the presentation with NAMI's background and the goal for their presentations:  to change attitudes surrounding people with mental health conditions.
According to the NAMI website, In Our Own Voice was developed as a free public education program where two trained mental advocates share their personal experience with mental illness and recovery. 
The event was held virtually over Zoom and Facebook Live where participants sent in their questions through the Q&A tab or were allowed to turn on their microphones and participate.
The panel began with each speakers' "dark days," as they discussed their experiences living with a mental health condition. Mental health advocate and retired legal processing specialist Susan Davis spoke about living with bipolar disorder. 
Davis said she was diagnosed with bipolar disorder at the age of 22 after being wrongfully diagnosed with schizophrenia. Her symptoms included extreme mood swings, depression and mania. 
She also said she experienced rapid cycling, meaning that she would have four or more episodes of mania or depression in one year, along with agitation with the depression that causes her to call 911. 
"I have to go to the hospital behind locked doors to protect myself from myself," Davis said. "And when I go through those doors, I have a true sense of the prison that this illness is."
In her teenage years, Davis said she was stigmatized by her parents because of their lack of knowledge around mental health, and it caused her to isolate herself. Currently, she said she sees the doctor everyday. 
The second speaker was registered pharmacist Michael Kirakossian, who said he deals with severe depression. He said his mother was diagnosed with paranoid schizophrenia when he was 19 years old and said that being the bridge between him and his family members wore him down. 
Kirakossian also said he would push his feelings aside and push through stressful times, but as the stress from pharmacy school became higher, that method was futile and caused  his academic performance to weaken.
"This was something I'd built my life towards and just seeing it crumble and seeing it fall apart in front of me in just a few months really was pretty dark," Kirakossian said.   
The next area discussed was how each of them found acceptance. Davis stated how she originally did not understand mental illness and the journey she would be on. She said her mother helped her accept it along with the mental effort it took.
"Our mind is who we are," Davis said. "And when we lose it, we have to get it back. I have to remember and become familiar with who I was before." 
Kirakossian said the depression affects him chronically and cannot be handled temporarily.
"I think acceptance with me really was understanding 'Hey, look this is the cycle that you go through; that's not by accident," Kirakossian said. "This is something chronic and something long term that you're going to probably have to deal with and live through."
The speakers also shared the common coping strategy of utilizing a routine along with multiple personal strategies such as practicing mindfulness, exercising and making goals for oneselves to help appreciate life more. 
Kirakossian said the push for him to recover was seeing mental illness being socially treated and discussed among people while being in the medical field himself.
"Having resources constantly visible, being available, talked about, whether it's NAMI or healthcare providers, as long as people were communicating, as long as it was in the sphere of conversation, it would always kind of be on my mind," Kirakossian said.