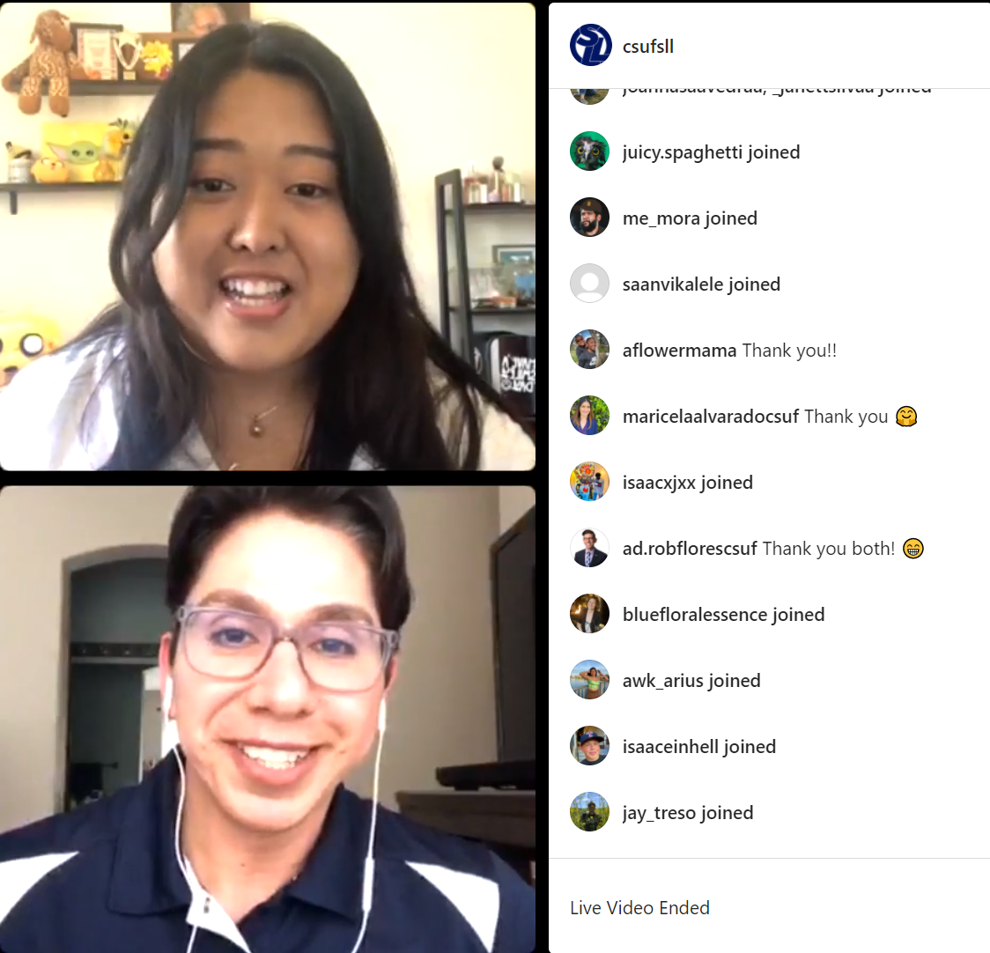 Vincent Vigil, the associate vice president for Student Affairs and dean of students, joined CSUF Student Life and Leadership on Tuesday for an Instagram Live that answered questions about the re-entry process for the upcoming fall semester.
Serena Mann, a marketing assistant at CSUF Student Life and Leadership, hosted the live stream and introduced the discussion of CSUF's Vaccination Record Incentive Health Program which the university has been promoting throughout the summer. 
"Any student that uploads their vaccine record will automatically be entered into the vaccine incentive program," Vigil said. "That means you will be entered to win either free parking for fall semester, which is a $334 value or Apple AirPods."
Vigil said that winners will be announced every Friday. 
Mann added that vaccine records can be submitted by going to the CSUF Dean of Students Instagram and locating the link in their bio for their linktree account. 
Students can also visit @csufsll's, CSUF Student Life and Leadership's Instagram account, and click the President's Directive 22 button located on their linktree account that states the updated directive as well as a link to upload vaccination records. 
Vigil stated that the Dean of Students office has been sending updates about campus re-entry and information about President's Directive 22 every Friday throughout the summer. 
He also reiterated certain topics in the directive such as the requirements of re-entry, physical distancing, signage throughout the campus and reporting COVID-19 cases. 
He also addressed the use of face coverings after Los Angeles County recently announced their reinstatement of wearing masks indoors. 
"We do not have that same recommendation as L.A. county," Vigil said. "We are still able to not wear masks inside if you are vaccinated." 
For unvaccinated individuals, CSUF's directive will require masks be worn indoors and outdoors where physical distancing cannot be maintained. 
Mann transitioned from the directive to asking Vigil questions sent in to the CSUF Student Life and Leadership account. 
One concern that was addressed was how people will know whether those not wearing masks on campus are vaccinated and he stated that they won't because medical records are confidential. 
"That is confidential, that is only shared within our medical personnel, within our health services department," Vigil said. "So there is no way that anybody would know another person's medical record. That is regardless of if it's COVID related or if it's not COVID related." 
Vigil also addressed whether or not CSUF will resume any or all on campus services or activities this fall semester and stated that most services and activities will be held in person. 
"There may be some hybrid options for some of our programs and services, but a majority of our programs and services will be back," Vigil said. "We will be in person, there will be someone to greet you. There will be someone in an office to help you."
For classes in person, all classrooms will be set at the maximum capacity for each room, Vigil said. As for classes overall, he added that 85-90% of classes this fall semester will be in person and the rest consist of hybrid and online classes. 
Vigil said the hope is for the campus to return to 100% in-person classes in the spring semester.
As for clubs and organizations, Mann said that student organizations are capable of reserving spaces now, but they will not be approved until organizations are fully registered. 
"It's the same process as it was before. You're going to submit all your back requests through Titan link," Mann said. "We ask that you send it at least two weeks before your actual event if it's a small event. If it's a larger event, contact us." 
Mann added that all in person events are required to to track and manage attendees in case an individual tests positive for COVID-19.