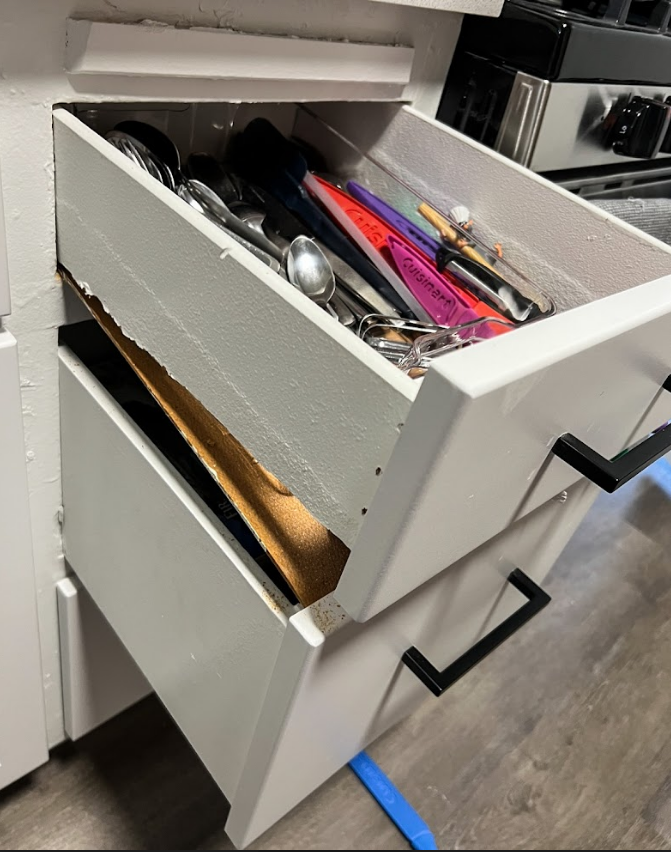 Cal State Fullerton students have every right to complain about their living situations due to the poor quality of the food for on-campus residents and the crumbling conditions of off-campus housing.
For students who live on campus, a main concern is the availability of nutritious food.
The Gastronome, the main on-campus dining facility, states that it provides "healthy, nutritious and well-balanced meals." Yes, it typically serves pizza, burgers, fries, bread and a salad bar with fresh vegetables and fruits. Despite their slogan, many students disagree that these foods are healthy.
Maggie Shi, a second-year kinesiology major, said in an email to the Daily Titan that the quality of food in the Gastronome was not always healthy or fresh.
Not only does the food lack nutrition, but there are not a lot of options for people with dietary restrictions. 
Jared Brown, a third-year kinesiology major, said students with certain dietary restrictions, such as an avoidance of gluten or pork or vegans, may not be able to find a lot of options. 
This inequity forces students with a dietary restriction to constantly worry about how and when they can eat.
This greatly impacts students' learning. Brown said that students who do not consistently eat could experience a decline in their physical and mental health.
"Because of some of the inequities that do exist, sometimes students aren't having success," Brown said. "So it's really hard to feel like they can be connected to the school." 
Students who live on campus. whether in the residence halls or the suites, are required to choose between three options: a five-day or a seven-day meal plan or a 100-block meal plan. However, the cost for housing and meal plans are relatively high, typically reaching between $17,000 and $19,000 per year.
Larry Martin, the executive director of housing and residential engagement and Titan Experience, said the high price is due to the lack of state funding. 
It is unfair and ridiculous to pay that much money and have such little variety and low quality food. 
Vaughn Wilbur, a second-year sociology major, said this would be an affordable option if someone regularly goes to the Gastronome. Although with so many issues with the food, it is likely that many students are overpaying to live on a campus that does not provide food that meets their dietary needs. 
Additionally, students have to purchase their own basic necessities. Many regular products that can be bought at a convenience store, like pre-packaged foods, deodorant or menstrual products are unfairly sold at inflated prices on campus, Wilbur said.
Martin said that students who live on campus are given a $200 declining balance that they can use at the Gastronome, Tuffy's Cafe and the community market on-campus housing. 
"They have to budget themselves to use that $200 for all their meals during the weekends throughout the whole semester. And the prices are really high within that little minimart, then they have to barely squeeze by," Wilbur said. 
Davis Ammari, a junior psychology major, said he would like to be able to use that $200 wherever he wanted on campus. 
Martin said the way the $200 balance is designed is that it is specifically through the meal plan department, limiting the amount of places this balance can be used. 
This money should be put on residents' Titan cards through a different department, such as financial aid, to allow students to spend this money wherever they choose. 
Although students could go to Tuffy's Basic Needs for their supplies, the items are often in short-supply because it is a donation-based service, Wilbur said. 
The Gastronome and food vendors on campus should also aim to diversify their meal options, giving more options to students with dietary restrictions and providing healthier options in general. 
Despite the on-campus housing issues regarding food security, the situation is even worse for students who live off campus.
Emma Thomas, a third-year student majoring in communication, has been having consistent issues with her apartment at the University Village Fullerton since the beginning of the semester. She testified to missing pipes that led to flooding, an outbreak of mold and lack of heating or air conditioning.
Despite speaking with the University Village management repeatedly, many of her concerns were not addressed. In fact, she said she was met with lies when bringing up her complaints to the staff.
"I wish there was some sort of compassion here for what they're doing and accountability," Thomas said. "Because it's just blaming us and blaming vendors and blaming the building being old. Like, take accountability." 
As a provider of housing for mainly CSUF students, the management at University Village has a responsibility to make sure their facilities are livable for their residents and adequately maintain their property.
In the end, students suffer because of the lack of accountability of off-campus housing management. Thomas said that she has missed several days of classes and work to wait for the University Village management so she could speak to them about the condition of her apartment. 
"Earlier in the semester, I was so stressed. Mentally, it was horrible. It was a very, very hard time for me and my roommates and I lost motivation to do work," Thomas said. "I was more angry than anything, and I just wanted to lay in my bed all day and just cry." 
Off-campus housing authorities must be held accountable for their mismanagement of the apartments. Both CSUF and the management on and off campus housing must help students who live there. 
Students should know that their needs are taken care of to the highest degree as they live and attend CSUF, but there is clearly much work that needs to be done before those standards can be met.