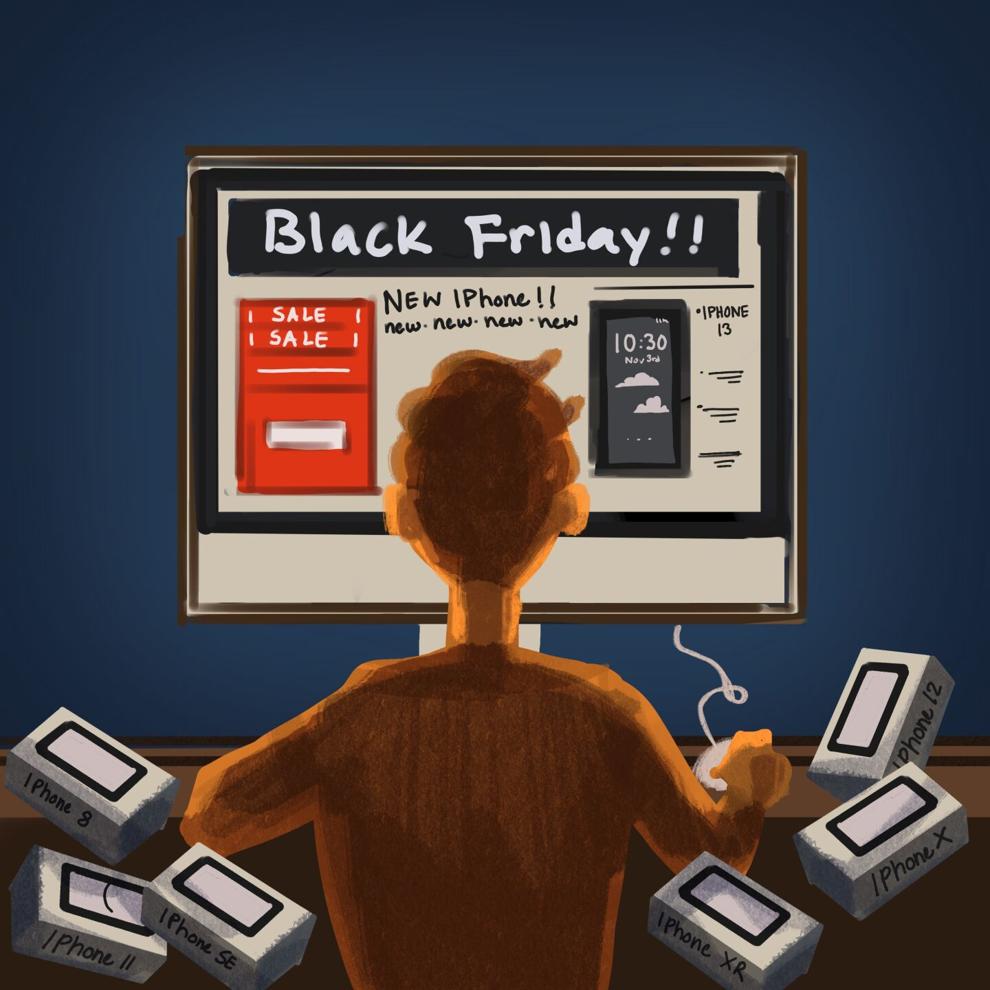 With the holiday season nearly upon us, and Christmas decorations decking out stores, we're in the calm before the consumerism storm. 
Corporations are already taking advantage of this time of year by shoving advertisements for useless products down consumers' throats, touting deals for Black Friday which feature hot-ticket items like cell phones and Smart TVs. 
However, as consumers easily slip into capitalism's holiday scheme, they completely disregard cherishing time with family members and instead feed into the materialistic culture. 
The Black Friday spending frenzy began with stores opening on Thanksgiving night, which would always produce countless videos of crazed shoppers flooding into stores and sometimes fighting over items. Since then, it has evolved into obsessive online shopping that begins far earlier, which under the guise of convenience, is actually easier to lose track of spending. 
According to Adobe Analytics, there is a predicted high record of online shopping this year. Online shopping improved 10% from last year. There is a likelihood that online spending would top $200 billion in the months of November through December. 
Spiraling down into the materialism hole, televisions, smartphones and smart watches represent the three most popular tech gifts from Black Friday in 2020.
There was once a period in time where phones and televisions were big purchases that were worth it because of their durability. Before the invention of smartphones, most of this early technology was meant to last a long time. 
Now, this period is driven by consumerism and the desire to always have the latest and greatest iteration of technology. Every year, Apple or Samsung find new ways to convince people that they need to upgrade their phones, forcing them to fork over another $1,000. 
TV manufacturers provide new features like built-in Wi-Fi or larger screens to create a needless want that becomes endless. 
As consumers try to build in-home theater experiences with larger screens, the number of households with a 70-79 inch television has risen to 22% from 9% in 2018 and 16% in 2019, according to Adobe Analytics. There has also been a rise in the number of TVs over 80 inches from 1% last year to 3%.  
The constant cycle of updated electronics feeds into the desire for the next new thing. The emphasis on switching out old, but functioning products for new ones prioritizes consumerism over connection or efficiency. 
With the rising popularity of new technology, matters will continually get worse. Not only is the need to upgrade technology annually detrimental to our society; but so is the stress that comes with Christmas shopping. Even broke college students who barely get by paying rent can get caught up in the mass-culture of consumerism. 
It is far too easy to give in after being clobbered over the head with so many advertisements that become temptations. The temptation becomes so strong that it becomes easy to purchase items now and pay for them later. 
National credit card debt is currently at $804 billion as of Nov. 9, according to Lending Tree, and will probably rise during the holiday season. Aside from the obvious credit card options, popular platforms, like PayPal, now have credit installment plans that allow consumers to delay interest-free payments on their items. 
Buy-now-pay-later revenue is 45% higher than 2019 and 10% higher than last year as the payment method continues to climb, according to Adobe Analytics. 
Nothing feels better than making a loved one happy with an awesome gift, but the value of the gift sometimes exceeds the value of simply being there for one another. 
After last year, with all of the families who lost loved ones due to COVID-19, we should be more appreciative of each other's company and less willing to give into the corporate mascot that is Christmas.
There is no denying the value of Christmas for those who are religious, but the materialistic culture has put a costly spin on gift giving and receiving. 
Instead of buying gifts for one another, we should be focused on creating memories with each other — an immaterial gift that will last far longer than this year's Apple Watch.