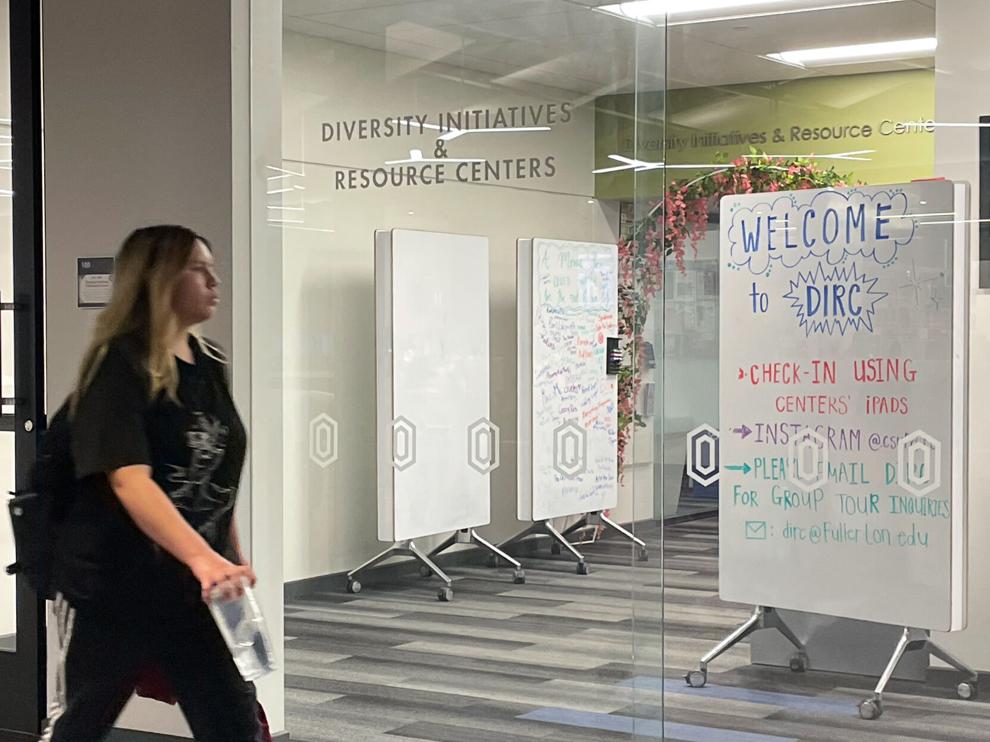 Over a span of a few years, community support spaces at Cal State Fullerton have been relocating around campus without notice from the university. These spaces are a safe haven for students to feel supported, and students should receive adequate notice before they are closed. 
Supportive spaces on campus are areas where students with disabilities or diverse backgrounds can find a welcoming community in which they can feel safe in their authentic selves.
In December 2021, the previous WoMen's and Adult Reentry Center closed its doors without warning or explanation. CSUF students did not have access to a supportive space for women for nine months. 
Even faculty members were concerned about the lack of a center for people to feel supported after learning about the WARC's abrupt closure. A petition was organized by these concerned individuals to bring the WARC back. 
Prior to the pandemic, students in Abled Advocators and Disability Support Services had a designated computer lab in the Pollak Library for students with disabilities to utilize. DSS closed the computer lab, returning it to the library, because students with disabilities were given equal access to resources throughout the library.
Abled Advocators were concerned about the closure since the computer lab was not only a space to do work, but to create a sense of community.
The university should implement better communication to students, faculty and staff in the event of a necessary planned closure. Diego De La Cerda, a first-year Business Administration major, would prefer to be notified prior to the closure via Instagram or even a poster on the wall. 
De La Cerda sees supportive spaces as an important part of a student's life, especially students that may not be receiving that support at home. 
"I think schools should be a place where you feel comfortable so that you can maximize your learning. So schools should take whatever is necessary to make sure that their students who are paying tuition and coming here feel comfortable," De La Cerda said. 
Arianna Lopez, a second-year Child Development major, believes that having these spaces is important for college students, especially those who may be far from their homes and family.
"I think there's a lot of people who aren't from around here, or live far away, and they might not have these communities for themselves, wherever they're from, and so having a space here at school can really be beneficial for them if they've never had access to it," Lopez said.
CSUF should provide emails and other notification alerts about supportive spaces closing and the reasoning for students to be kept in the loop and not feel blindsided. There are still other supportive spaces on campus that are widely used, so students should not only take advantage of their use, but also keep an eye on them in case of sudden closures.
The Diversity Initiatives & Resource Centers have six supportive spaces. The African American Resource Center, Asian Pacific American Resource Center, Latinx Community Resource Center, LGBT Queer Resource Center, Titan Dreamers Resource Center and Women's Resource Center are all available through DIRC. 
"We create engagement opportunities that empower, educate and activate students in the areas of social justice, equity and anti-racism," according to DIRC's mission statement.
On the north side of the library on the fourth floor, there is a room dedicated to those with disabilities to make accomplishing their work more accessible. However, this is not enough and students with disabilities deserve their own space to not only have the place to do work, but to develop a community and feel comfortable as a result.
Spaces for students to feel comfortable and supported are an important part of our campus. These closures can cause students to feel lost due to the sudden closure of a place they called their safe space. If a space needs to close, students should be given advance notice via email and other communication services–– such as social media and posters–– and directed to alternate services.