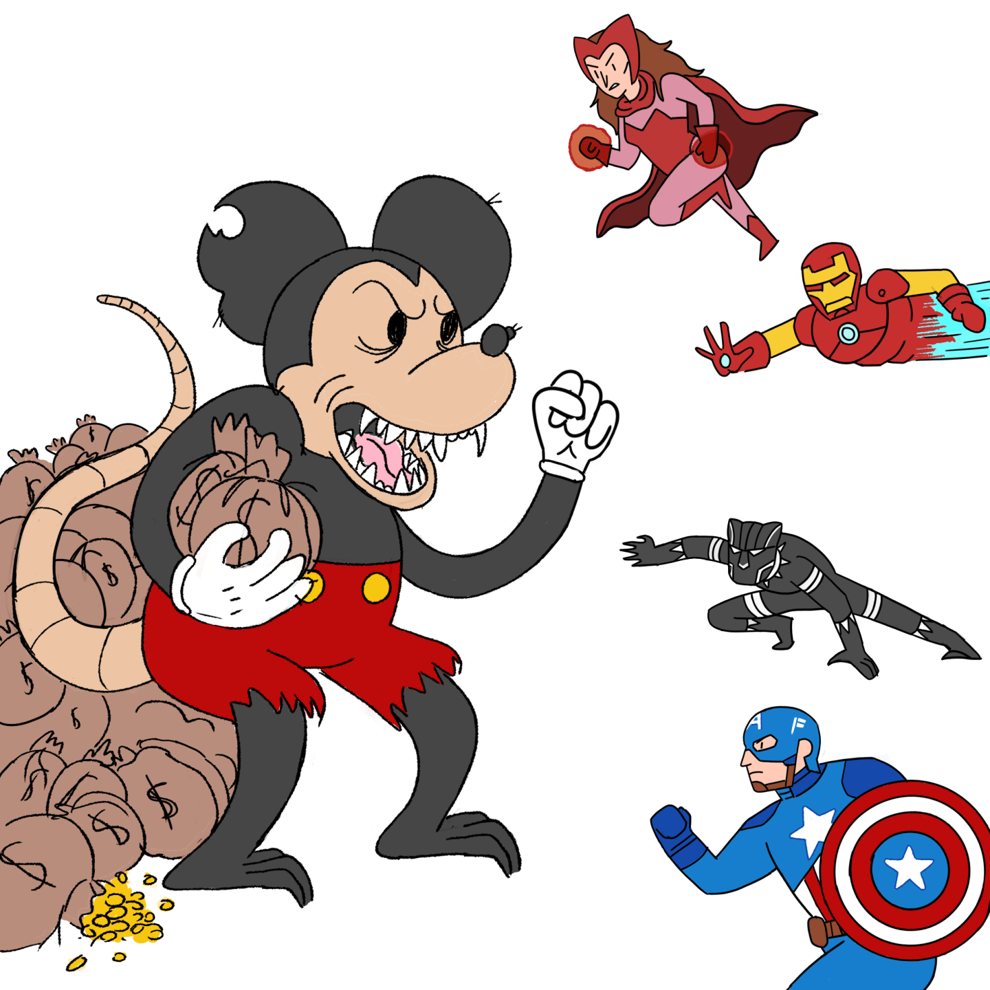 In a blatant show of corporate greed, the Walt Disney Company is preparing for a legal battle, filing complaints in the federal courts of New York and California to retain copyrights of their Marvel characters instead of compensating the faces behind the Marvel Universe. 
Comic artists' ingenuity deserves more than recognition as an equitable solution. 
The lawsuit is in response to copyright termination notices filed by intellectual property lawyer Marc Toberoff on behalf of his five clients. Among these clients are Laurence D. Lieber, brother of the late Stan Lee, and the estate of Steve Ditko in an attempt to reclaim rights to popular Marvel characters such as Doctor Strange, Black Widow, Hawkeye, Captain Marvel and Falcon. 
Similar lawsuits have mostly favored the corporations, citing the nature of their job as "work-for-hire" as the basis for the corporation they worked for owning the characters they created. 
It's a bad look for a company that profits billions of dollars in the multimedia landscape these characters are now involved in. Everything they make from merchandising, video games, streaming rights, comic books and ticket sales should be more than enough for them to share the wealth with the creators and their heirs. 
Instead, the company throws their money into litigation to ensure they retain full copyrights of these characters. The copyright termination notices filed by these creative heirs say that the creators were independent contractors, while Disney contests that they were paid an agreed-upon wage dependent on how much content they created. 
It makes sense why Disney is willing to battle this out in court. After all, they are fighting to retain the rights of characters who generate large sums of money.
Part of the fun regarding aspects like the Marvel Cinematic Universe is Disney's ability to freely use Marvel characters in their movies, even making deals with other studios like Sony, who currently own the film rights to Spider-Man and Venom. 
Disney's deal with Sony in 2015, and the acquisition of 20th Century Fox last year, brought Spider-Man, the X-Men and the Fantastic Four — some of Marvel comics' most popular characters — into the fray in a glorious way that has resulted in what's arguably the best on-screen interpretation of Peter Parker. 
However, Disney's misuse of power is an apparent attempt to take advantage of creatives and their heirs by constantly exploiting their characters and trotting them out for fans to get a sense of immersion.
Lee benefited heavily from the popularity of Marvel movies, making a cameo in each one until he passed away. But he's only part of the team that brought the character to life. Ditko's estate is essentially being forced to pursue litigation to get a piece of the pie, an ethical problem that Disney is on the wrong side of. 
These characters are beloved by fans who are completely unaware that the individuals who created them were given horrible deals by not being compensated for the growing popularity of their creations.
The issue of not paying their creatives a deserved proportional amount not only affects the heirs of legendary creators like Lee and Ditko, but it still occurs today with recent artists not receiving enough compensation or acknowledgment for their role in creating the stories that are so beloved by the mainstream. 
A contemporary example of this occurring involves Ed Brubaker, who wrote on the Captain America line of comics with artist Steve Epting in a revolutionary period for the character — something that would define the way we know him today. He turned the book into a political thriller, something for a more mature audience. 
During this time period, he decided to bring James "Bucky" Barnes back from the dead as the antagonistic Winter Soldier. The series saw his character go from mysterious villain to a fully-fledged superhero, and eventually teaming him up with Falcon in a separate book titled "Falcon and Winter Soldier." 
On a podcast titled "Fatman Beyond," where filmmaker Kevin Smith and screenwriter Marc Bernardin discuss popular culture, Brubaker was being interviewed when "Falcon and the Winter Soldier's" fourth episode had become available to stream. 
As the creator of the Winter Soldier, Brubaker said he hadn't even watched the series at that point. He said it's hard to see the corporation make decisions based on morality, even if it means exploiting creators in the process.
"Bucky existed already. I created the Winter Soldier part of it but, you know, Jack Kirby created Bucky and Joe Simon. I get that. But it's weird that these companies who do these morality things — they can sit down and be like 'Alright, well he doesn't get anything, so f— him.' Captain America would not be okay with that," Brubaker said on the podcast. 
It remains to be seen how the legal battle will play out, but if history is to be considered, it doesn't look good for the creators and their heirs to benefit monetarily in a fraction of the way Disney has. They have acquired other corporations and their greed sets a dangerous precedent for past creators who they have benefited from. 
It's important for a globalized multibillion-dollar company, like Disney, with their image based on happiness to prioritize ethics instead of downplaying the creative heirs' talent.