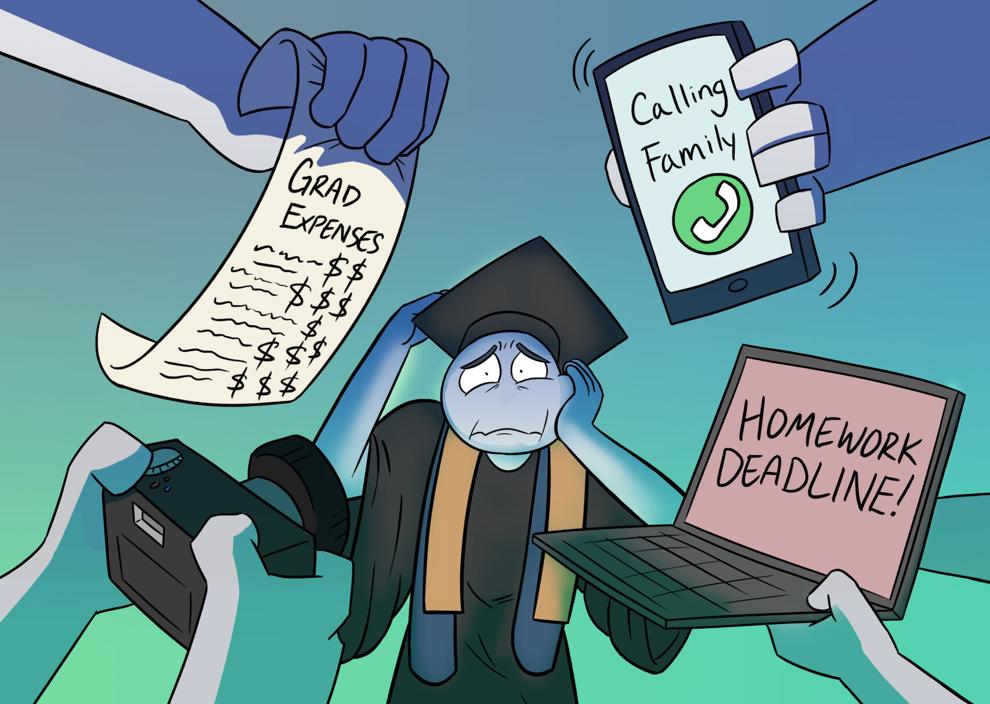 The spring 2021 semester is coming to a close and students are hurriedly finishing their finals, projects and other assignments required to pass, many are also preparing for the celebration that solidifies all their hard work: graduation.
Graduation is defined as "the award or acceptance of an academic degree or diploma," offering students a long-awaited credential for the time and effort they've spent working for the hopes to amplify their career opportunities. 
What this definition doesn't detail is the unnecessary expectations graduates face after finishing their requirements. Graduation has become yet another milestone to profit off of that sets poor standards new graduates supposedly should follow to celebrate their efforts.
Schools across the country hold ceremonies for their graduating class that can end up being the most boring and taxing part of the process. Schools find the largest facilities to seat all the students, and many host the ceremony outside in the blazing summer heat with thousands of people. Students are required to line up in a certain order, dress in their cap and gown appropriately and plan for parking, and this doesn't even include the time it takes to capture photos and meet with friends and family.
Graduation ceremonies can range from 90-120 minutes, mostly consisting of students sitting together like packed sardines and listening to different presenters speak. The seating arrangement is based on major and alphabetical order, so students don't even get the option of sitting with who they want. The area for guests is so large, finding friends and loved ones is a daunting task. 
The speakers, at the very least, are the school's faculty, academic board, chancellor and valedictorian, basically the large figureheads of the school. The ceremony consists of them talking about the school's accomplishments as a whole and not focusing on any particular department, making it hard for students to relate or find meaning when they don't feel a part of the discussion. There is nothing to gain from these lengthy speeches given other than the few that give advice for life after graduation — and that's assuming everyone is still paying attention.
The best part of graduation is when each student gets to walk the stage and hear their name read while receiving their diploma. It's the one time in the ceremony where everyone is individually recognized. However, with thousands of names being called and family and friends sitting far away, it's hard to share such a great achievement with the ones that matter during the ceremony. 
Graduation ceremonies treat students like a number in their system. Everyone will have their name called out and follow strict rules to make the ceremony flow. This system makes sense for such a large group of people, but it devalues the experience for the individual graduating. It becomes less special if it's tailored for everyone and not the person accomplishing that milestone.
Additionally, the costs of graduating is no small feat. On average, high school and college graduates spend $300-$2,500 on graduation and in 2020 most people that gave graduation gifts spent around $112. Spending money on caps and gowns, decorations, tassels, photographers/pictures, regalia, chords, medals, custom lawn signs, class rings, graduation fees and parties all add up very quickly just for a piece of paper.
All the added expenses and effort put toward a cookie-cutter way of celebrating an important milestone is draining and should not be the standard for everyone. Many students prior to graduating are stressed dealing with their final projects and assignments that dictate if they can even receive that diploma. It is unfair to expect them to put even more unwanted effort in looking happy for the cameras and bringing up bragging rights family. 
With Cal State Fullerton finally holding in-person graduation ceremonies this year, many are relieved to experience the closure they wished for during such an uncertain time. Regardless, it is still not the same with having to pick only two people to attend as guests and having to see graduates' clothed faces covering their smiles as they pick up their diploma. 
And if COVID-19 has taught us anything, it is to take care of ourselves and our wellbeing. Graduating is a special time in most of our lives and is very much something to celebrate, but it doesn't need to be under society's, the school's or anyone's perceived expectations other than your own. Celebrating should be up to the individual and what will make them feel the most rewarded after years of hard work, not decided by a system that uses this event for profit or outdated standards that set specific expectations. 
While soon-to-be graduates are often expected to engage in all of the typical celebratory events and purchases of graduation; ultimately how the student wants to celebrate is what matters. Each graduating student has put in the time and effort to receive their diploma, and they don't need to pay hundreds of dollars or spend two hours in blazing heat to prove it.