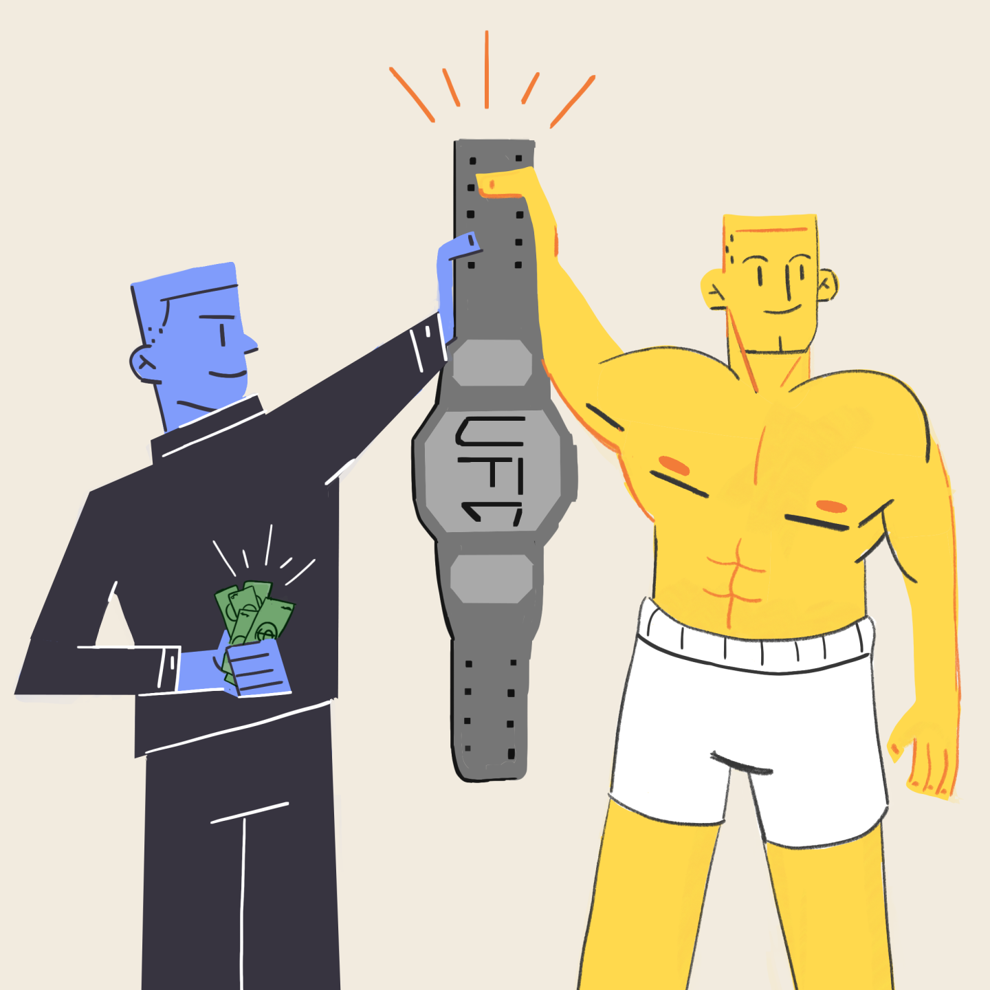 With the unification bout between current heavyweight champion Francis Ngannou and interim champion Ciryl Gane being targeted to be the first pay-per-view in 2022 on UFC 270 card on Jan. 22, fans are reminded yet again that interim belts do more harm than good for fighters. 
The interim championship belt was originally created by UFC for current belt holders who were unable to defend their title due contract disputes, injuries or other reasons. With the creation of the interim belt, the current champion is given time to come back while not having to vacate their title.
However, controversy arose after Francis Ngannou won the heavyweight championship on March 21 and originally wanted to defend his belt in September due to visa issues and concerns involving his contract. 
When negotiations with the promoter turned bitter,  UFC then set up an unnecessary interim championship fight between title contender Derrick Lewis and now interim champion Ciryl Gane in August.  
With one fight left on his contract, Ngannou said that the promotion was trying to corner him into signing an extension by creating an interim belt, enraging the fighter for not having a sufficient amount of time to celebrate his success with his home country. 
"Why was the rush so bad? In the past two years I have fought twice and suddenly I have to defend my title after two months? What is the rush? What's wrong? Why can't I have the average time as everybody, three or four months?" Ngannou said. 
This is one of the many examples of interim belts disrupting the division they are involved in and shows how the world's biggest MMA promotion treats their champions when they decide to take their careers into their own hands. 
At this point, interim belts are used mostly for promotional purposes and is only a noteworthy accomplishment because of the value placed on these senseless belts by the media, the fans and the UFC itself. 
Take the classic five-round interim championship slugfest that took place on the UFC 236 fight card in 2019 between lightweight title contender Dustin Poirier and then featherweight champion Max Holloway, for example.
UFC President Dana White infamously defended himself against Yahoo Sports boxing and MMA columnist Kevin Iole about whether or not interim title fights are good for MMA. White insisted that the Dustin Poirier versus Max Holloway fight could only happen for five rounds if it was a title fight of some sort and that in order for them to receive pay-per-view buys, they would need to create an interim belt in order to justify paying them that much more. 
Funnily enough, White seemingly reversed his stance from previous claims as UFC 262 marked the first time a main event was guaranteed five rounds despite not fighting for a title. Regardless, the UFC attaching an interim championship to ensure that two fighters go head-to-head reveals that the promotion heavily values monetary gain versus title legitimacy.
Former UFC lightweight champion and current ONE Championship lightweight Eddie Alvarez has been vocal on the absurdness of interim belts, but also recognizing that everyone involved including fighters are responsible for today's heavy promotion of these belts in MMA promotions.
"When an interim title is given and the media makes a big fuss of it and a fighter makes a big fuss of it and if fans make a big fuss of it, an interim title has value. That's the saddest thing that can happen in the sport," Alvarez said at an ONE Championship media day in 2019. 
With interim belts having so much impact on the sport, the official championship titles are slowly losing their significance and are becoming more of a commodity for fighters leading to the ruining of the promotion itself.
"It almost diminishes the value of the title, because they're just throwing it out there — it's like, 'You can fight for an interim title, sure,'" said UFC welterweight fighter Stephen Thompson in 2018.
Recipients of these interim belts, like UFC legend Carlos Condit, have also come out to speak up about the title and how insignificant it made them feel despite winning a piece of UFC gold.
"It would be the pinnacle of my career," Condit said. "I've had the interim belt before and that little interim specification bothers me. My belt is in my son's room and for me that's not the real belt." 
Moving forward, UFC should eliminate interim title fights altogether and focus on solving disputes once champions are crowned. Fighters and fans both feel cheated on having essentially two belts for no reason other than to generate publicity.
The company should also reevaluate their values and do what's right instead of trying to find ways to avoid paying fighters. Once the right amount of changes are made, more focus would be placed on the actual belt and the UFC will add more purity to the sport.