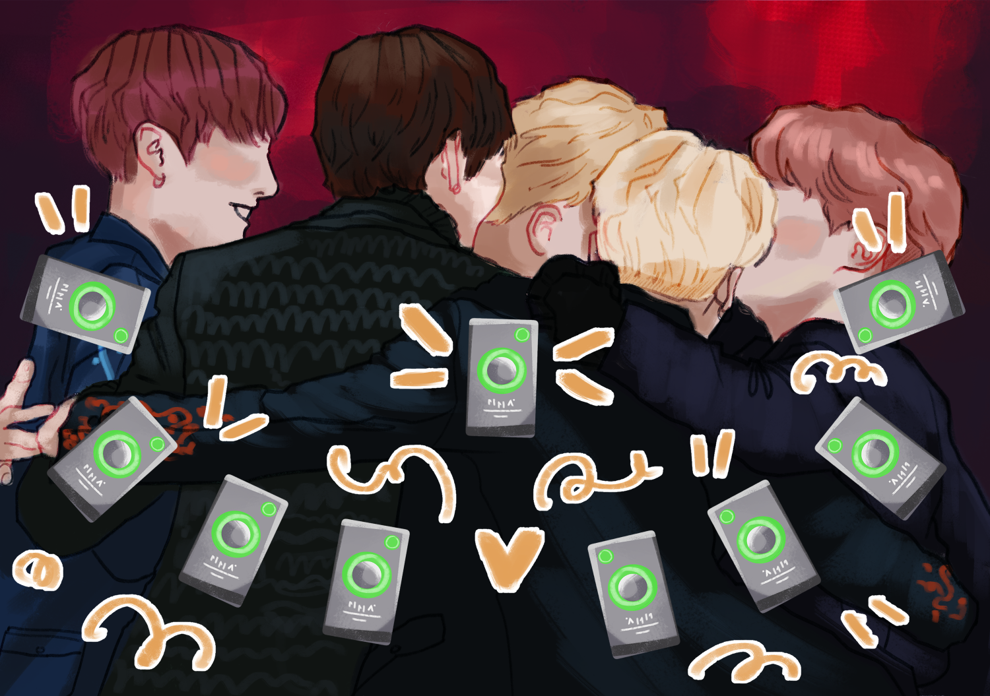 The BTS Army, the K-pop group's fanbase, sat in anticipation on April 3 during the 64th Annual Grammy Awards as the nominees for Best Duo/Group Pop Performance were named. For the second year in a row, BTS did not win the award. 
A Grammy should not hold a superior title to Latin American or South Korean awards just because the Grammys are from a Western country.
Western award shows are notorious for having arbitrary qualifications and voting systems. The Recording Academy's criteria for a Grammy will rely on an album being 75% newly-recorded within five years and having unreleased songs. The Recording Academy may use this metric to qualify albums, then have a committee vote on which album is best.
This system that awards music shows utilize usually results in disdain toward artists that don't meet the judges' personal standards and biases. According to the Recording Academy's category rules for the 63rd Annual Grammy Awards, songs for Best Pop Duo/Group Performance are judged on "artistic excellence" and "collaborative performance." This means that the judges decide what sounds better. 
The authenticity of their votes is a controversial topic, since the Grammy winners are sometimes thought to be undeserving compared to the other artists they were up against. This method of voting may give smaller, indie groups and artists a better chance at winning a Grammy, but with a coerced voting system it takes away from the notoriety.  
Fans of international artists shouldn't praise the Grammys highly because of the biased voting system that chooses a less ideal album winner. 
South Korea has many prestigious awards in their country for K-pop idols. The most prestigious award a K-pop idol can receive is a Daesang, which is the "Grand Prize" of the night. Award shows such as Mnet Asian Music Awards, Melon Music Awards and Golden Disc Awards will usually award Daesangs to groups or soloists by the end of the night. The criteria for this award is based on the high amount of physical and digital sales, a group or soloist has sold for the year.
Unlike the Western countries, this metric system is more credible since it will show what the general public decided to support through sales, although it does put indie artists at a disadvantage.
Receiving a Daesang is an impressive feat in South Korea. Groups such as BTS, Twice and EXO have been awarded with Daesangs for their outstanding performances in K-pop. 
Blackpink became the first girl group in South Korea to sell a million dollars off of one album and are the biggest girl group globally, but they have yet to receive a Daesang for their contribution to the K-pop industry. The road to receiving one is not easy, which is why it should hold a prestigious title to any other award globally.
South Koreans carry plenty of pride when it comes to the Daesang award. Winning one means true success in the Korean music industry because the award itself reflects on how much that group was able to sell within their country. Higher sales means the group or soloist were able to capture the attention of South Korea. 
Fans of international artists should further discount Western music shows as measures of success because they are xenophobic. One example is Rina Sawayama's ineligibility to submit her album "Sawayama" to the Brit Awards in 2020. 
Sawayama is a Japanese citizen with a visa for indefinite leave to remain, but she has lived in the U.K. for 25 years. Her immigration status prevented her from winning a Brit Award or Mercury Prize for her album. These Western award ceremonies discredit the success of international artists by excluding them from these ceremonies because of their status as an immigrant. 
Although that rule has changed, it's apparent that xenophobia is ingrained within the Western music scene. Prejudice can never accurately judge talent; therefore, fans should not feel surprised when the system works with exclusive intentions. No award system should exclude immigrant musicians or international artists, these rules and guidelines need to be amended to reflect an inclusive environment.  
Additionally, the Grammys' rules should be amended to take into consideration album sales and audience consumption of music to revitalize the prestige of the award. If many people are listening to BTS' or Rina Sawayama's music, then that is a factor that must be considered.
It's understandable that fans will be defensive when racism and xenophobia are at play against their favorite musicians, and that shouldn't stop. It is always appropriate to call out injustice where it happens. However, we must stop idolizing Western awards to measure international artists' success.  
When your favorite artist is getting worldwide attention, no award, especially from a Western award show, will ever be able to reflect the true breadth of their accomplishments.