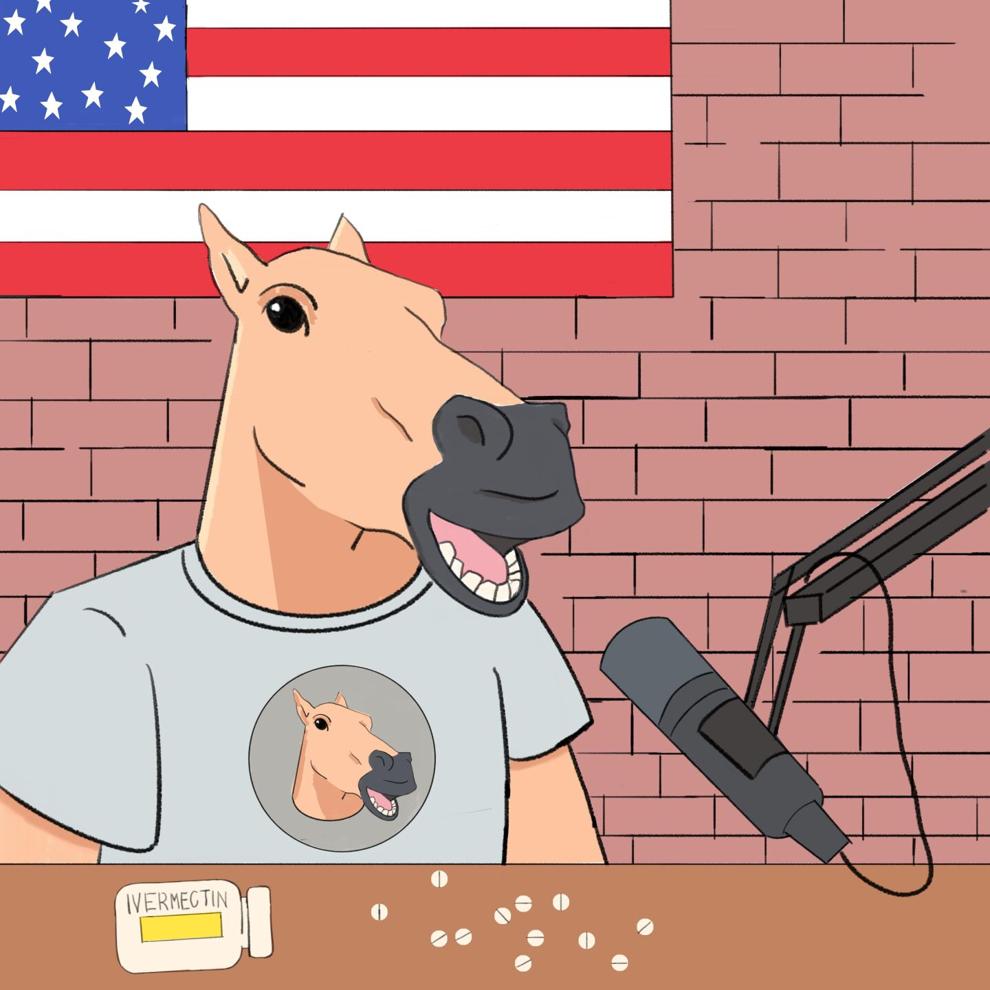 Ivermectin ingesters horse around in hopes that COVID-19 will dissipate into thin air. Although it is an FDA-approved drug for the treatment of parasitic worms in humans and cattle, it does not remedy COVID-19. 
Mindlessly trusting alternative medications not intended for COVID-19 is illogical.
Those against vaccines should stop taking ivermectin because there is no scientific research to back up its effectiveness in treating COVID-19 and its use has claimed countless lives along the way. 
Despite scientific evidence, the demand for ivermectin has rapidly climbed to unprecedented heights this year. According to the Centers for Disease Control and Prevention and the American Association of Poison Control Centers, also known as the AAPCC, human exposures and adverse effects associated with ivermectin have increased in 2021 compared to pre-pandemic times.
The power of misinformation has led to a scramble for ivermectin, ultimately posing health risks across the United States. The endorsement of ivermectin from right-wing TV personalities, politicians and celebrities has led to a national debate over its effectiveness in curing COVID-19.
The drug reached its peak when podcaster Joe Rogan announced that he was diagnosed with COVID-19. As an avid critic of the COVID-19 vaccine, Rogan has repeatedly downplayed the disease's severity on his highly popular podcast. 
Following his contraction of the virus, he posted an Instagram video describing his regimen of ingesting toxic medications to combat COVID-19 — one of those drugs being ivermectin. Rogan's Instagram video caught fire and sparked criticism from CNN, which blasted him for disseminating misinformation about ivermectin. 
Lifelines fall flat as many people suffer from overdoses and adverse effects that require immediate medical attention. According to the CDC, "overdoses are associated with hypotension and neurologic effects such as decreased consciousness, confusion, hallucinations, seizures, coma, and death." 
The Food and Drug Administration recommends that the best way to prevent COVID-19 is by taking the widely available and newly approved Pfizer BioNTech vaccine. Furthermore, the World Health Organization recommends that ivermectin should only be used in clinical trials. The WHO cited that there needs to be more research before determining the drug's effectiveness in treating COVID-19.
With FDA approval of the vaccine, it is hard to believe that the movement against vaccines is gaining momentum. Remarkably, some people follow a route that denies reality in order to stay in accordance with their beliefs, even with a lack of evidence. The reality most people live in differs greatly from the anti-vaccine community that tries to sidestep the jab. 
In an interview with the American Medical Association, Dr. John Farley, director of the Office of Infectious Diseases in the Center for Drug Evaluation and Research of New Drugs at the FDA, said the use of ivermectin for preventing the transmission of COVID-19 "is a real tragedy because there's not convincing data that ivermectin can prevent COVID, but we have safe and effective vaccines that can keep people out of the hospital and keep folks from dying."
Most importantly, Merck, the pharmaceutical company that distributes ivermectin, released a statement verifying that ivermectin has "no scientific basis for a potential therapeutic effect against COVID-19 from pre-clinical studies."  
Merck affirmed and debunked the irrational theory of ivermectin. However, when foolish decisions affect the lives of millions, it is indefensible. 
Above all, the research on ivermectin's effectiveness in treating COVID-19 is inconclusive and unreliable. If that isn't convincing enough, ingesting ivermectin and endangering one's health from an unproven cure is incredibly concerning. 
As one entity, we are not progressing in unison, but backtracking tremendously, and the pandemic is a stark reminder of this.